Old warplanes never die, they just wait and wait
PURGATORY Thousands of decommissioned aircraft sit in an Arizona dessert awaiting their fate. Some go to scrap-heap hell and others ascend to museum heaven
As the Pentagon rushes a handful of B-1B bombers to the Persian Gulf for possible action against Iraq, two dozen more of the sleek warplanes face a very different fate: the Air Force's Boneyard here.
Spread over 2,600 acres at this base in the Sonora Desert in Tucson, nearly 4,400 decommissioned airplanes and helicopters from all the armed services have found a resting place, their destinies ranging from becoming aluminum ingots to someday serving under a foreign flag.
The B-1Bs, recently mothballed under an Air Force consolidation, will be stored for future use or cannibalized for their parts. Scores of Vietnam-era F-4 Phantoms are being refurbished for duty as remote-control drones that Air Force fighters will use for target practice. Aging B-52s, whose engines, avionics and landing gear have been picked clean, have been sold for scrap at US$0.25 a pound. Seats, throttles and other memorabilia end up on eBay.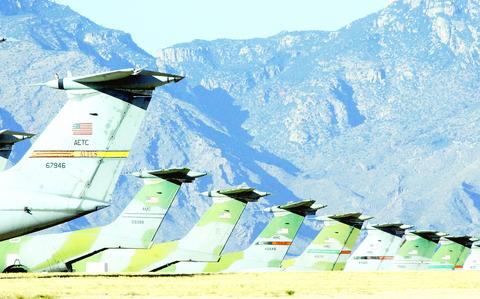 Near Tucson, Arizona, nearly 4,400 decommissioned airplanes and helicopters from all the armed services have found a resting place, their destinies ranging from becoming aluminum ingots to someday serving under a foreign flag.
PHOTO: NY TIMES
Missing his wings
"It's kind of sad," said Lieutenant Colonel Craig S. Harm, a former EF-111 pilot here, waxing wistful at the thought of his retired combat plane spray-wrapped in protective vinyl plastic and set out on the desert floor, perhaps to be salvaged for parts for the Australian Air Force.
The war in Afghanistan and the brewing conflict in the Persian Gulf have stepped up the military's need for spare parts and given the Boneyard, officially the Aerospace Maintenance and Regeneration Center, a role in the war against terror. Electronic and engine parts for Navy FA-18s are in especially high demand, officials said.
An afternoon drive through the row upon row of aircraft here in the shadow of the Santa Catalina Mountains is also a cruise through American military aviation history.
One of the F-111s that attacked Libya in 1986 is being stored here for the Air Force Museum in Dayton, Ohio. The 28 F-16 attack planes that Pakistan bought in the 1980s from the US but never received, because Congress withheld them to punish Pakistan for secretly developing nuclear weapons, are now being transferred to the US Navy and Air Force.
Famous visitors
The Enola Gay, the plane that dropped the atomic bomb on Hiroshima, stayed here briefly before ending up in the Smithsonian's Air and Space Museum.
Alongside the famous planes are scores of anonymous transport aircraft sitting forlornly in long columns, as well as an eclectic array of planes that look as if they were emptied from Air Force and Navy attics.
Experimental aircraft sit in a row like giant dodos. A C-130 equipped with huge skis, which was abandoned in Antarctica for 17 years and then rescued, now calls the Boneyard home. The original tooling equipment for the B-2 bomber is crated and laid out on the desert floor.
The remains of an A-10 Warthog that the Air Force says Captain Craig Button deliberately flew into a Colorado mountainside in 1997 are also here. "That's the more sensitive side," said Terry Vanden-Heuvel, spokeswoman for the Boneyard.
The military has used this base to store retired aircraft since 1946, when officials needed a place to park B-29s and C-47s after World War II. The area's arid climate and alkaline soil allowed the military to store aircraft here with a minimum of deterioration and corrosion. In addition, the soil here is unusually hard, making it easy to park and tow aircraft without having to build and maintain concrete or steel parking ramps.
Preservation
Before an aircraft is parked here, it goes through a preservation process. Workers remove guns, ejection-seat charges and classified equipment. Maintenance crews then drain the aircraft's fuel system and pump it full of lightweight oil. That is drained, leaving an oil film that protects the system.
Engine intakes, exhausts and any other gaps or cracks are taped over. Workers then spray the covered areas with a vinyl plastic that helps keep out dust and water and keeps the internal temperature of the aircraft within about 15 degrees of the external temperature to help preserve rubber, plastic and electronic components.
About 70 kinds of aircraft are stored here, and their ranks have fluctuated over the years, peaking at 6,000 after the Vietnam War.
"It surges after each war," said Jeffrey K. Wilson, the aircraft division chief, who is retiring this week after 35 years here. "War takes its toll on the weapons systems."
International agreements have also consigned aircraft to the chopping block. In the 1990s, the Strategic Arms Reduction Treaty, known as Start, called for the elimination of about 365 B-52s. At first, workers used a huge crane and a 6 tonne guillotine to do the trick. But now they use a special circular saw that allows some parts to be salvaged.
Foreign buyers
Not all planes are destined for the scrap heap. About 20 percent are eventually reactivated and sold to foreign countries or recalled to service. The Italian Air Force is taking delivery of F-16s refurbished here. Some O-2s, Vietnam-era propeller planes, have been converted into antipoaching planes in Africa.
Under the shade of a canopied maintenance shelter, some of the nearly 300 aircraft mechanics here were putting refurbished wings on A-10 Warthogs one day last week.
In a distant corner of the Boneyard, the littered wreckage of several assorted planes is the bleakest sight. The FBI uses the carcasses to rehearse airplane hostage rescues, shooting up the aircraft in the process.
No problem, really. When the agents are done, damage repair crews use the battered aircraft to test their skills at patching planes shot up in war zones.
Comments will be moderated. Keep comments relevant to the article. Remarks containing abusive and obscene language, personal attacks of any kind or promotion will be removed and the user banned. Final decision will be at the discretion of the Taipei Times.