Longshoremen's strike looms in US
CARGO Some of the best paid laborers in the world are concerned about job security, but if they strike, the US' economic recovery could end up suffering a major blow
For decades, the West Coast longshoremen's union could boast that its members had some of the highest-paying blue-collar jobs in the nation. Workers who unload ships commonly earn more than US$85,000 a year. \nBut now the longshoremen fear that their jobs -- and those of future generations of longshoremen -- are under siege. \nThose fears could lead to a shutdown of all seaports from San Diego to Seattle on July 1 -- a move that could send shock waves through the nation's already fragile economy. \nIn the giant Los Angeles-Long Beach port complex, by far the nation's largest port, burly longshoremen complain that the shipping companies want to install more computerized technology that they fear could throw hundreds of union members out of work -- and take away jobs for future dockworkers. \nBut officials with the shipping companies insist that their role is to run an efficient port, not to protect the jobs of the unborn. \nThe shipping companies complain about work rules dating from the 1940s and argue that more modern rules -- and more modern technologies -- are needed or the West Coast ports will choke on their own inefficiencies. \nThese clashing views could lead to the biggest work stoppage on the waterfront since 1971, when the longshoremen staged a four-month strike. While officials with the International Longshore and Warehouse Union say they have no plans to call a strike, the shipping companies fear that the workers will stage a job slowdown if no contract is reached by July 1. \nUnion members say they worry that management will beat them to the punch and lock out the 10,500 West Coast longshoremen, who remove cargo from ships and record all merchandise that goes in or out of the ports. \n"If you have a shutdown of these ports, it would be devastating," said Jack Kyser, chief economist of the Los Angeles County Economic Development Corp "It's not just what it would do to the West Coast economy, it's what it would do to the US economy." \nA study by Stephen Cohen, a professor at the University of California , estimated that a five-day work stoppage would cost the nation's economy US$4.7 billion and the cost of a 20-day stoppage would be US$48.6 billion. The West Coast ports handle more than US$300 billion in goods annually, directly affecting 7 percent of the nation's economic output. \nDepartment stores, car dealers, hardware companies and many other businesses fear that a shutdown of the ports could quickly interrupt their supply lines. \nBegging for a settlement \nThat explains why business groups across the nation are pressuring the union and the management group, the Pacific Maritime Association, which represents shipping lines and stevedores, to reach a settlement before July 1. \nBut not much optimism is heard about the negotiations, and that, economists say, is one reason Wall Street has slumped in recent weeks. As a result of the pessimism, some business groups are urging President Bush to use his powers under the Taft-Hartley Act to order a cooling off period to delay and possibly prevent a strike, slowdown or lockout. \n"It's hard to think that all this is being managed in a way that it will be resolved by July 1," said Robin Lanier, executive director of the West Coast Waterfront Coalition, which represents a range of companies, from shipping lines to retailers like Target and automakers like Toyota. \nFor months before negotiations officially began on May 13, management officials said the crucial issue was technology. They said greater use of technology would save money, reduce the two-hour lines of trucks waiting to enter the ports and increase security in cargo-handling when the nation fears new terrorist attacks. \nManagement hates rules like the one that requires clerks in the longshoremen's union to type in information about all arriving merchandise when that information was already typed in when ships left Asia. \nA study by Michael Nacht, a public policy professor at the University of California, found that not using technology more efficiently costs the shipping industry at least US$1 billion a year. \n"We cannot avoid the issue of new technology," Joseph Miniace, president of the Pacific Maritime Association, told the union when negotiations began last month. "Currently, the West Coast is behind. We must see to it that the West Coast moves to the forefront." \nWhile acknowledging that technology might reduce the number of jobs, management negotiators promised that it would not cause layoffs for any current workers. Many longshoremen are unimpressed by that promise because they do not trust management. But that is not the only reason union members fear more technology. \nA legacy \n"The union doesn't look at these jobs as jobs to trade away," Steve Stallone, the union's spokesman, said when the negotiations began. "We hold these jobs in trust to pass down to other people in the community. We negotiate for the next generation of longshoremen." \nUnion officials insist that theirs is an enlightened union that has often entertained the greater use of technology. They point to the landmark agreements of the 1960s that allowed ports to handle cargo in large containers. In return, the union shared in the rising profits -- in the form of unusually high wages -- made possible by modernization. \nSome union officials acknowledge that the focus on technology has put them on the defensive. They point to other important issues in the talks, among them management's proposals to require retirees and current workers to begin contributing toward their health insurance. \n"It's not fair that all these foreign-owned shipping lines want American workers and elderly American retirees who live on a fixed income to pay more for health coverage," said Ramon Ponce de Leon Jr., president of the largest longshoremen's local for the Los Angeles-Long Beach port. \nIn a brief interview, Miniace and James Spinosa, the union's president, defended the pace of the talks. They said in a joint statement that the two sides had successfully negotiated contracts over the past 30 years, and that "we are confident that we will succeed again."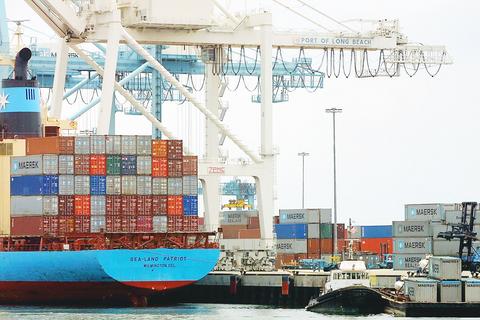 In the Los Angeles-Long Beach port complex, the US' largest port, longshoremen fear computerized systems could eventually put hundreds of union members out of work.
PHOTO: NY TIMES
Comments will be moderated. Keep comments relevant to the article. Remarks containing abusive and obscene language, personal attacks of any kind or promotion will be removed and the user banned. Final decision will be at the discretion of the Taipei Times.