Japan silent on rumors of yen intervention
DOUBTS Traders said the yen's sudden drop could be attributed to corporate orders, or rumors — later denied — that the Bank of Japan chief was resigning
A sudden slide in the yen against the dollar yesterday stirred suspicions Japanese authorities intervened for a second time this month to try to prevent the currency's strength from worsening a faltering recovery.
Traders in Tokyo reckoned a sharp yen drop was likely due to intervention, though the fall happened at levels where authorities were not expected to act.
Some blamed corporate orders for triggering the move and others a rumor — later denied — that Bank of Japan Governor Masaaki Shirakawa planned to resign.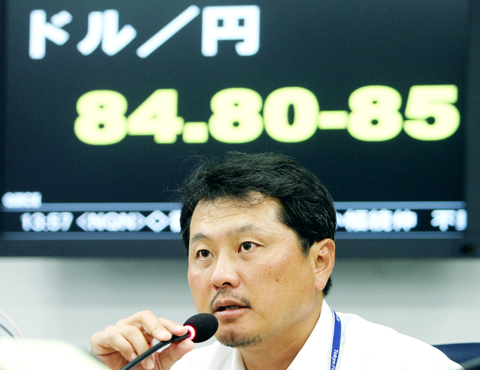 A dealer works at a foreign exchange brokerage in Tokyo, Japan, yesterday.
PHOTO: BLOOMBERG
"At first, people thought that was intervention, but it seems like the market was driven one-way by Shirakawa's rumour and so on. It was a bit like an accident," said Ayako Sera, market strategist at Sumitomo Trust Bank. "It's like everyone is afraid of ghosts in the market."
Japan spent an estimated ¥2 trillion (US$23 billion) on Wednesday last week to combat a rise in the currency to a 15-year high against the dollar.
Japanese Prime Minister Naoto Kan, just re-elected as leader of the ruling party, faces a divided parliament so is keen to curb the strength in the yen, which has hurt Japan's stock market and sparked the ire of exporters.
But while Japan's unilateral action last week occurred throughout the global trading day and succeeded in driving the dollar up about 3 percent against the yen, the dollar rise yesterday quickly faded and there was no sign of follow-through action.
Adding to the intervention doubts, authorities confirmed their yen selling on Sept. 15, but declined to comment yesterday.
The dollar surge happened at midday Tokyo time.
The currency rose to as high as ¥85.40 from about ¥84.55 yen in a matter of minutes, and several traders said it looked like the Bank of Japan, which acts on behalf of the Ministry of Finance, had been selling yen.
Last Wednesday's intervention drove the dollar up to near ¥86 from a 15-year low of ¥82.87, but the yen has clawed back about half those losses.
Despite doubts about whether Tokyo intervened yesterday, analysts expect authorities to step into the market if the yen's rise accelerates from current levels.
"They sent out a message that they are ready to intervene in the market again if the yen firms beyond what they believe is a proper level," Seiji Adachi, senior economist with Deutsche Securities in Tokyo, said of Japanese authorities.
"In terms of the economy, it is still going to be tough unless they bring the yen down to 90 to 100 against the dollar. But they probably can't do that. So they are going to just try to stop it going any higher," Adachi said.
Showing the uncertainty over whether authorities had intervened, the dollar drifted back toward ¥84.70 as no government confirmation emerged.
Japanese Finance Minister Yoshihiko Noda, who has said Tokyo must gain global understanding about its intervention, and the Bank of Japan declined to comment.
Comments will be moderated. Keep comments relevant to the article. Remarks containing abusive and obscene language, personal attacks of any kind or promotion will be removed and the user banned. Final decision will be at the discretion of the Taipei Times.