Lee Kun-hee returns to Samsung
South Korea's richest man, Lee Kun-hee, returned yesterday as chairman of global giant Samsung Electronics, almost two years after stepping down following a probe into his business dealings.
Three months after Lee received a presidential pardon for tax evasion, the company said it needed his leadership "to take the upper hand in the global market amid the world economic crisis."
The 68-year-old, however, expressed uncertainty about the future as Samsung tries to grow in the face of increasing low-cost Chinese competition.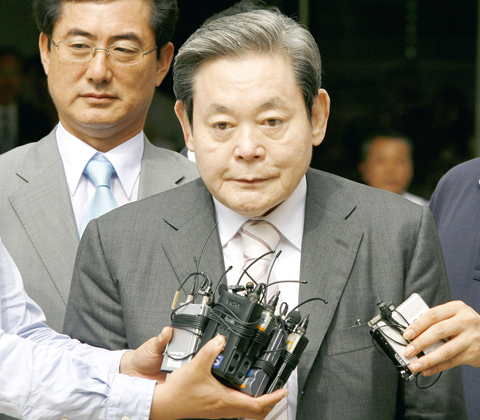 Lee Kun-hee, center, returning Samsung Group chairman, leaves after his trial at a Seoul court on July 10, 2008.
PHOTO: AFP
"This is a time of real crisis. Global companies are crumbling. We don't know what will happen to Samsung either," a company statement quoted him as saying when he agreed to return at the request of its executives. "Within 10 years, all Samsung products may disappear. Now, we have to start anew. Let's move on, with eyes set straight ahead."
During his 20 years as chairman, Samsung Electronics became the world's largest maker of computer memory chips and second-biggest manufacturer of mobile phones.
He resigned in April 2008 after being charged with tax evasion and breach of trust, but in December he received a special pardon so he could resume his suspended membership of the International Olympic Committee and work to bring the 2018 Winter Olympics to South Korea.
Samsung Electronics reported annual earnings of more than US$8 billion last year, along with record sales. It employs 164,600 people in 61 countries and is competing with Hewlett-Packard for the status of the world's biggest technology firm by revenue, but Korea Investment Securities' analyst Kim Jung-hoon said there was lingering uncertainty because of the effects of the global downturn as well as Chinese rivals that are fast catching up with South Korean firms.
"In the current situation, strong leadership is required. Lee's return to the helm of the world's largest producer of LCD panels and DRAM memory chips will be a great boon to the country's economy," Kim said.
Samsung Electronics shares closed up just 10,000 won (US$8.80), or 1.24 percent, at 819,000 won.
Kim Young-june, analyst with LIG Investment and Securities, told Dow Jones Newswires that Lee's return was positive for the company's management strategy.
"He might have decided to return to play a powerful leadership role in finding a future growth engine to capture a leading global position after the company survived the global financial crisis in good shape," Kim Young-june said.
Solidarity for Economic Reform, a group campaigning for better corporate governance, however, said Samsung had turned its back on reform promises made two years ago.
"Samsung's promise to reform made in April 2008 turned out to be a public fraud only aimed at winning a favorable court ruling," it said in a statement.
Lee is the son of the founder of the Samsung group of companies, whose products or services touch every aspect of South Koreans' lives. His own son, Jae-yong, is being groomed as a third-generation successor.
Comments will be moderated. Keep comments relevant to the article. Remarks containing abusive and obscene language, personal attacks of any kind or promotion will be removed and the user banned. Final decision will be at the discretion of the Taipei Times.