China said to owe billions on bonds
OLD DEBTS The American Bondholders Foundation, a group of 345 familes from 24 US states, holds more than 18,000 Chinese government bonds issued between 1913 and 1942
In 1913, a year after the last Manchu emperor left the throne, China issued bonds that were backed by revenues from government-owned salt mines. Now, a group of Americans is telling China it's time to pay up on those bonds they say are worth US$89 billion today.
"There's a clear obligation for China to pay under international law," says B. Riney Green, a Nashville, Tennessee, attorney who is representing the American Bondholders Foundation, a group of some 345 families from 24 states.
China, however, has long insisted it is not responsible for the debts incurred before Mao Tse-tung led the communists to power in 1949. Calls to the Chinese Embassy in Washington were not returned.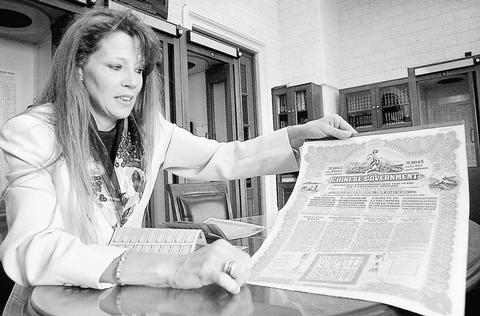 Jonna Bianco, president of the American Bondholders Foundation, holds Chinese bonds on Capitol Hill in Washington Friday.
PHOTO: AP
The American group holds more than 18,000 Chinese government bonds issued between 1913 and 1942, the great majority from sales in 1913 of "gold loan" bonds payable in British pound sterling and three other European currencies.
Geri Santos of Apollo Beach, Florida, said she found the bond certificates in a black bag after her mother died.
"We didn't know what they were" until she read a newspaper article about others with the Chinese bonds, and she still does not know how much they are worth. ``But I think there's going to be a payoff.''
Foundation members were in Washington last week seeking to raise awareness of their issue. Getting the Bush administration to take on a new dispute with China could be difficult.
"We're very realistic about our expectations," Green said.
But the foundation president, Tennessee cattle rancher Jonna Bianco, said members are not without hope. In 1987, as part of its negotiations with Britain on the return of Hong Kong, China did agree to partially honor pre-1949 debts to British bondholders. Those debts included gold loan bonds.
Treasury Department figures show that as of January, China was the fourth-biggest foreign holder of US Treasury securities, with US$65.5 billion, and Bianco said it receives more than US$4 billion a year in interest from those investments.
One possibility would be to seize some of those interest payments to compensate the holders of defaulted bonds, although Green said: ``We're not trying to precipitate some kind of financial crisis with China. That would be a last resort.''
Bianco said that with China's recent accession to the WTO, Beijing must abide by international rules on business transactions. Her group plans to file a formal complaint with the WTO.
``Nobody's trying to be greedy,'' Bianco said. She said the claimants have agreed that, if they reach a settlement with China, they would donate 10 percent of the after-tax money to the US government and set aside an additional 30 percent for humanitarian and charitable organizations.
"The administration owes its citizens the obligation to at least discuss the issue," said US Representative Bart Gordon, a Tennessee Democrat.
Gordon wrote President George W. Bush in January saying that because bondholders cannot take China to court, they are dependent on executive-branch action for a fair resolution of their claims. He said he has not received a response. Bianco said the Chinese government generally has ignored her many inquiries. One letter from China asked if the US paid back its debts after gaining independence from Britain. She wrote back that it did.
Officials of the State Department and the Securities and Exchange Commission have suggested that the group go through the Foreign Bondholders Protective Council, a private, nonprofit organization created in the 1930s to help individual Americans collect on defaulted foreign government bonds.
John Petty, who was an assistant treasury secretary during the Johnson and Nixon administrations, now heads the council. He said it was active before World War II and then again in the 1970s and 1980s because of unpaid East European bonds, but has not done much in the last 15 years.
Petty said he is prepared to assist those holding the Chinese bonds but needs some indication the administration is interested. "Unless you have the administration supporting the resolution of the problem, any intermediary is basically pushing on a string, he said.
Comments will be moderated. Keep comments relevant to the article. Remarks containing abusive and obscene language, personal attacks of any kind or promotion will be removed and the user banned. Final decision will be at the discretion of the Taipei Times.