Armenia faces crises after fall of Nagorno-Karabakh
Tens of thousands of now-homeless people have streamed into Armenia from the separatist region of Nagorno-Karabakh, controlled by its emboldened adversary, Azerbaijan.
Swarms of protesters are filling the streets of the Armenian capital of Yerevan, demanding the prime minister's ouster. Relations with Russia, an old ally and protector, have frayed amid mutual accusations.
Armenia now finds itself facing multiple challenges after being suddenly thrust into one of the worst political crises in its decades of independence following the 1991 collapse of the Soviet Union.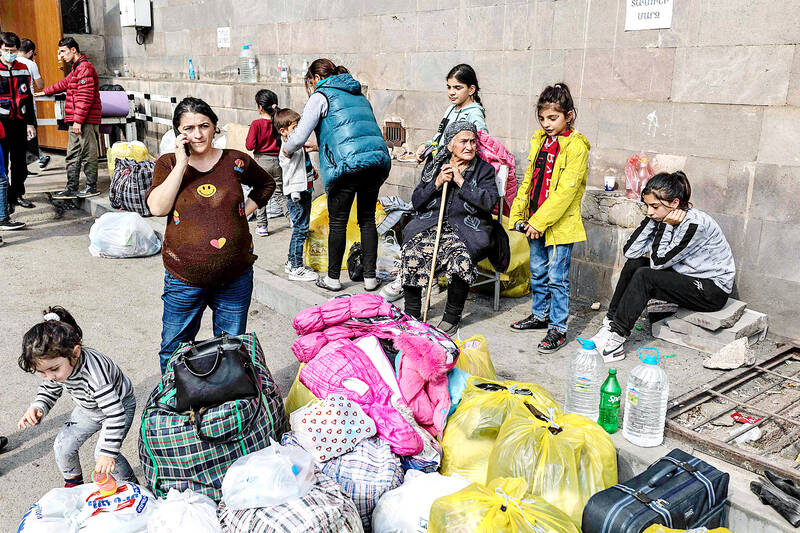 Refugees from Nagorno-Karabakh wait in the center of Goris, Armenia, on Saturday before being sent to other cities.
Photo: AFP
Developments unfolded with surprising speed after Azerbaijan waged a lightning military campaign in Nagorno-Karabakh, a majority ethnic Armenian region that has run its affairs for three decades without international recognition.
Starved of supplies by an Azerbaijani blockade and outnumbered by a military bolstered by Turkey, the separatist forces capitulated in 24 hours and their political leaders said they would dissolve their government by the end of the year.
That triggered a massive exodus by the ethnic Armenians who feared living under Azerbaijani rule. More than 80 percent of the region's 120,000 residents hastily packed their belongings and trudged over a single mountain road into impoverished Armenia, which is struggling to accommodate them.
Yerevan has accused Baku of "ethnic cleansing" — an allegation that Baku rejected — calling on Armenians not to leave their homes and reintegrate with Azerbaijan, where their rights would be respected.
"They are cruel. I don't want to live with those dogs," refugee Ofelya Hayrapetyan said.
"It's genocide pure and simple," her husband added.
Sitting nearby, Spartak Harutyunyan played with his 10-month-old baby.
"The 'Turks' say we can stay, but they always lie. How can we live with them?" he said, using a derogatory term for Azerbaijani forces.
Enraged and exasperated over the loss of their homeland, those who fled are likely to support almost daily protests against Armenian Prime Minister Nikol Pashinyan, who has been blamed by the opposition for failing to defend Nagorno-Karabakh.
"There's a tremendous amount of anger and frustration directed at Nikol Pashinyan," said Laurence Broers, an expert on the region at think tank Chatham House.
Pashinyan's economically challenged government has to quickly provide those who fled with housing, medical care and jobs. While the global Armenian diaspora has pledged to help, it poses major financial and logistical problems for the landlocked country.
While many Armenians resent the country's former top officials who lead the opposition and also hold them responsible for the current woes, observers point to a history of bloodshed. In 1999, gunmen barged into the Armenian parliament during a question-and-answer session, killing then-Armenian prime minister Vazgen Sargsyan, the parliament speaker and six other top officials and lawmakers.
"There is a kind of tradition of political assassination in Armenian culture," said Thomas de Waal, a senior fellow at the Carnegie Europe think tank.
He and other observers said that one factor in Pashinyan's favor is that whatever simmering anger there is against him, there is just as much directed toward Russia, Armenia's main ally.
After a six-week war in 2020 that saw Azerbaijan reclaim part of Nagorno-Karabakh and surrounding territories, Russia sent about 2,000 peacekeeping troops to the region under a Kremlin-brokered truce.
Pashinyan has accused the peacekeepers of failing to prevent the recent hostilities by Azerbaijan, which also could make new territorial threats against Armenia,
Russia has been distracted by its war in Ukraine, which has eroded its influence in the region and made the Kremlin reluctant to defy Azerbaijan and its main ally Turkey, a key economic partner for Moscow amid Western sanctions.
"Clearly, this Azerbaijani military operation would not have been possible if the Russian peacekeepers had tried to keep the peace, but they just basically stood down," De Waal said.
The Kremlin, in turn, has sought to shift the blame to Pashinyan, accusing him of precipitating the fall of Nagorno-Karabakh by acknowledging Azerbaijan's sovereignty over the region and damaging Armenia's ties with Russia by embracing the West.
Comments will be moderated. Keep comments relevant to the article. Remarks containing abusive and obscene language, personal attacks of any kind or promotion will be removed and the user banned. Final decision will be at the discretion of the Taipei Times.