Russia seeks to erase Ukraine border
NO MORE LONG LINES: Swift border crossings for people traveling between Russia and areas it occupies in Ukraine show how quickly Moscow is seeking to absorb them
To enter Russia from occupied Ukraine, all Tatiana has to do is arrive at the edge of the war-battered Donetsk region, show guards her Russian passport, say "thank you" and cross.
Moscow has controlled several key border points since 2014, but the frontier has become more porous since the Kremlin annexed four Ukrainian territories last year, encouraging residents to take up new citizenship.
"It's become more comfortable because we've become Russians," said the 37-year-old, who is from a Russian-occupied town.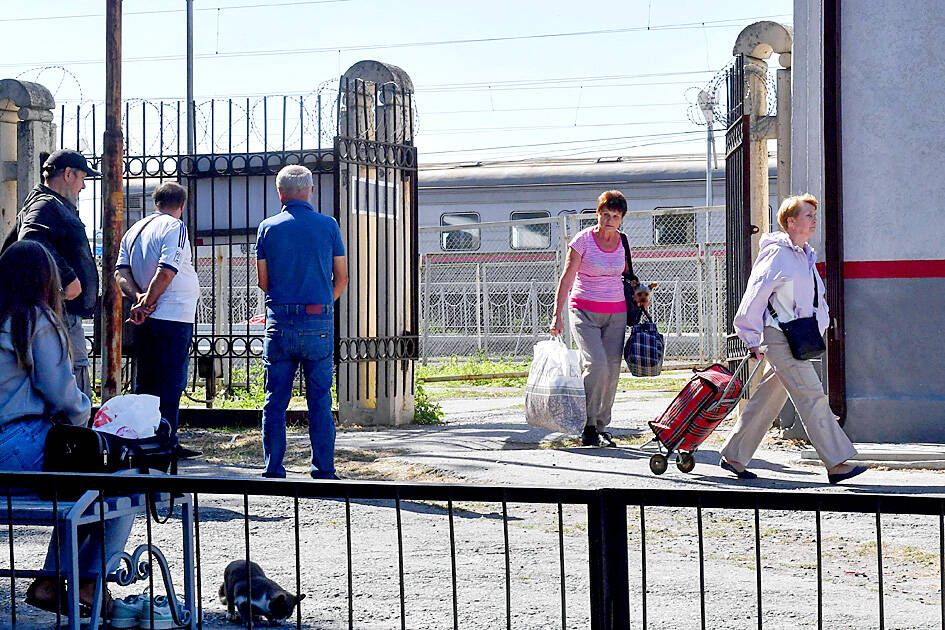 People arrive at the Avilo-Uspenka railway station in Makiivka, Ukraine, on Friday last week.
Photo: AFP
Tatiana used to have to go through a more arduous procedure to enter Russia: a check run by Moscow-sponsored separatists, then through Russian customs.
"We had two borders to cross, which meant long, long traffic queues," she said near a motel on the frontier.
She she was headed for Taganrog — a town in southern Russia once home to writer Anton Chekhov — to run some errands, including taking out insurance.
The smoother crossings are one of the most visible signs of change since the Kremlin annexed the industrial Donetsk region alongside three others at a lavish ceremony last year.
They illustrate how quickly Russian authorities are seeking to absorb occupied territories, even though the international community including Russia's allies do not recognize Moscow's authority there.
Moscow last weekend hosted local government elections in the territories and said that the United Russia party had won easily in each region.
Russian Prime Minister Mikhail Mishustin in May said that officials had handed out nearly 2 million Russian passports to Ukrainians in occupied regions.
However, its military still does not fully control any of the four new regions, and Ukrainian forces are gaining ground in the southern Zaporizhzhia region and Donetsk.
Despite that, thousands of people travel to Russia by bus or car from occupied cities like Donetsk, Lugansk and Mariupol — a port city captured by Moscow after a brutal months-long siege.
However, farther from the front, signs of the conflict are visible everywhere.
Journalists on the road between Taganrog and the Avilo-Uspenka crossing point saw Russian military vehicles daubed with large Z and V tactical symbols, while two Russian attack helicopters flew overhead.
"The closer you get [to Russia], the safer you feel," Tatiana said, describing life in her "frontline town" of Gorlivka as dangerous and stressful.
While the conflict has spilled over into Russia — with cross-border drone attacks and shelling now routine — Russian authorities are working to contain the conflict on one side of the border.
A taxi driver, speaking on condition of anonymity, said that two of his passengers — a mother and her son — had recently been stopped by Russian customs as they left the Ukrainian region of Lugansk.
The man was accused of deserting from his military unit, while his mother was accused of trying to help him return home.
While entering Russia has become easier for people like Tatiana, difficulties remain for truck drivers still subject to meticulous checks by Russian customs.
"The rules for crossing for cars are very different from those for goods," said Vlad, a 26-year-old truck driver who spends long hours in his truck each time he passes through.
Nearby, retired postal worker Natalia was waiting for the one train connection each day from Russia back to the occupied Donetsk region.
"We would obviously like more forms of transport," the 69-year-old said after visiting relatives in Taganrog.
"We're not quite in Russia yet, but we're going to hope," she said, referring to the long process of deeper integration from Moscow.
Comments will be moderated. Keep comments relevant to the article. Remarks containing abusive and obscene language, personal attacks of any kind or promotion will be removed and the user banned. Final decision will be at the discretion of the Taipei Times.