French minister says controversy over assistance to Morocco is misplaced
French Minister for Europe and Foreign Affairs Catherine Colonna yesterday said it was up to Morocco whether to seek French aid in dealing with its deadliest earthquake in more than six decades and said France was ready to help if asked.
Paris and Rabat have had a difficult relationship in recent years, notably over the issue of Western Sahara, which Morocco wants France to recognize as Moroccan. Morocco has not had an envoy in Paris since January.
"This is a misplaced controversy," Colonna told BFM television when asked why Morocco had not made an official request to Paris for urgent assistance, despite accepting help from Spain, Britain, Qatar and the United Arab Emirates.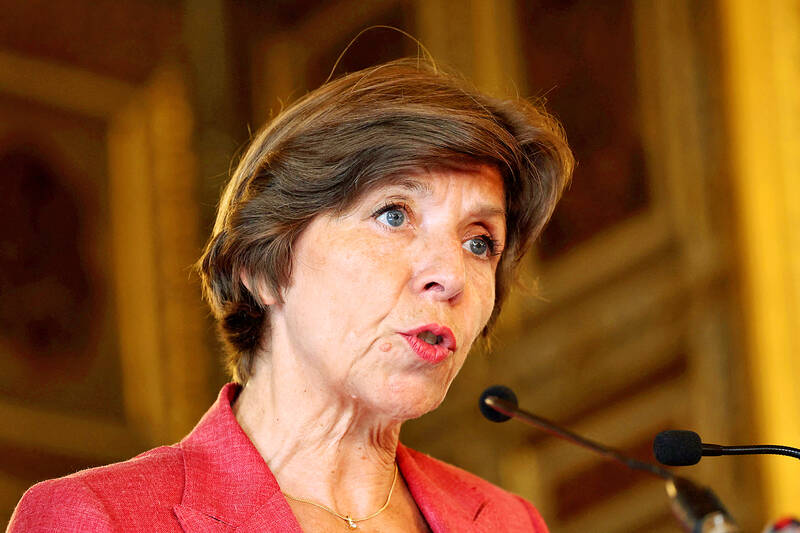 French Minister for Europe and Foreign Affairs Catherine Colonna speaks during a press conference in Paris on Aug. 29.
Photo: Reuters
"We are ready to help Morocco. It's a sovereign Moroccan decision and it's up to them to decide," she said.
Paris has made 5 million euros (US$5.4 million) available for non-governmental organizations operating in Morocco, Colonna said.
French officials have repeatedly tried to play down any rift between the two countries, but a visit by French President Emmanuel Macron has been postponed several times over the past year.
Morocco's King Mohammed VI was in France when the quake hit, Colonna said.
French Minister of the Interior Gerald Darmanin told France 2 earlier yesterday that Rabat, a "brotherly" nation, had the capabilities to cope alone with the rescue efforts.
France has also walked a diplomatic tightrope with Rabat, as it sought to improve its relations with Algeria, Morocco's arch rival and another of Paris' former colonies. Algiers backs the Polisario Front, a group which has fought for decades for independence for Western Sahara.
Four French citizens died in the earthquake that has killed more than 2,000 people.
France had more than 51,000 people living in Morocco, foreign ministry figures showed.
According to the Observatory for Immigration and Demographics, France has a Moroccan diaspora of about 1.5 million people, including 670,000 dual nationals.
Comments will be moderated. Keep comments relevant to the article. Remarks containing abusive and obscene language, personal attacks of any kind or promotion will be removed and the user banned. Final decision will be at the discretion of the Taipei Times.