Japan plans 12% defense budget boost
PROACTIVE STANCE: The record ¥7.7 trillion budget for fiscal 2024 aims to reinforce Japan's strike capability and marks the second year of a rapid five-year military buildup
The Japanese Ministry of Defense is requesting a nearly 12 percent budget increase that includes two warships with advanced radar and long-range cruise missiles as it further fortifies the nation's military in the face of North Korean threats and Chinese military advancement.
The record ¥7.7 trillion (US$52.8 billion) request for the 2024 fiscal year marks the second year of a rapid five-year military buildup under a new security strategy Japanese Prime Minister Fumio Kishida's government adopted in December last year. It focuses on reinforcing strike capability in a break from Japan's post-war principle of having a military only for self-defense.
Under the five-year plan, Japan plans to spend ¥43 trillion through 2027 to nearly double its annual spending to about ¥10 trillion, making it the world's third-biggest spender after the US and China. How to finance and justify the growing military spending is uncertain in a country with steeply declining births and increasing costs of caring for its aged population.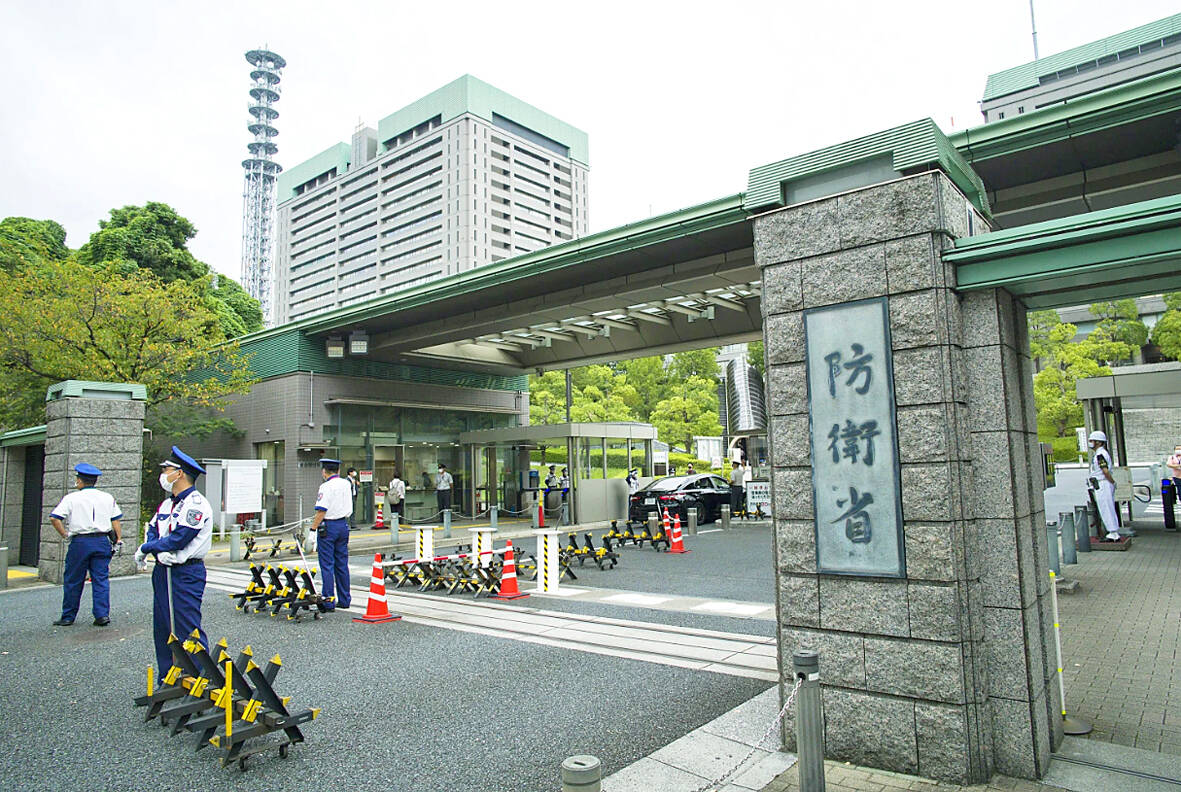 This photo shows an exterior view of the Defense Ministry of Japan with its sign at the main entrance in Tokyo on Sept. 17, 2021.
Photo: AP
The budget request was approved at the defense ministry's meeting yesterday and submitted to the Ministry of Finance for negotiations.
The request includes a hefty ¥490 billion to start building two Aegis-radar equipped warships that would be deployed in 2027 and 2028, as well as for training, testing and other costs related to the ships.
The warships, each carrying 240 crew members, would be designed to fire long-range cruise missiles, including US-made Tomahawks and a modified version of the domestically made Type-12 surface-to-ship missile, planned for deployment in 2032 to serve as something of a floating missile base.
The warships would have SPY-7 radar that could locate harder-to-detect missile launches, including those on a high-arch trajectory. North Korea has often test-fired missiles at a high angle to avoid neighboring countries. Japan earlier had ordered the SPY-7 for land use, but was forced to scrap the plan due to safety concerns in the regions that would host them.
Japan is spending ¥321 billion this year to buy 400 Tomahawks for deployment in 2026-2027 and is retrofitting existing destroyers to carry them.
In the 2024 budget request, the defense ministry is seeking ¥755 billion to develop and acquire "standoff" capability to strike distant targets, especially for the defense of Japan's southwestern islands, the area feared to become the front line in case of a Taiwan emergency. The ministry requested about ¥80 billion for the development and production of hypersonic guided missiles.
For overall missile defense, the ministry is requesting ¥1.27 trillion for spending that includes the Aegis-equipped warships. The ministry is also seeking ¥75 billion for joint development of glide-phase interceptors with the US to be deployed around 2030 to counter hypersonic missiles being developed by China, North Korea and Russia.
The Japanese government is preparing to ease its arms transfer policy, which currently bans export of lethal weapons, to allow some of them. Due to the need for developing and producing defense equipment at home, the ministry is seeking to strengthen Japan's feeble defense industry and is adding 540 new staff for equipment development.
The government also hopes the ongoing joint development of the Mitsubishi Heavy Industry next-generation fighter jet with the UK and Italy, for which the ministry is requesting ¥72 billion, would help the Japanese defense industry's growth.
To step up Japan's rapid deployment and transportation capability in the southwestern region, the ministry plans to establish a new sea transport unit combining ground, maritime and air forces and to be based in Kure, in Yamaguchi Prefecture, in 2025 and purchase three transport ships and a fleet of 17 Boeing Chinooks.
Comments will be moderated. Keep comments relevant to the article. Remarks containing abusive and obscene language, personal attacks of any kind or promotion will be removed and the user banned. Final decision will be at the discretion of the Taipei Times.