US hits China on 'assimilation' of Tibet children
FORCED INTEGRATION: The new restrictions would apply to current and former officials involved in education policy in Tibet, a spokesperson said
The US on Tuesday said that it was imposing visa sanctions on Chinese officials pursuing "forced assimilation" of children in Tibet, where UN experts say 1 million children have been separated from their families.
In the latest of a series of US moves on Beijing despite a resumption of high-level dialogue, US Secretary of State Antony Blinken said the country would restrict visas to Chinese officials behind the policy of state boarding schools.
"These coercive policies seek to eliminate Tibet's distinct linguistic, cultural and religious traditions among younger generations of Tibetans," Blinken said in a statement.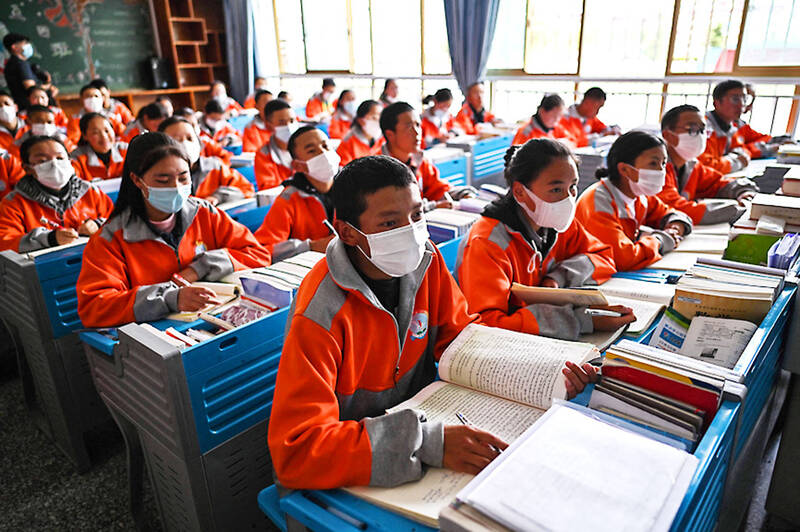 A photo taken during a government organized media tour on June 1, 2021, shows students attending a class at the Lhasa Nagqu Second Senior-High School in Lhasa, in China`s Tibet Autonomous Region.
Photo: AFP
"We urge PRC authorities to end the coercion of Tibetan children into government-run boarding schools and to cease repressive assimilation policies, both in Tibet and throughout other parts of the PRC," he said, referring to the People's Republic of China.
The US has since 2021 accused China of waging genocide in another region, Xinjiang, through what US officials, rights groups and witnesses say is a vast network of forced labor camps. China denies the charge.
A US State Department spokesperson said the new restrictions would apply to current and former officials involved in education policy in Tibet, but did not give further details, citing US confidentiality laws on visa records.
The US separately imposed sanctions in December last year on two top-ranking Chinese officials, Wu Yingjie (吳英杰) and Zhang Hongbo (張洪波), over what Washington said were widespread human rights violations in Tibet.
China called the US-backed allegations "smears" that "seriously undermine China-US relations."
"As a common international practice, boarding schools in China are set up according to the needs of local students," said Liu Pengyu (劉鵬宇), spokesman for the Chinese embassy in Washington.
"Boarding schools have gradually developed into one of the important modes of running schools in China's ethnic minority areas, and the centralized way of running schools effectively solves the problem of ethnic minority students' difficulty in attending school at a distance where the local people live scattered," he said.
However, Blinken in his statement cited a finding given in February by three UN experts who said that about 1 million Tibetan children have been sent into boarding schools, often by force.
The program appears aimed at unwillingly integrating Tibetans into China's majority Han culture, with compulsory education in Mandarin and no instruction culturally relevant to the Buddhist-majority Himalayan region, the special rapporteurs said.
A separate report this year from UN experts said that hundreds of thousands of Tibetans have also been forced out of traditional rural life into low-skill "vocational training" as a pretext to undermine their identity.
Tibet has alternated over the centuries between independence and control by China, which says it "peacefully liberated" the rugged plateau in 1951 and brought infrastructure and education to the previously underdeveloped region.
The Dalai Lama, who fled into exile in India in 1959, has won a global following through his spiritual teachings, raising awareness on Tibet.
Comments will be moderated. Keep comments relevant to the article. Remarks containing abusive and obscene language, personal attacks of any kind or promotion will be removed and the user banned. Final decision will be at the discretion of the Taipei Times.