China to reach Xi's clean power goal five years early
China is on track to almost double its wind and solar capacity by 2025 and blow past its clean power target five years early, Global Energy Monitor has said.
The country has announced or begun construction on enough projects for total wind and solar capacity to likely reach 1,371 gigawatts (GW) by 2025, the climate research firm said in a new report.
That would vastly outstrip a goal set by Chinese President Xi Jinping (習近平) in late 2020 of having 1,200GW of panels and turbines by 2030.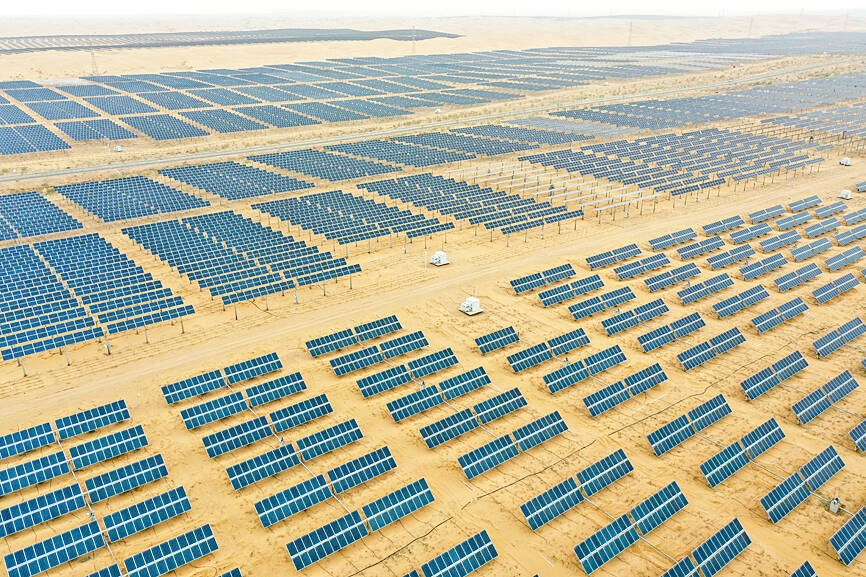 A solar power plant is pictured near Ordos, China, on April 26.
Photo: EPA-EFE
China has installed record amounts of solar each of the past two years and is turbo-charging its efforts this year as an easing of supply chain bottlenecks drives down the price of panels.
Still, the country is mining record amounts of coal and building a new fleet of generators powered by the fossil fuel — and striking new long-term deals to buy natural gas — to avoid shortages that have plagued its electricity system in recent years.
"China is making strides, but with coal still holding sway as the dominant power source, the country needs bolder advancements in energy storage and green technologies for a secure energy future," Global Energy Monitor researcher Martin Weil said.
Clean power installations this year could hit 154GW of solar, 55.7GW of onshore wind power and 8.3GW of offshore wind, according to BloombergNEF forecasts.
That is in line with an assessment published on Wednesday by the China Renewable Energy Engineering Institute, an advisory body with close links to the Chinese National Energy Administration (NEA), which has predicted solar installations of about 100GW and 60GW of wind for this year.
China already installed 61.2GW of solar power between January and last month, according to the NEA, outpacing a previous assessment from the China Photovoltaic Industry Association.
Wind installations are also rebounding after pandemic-related delays, while fierce domestic competition among manufacturers is keeping costs in check.
Comments will be moderated. Keep comments relevant to the article. Remarks containing abusive and obscene language, personal attacks of any kind or promotion will be removed and the user banned. Final decision will be at the discretion of the Taipei Times.