Germany's romance with pork fades
For about two decades, a meat plant in the northwest German town of Vorden has helped produce a bear-shaped cold cut known as Barchenwurst, beloved by children across the country.
However, rising production costs and waning demand for pork — even in a nation that once had some of the highest per capita consumption rates — forced the factory's operator to declare a few weeks ago that it would shut down.
The announcement reflects the embattled state of Germany's pork industry, which is struggling with a huge drop-off in demand, the aftermath of African swine fever, and a raft of economic challenges and domestic animal welfare provisions that have made it especially difficult to raise pigs.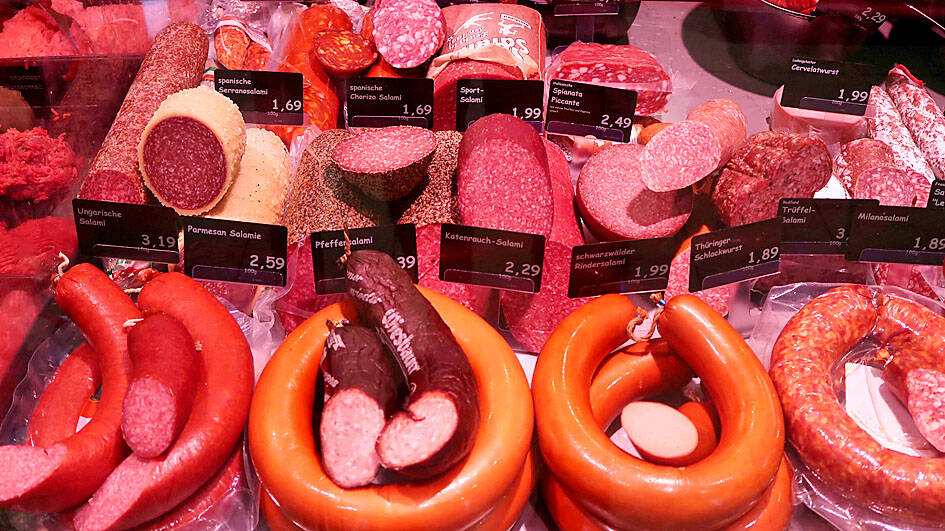 Sausages are displayed in a supermarket in Berlin on June 25, 2020.
Photo: REUTERS
As consumers go, so does industry. While the average German ate about 40kg of pork per year in 2007, that dropped to 29kg last year — even as beef and chicken consumption remained more or less steady.
The country's pig population shrank by nearly one-fifth in the two years leading up to November last year, as did the number of pig farms. The Family Butchers, which owns the Vorden plant and is Germany's second-largest sausage maker, is only the latest to end up under the knife.
German Butchers Association vice president Eckhart Neun, who is a butcher from northeast of Frankfurt, said that soaring energy, fertilizer and feed prices are putting pressure on smaller businesses like his.
"It's like dominoes, one thing leads to another," Neun said.
EU pork consumption is expected to drop to the lowest level in more than two decades this year and within two years production would shrink by about one-tenth.
Producers in the US are also grappling with shrinking profits, waning demand, rising costs and more regulation. Even in China, which accounts for more than half of the world's pork consumption, the meat is falling out of favor with a rising middle class that views beef as a healthier option, McKinsey researchers said.
However, in Germany, pork producers are weathering a perfect storm of tough economic trends, broader demographic and cultural shifts, and the aftermath of public health crises that decimated production and demand.
Germans are generally choosing less meat-intensive diets, said Frank Greshake, a market expert at the North Rhine-Westphalia Chamber of Agriculture, the federal state with the highest number of pig farms.
The number of people in Germany identifying as vegetarian has grown since 2020, and a nutrition report published by the German Federal Ministry of Food and Agriculture last year said that 44 percent say they follow a "flexitarian" diet that limits meat consumption.
Health concerns are one reason for the shift: The WHO has warned that eating processed meats like sausages and ham can be carcinogenic. Environmental concerns are another. The ecological costs of raising and eating meat have been a focus of Germany's Alliance 90/The Greens party, which joined the ruling coalition in 2021.
Muslims, many of whom do not eat pork for religious reasons, are estimated to make up nearly 7 percent of Germany's population.
However, it is not only people who shun pork out of principle that are weighing on demand — food preferences appear to be changing along generational lines. Younger Germans favor pizza, doner kebabs and burgers over sausages, a YouGov survey conducted in December last year showed.
With fewer people seeking out schnitzel, it is difficult for meat producers to pass these higher costs along to consumers. With many farmers nearing retirement age and struggling to find successors, plenty do not see the point.
Comments will be moderated. Keep comments relevant to the article. Remarks containing abusive and obscene language, personal attacks of any kind or promotion will be removed and the user banned. Final decision will be at the discretion of the Taipei Times.