PNG to consult 'domestic process' for security treaty
DEFENSE TIES: Papua New Guinea's prime minister has said Australia wants to strike an 'ambitious' security treaty involving navy, air force and army collaboration
Papua New Guinea (PNG) said that a proposed security treaty with Australia would be delayed as it consults "domestic processes," a week after signing a defense agreement with the US that sparked student protests.
Papua New Guinea, a few kilometers to Australia's north, is being courted by China and the US amid rising tensions between the two major powers.
Washington and its allies are concerned about Beijing's security ambitions in the strategically located Pacific islands region, after Beijing struck a security pact with Solomon Islands.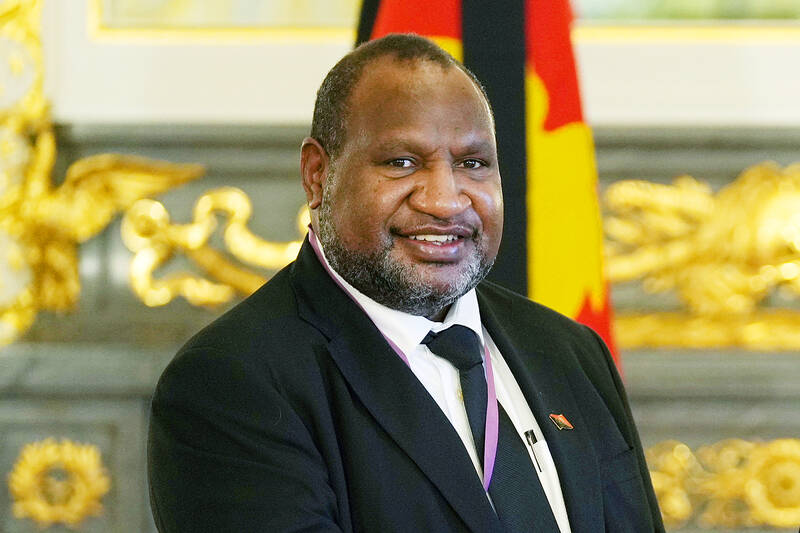 Papua New Guinean Prime Minister James Marape poses for a photo as he was with Japanese Prime Minister Fumio Kishida at Akasaka Palace state guest house in Tokyo on Sept. 27, 2022.
Photo: AP
PNG Prime Minister James Marape met with Australian Minister for Defence Richard Marles on Monday on the sidelines of the Korea-Pacific Islands Summit in Seoul and discussed the "proposed bilateral security treaty", Marape's office said in a statement yesterday.
"It is a work in progress and requires the PNG side to consult our domestic processes and sovereign laws in relation to certain wordings and provisions," the statement said.
Marape had "conveyed his apologies to [Australian] Prime Minister Anthony Albanese for the delay in formalizing this proposed treaty with Australia," it said.
Negotiations with Australia on upgrading defense ties to a security treaty — which would need to be ratified by parliament — had been expected to be finished by last month, Marape and Albanese said in a joint statement in January.
Australia is PNG's biggest aid donor and Marape's government last year sought to upgrade a defense cooperation agreement.
Marles has said Australia wants to strike an "ambitious" security treaty that will see navy, air force and army personnel from each nation working alongside each other more often.
PNG's defense ties have come under intense domestic political scrutiny in the past week after the US agreement was signed during a visit by US Secretary of State Antony Blinken.
STRATEGIC RIVALRY
The deal was criticized by opposition politicians who said it could embroil PNG in strategic competition between the US and China.
The Chinese navy has been deploying ships near Australia twice a year, including in northern waters and its exclusive economic zone, Australian Chief of Defence Force Angus Campbell told an Australian parliament hearing yesterday.
Chinese navy ships have traveled down Australia's east and west coasts, across its south returning from the Indian Ocean, and monitored major Australian navy exercises, he said.
"We are seeing a gradual increase in rate of presence from the PLA Navy," said Hugh Jeffrey, deputy secretary of the Australian Department of Defence.
In related news, South Korea and Australia's defense chiefs yesterday agreed to step up defense cooperation, the South Korean Ministry of National Defense said.
Korean Minister of National Defense Lee Jong-sup met Marles on the sidelines of the summit in Seoul.
Lee expressed the South Korean military's willingness to join the Indo-Pacific Endeavour, an Australian-led multinational military drill, as well as Operation Render Safe, activities by the Australian Defense Force to remove underwater mines in the Pacific.
The two countries agreed to hold working-level meetings as part of steps to revise a memorandum of understanding signed in 2011 aimed at enhancing defense industry cooperation.
Marles also met with South Korean President Yoon Suk-yeol and discussed joint efforts to expand cooperation with the Pacific island countries, a presidential spokesperson said.
Comments will be moderated. Keep comments relevant to the article. Remarks containing abusive and obscene language, personal attacks of any kind or promotion will be removed and the user banned. Final decision will be at the discretion of the Taipei Times.