US envoy to visit Brazil to bolster ties
US Ambassador to the UN Linda Thomas-Greenfield is scheduled to visit Brazil next week, following up on recent high-level meetings between the presidents and top diplomats of the two countries, the US Mission to the UN said on Wednesday.
Thomas-Greenfield plans to visit the capital, Brasilia, and then travel to Salvador, one of the oldest cities in the Americas and a center of Afro-Brazilian culture, from Tuesday to Thursday, the mission said.
Her visit follows Brazilian President Luiz Inacio Lula da Silva meeting with US President Joe Biden in Washington in February, in which he stressed the importance of defending democracy and preserving the Amazon rain forest.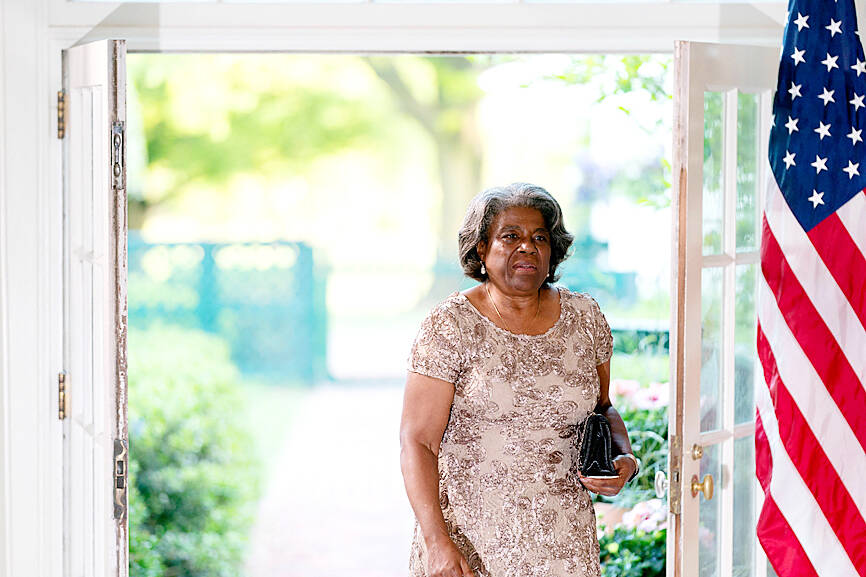 US Ambassador to the UN Linda Thomas-Greenfield arrives at a state dinner at the White House in Washington on Wednesday.
Photo: AFP
The trip also occurs on the heels of talks at the G20 ministerial meeting in New Delhi in March between US Secretary of State Antony Blinken and Brazilian Minister of Foreign Affairs Mauro Vieira.
Lula has also reached out to China and Russia, having traveled to Beijing earlier this month to meet with Chinese President Xi Jinping (習近平) in Beijing, and holding talks with Russian Minister of Foreign Affairs Sergey Lavrov in Brasilia last week.
The US mission said Thomas-Greenfield, a member of Biden's Cabinet, plans to focus on promoting multilateral cooperation on the trip, as well as on combating climate change, safeguarding food security, continuing cooperation on regional migration, "and ensuring equity for marginalized racial, ethnic and Indigenous communities."
Brazil, Latin America's largest country and a major global exporter, is serving a two-year term on the UN Security Council.
The mission said that in Brasilia, the ambassador is scheduled to meet with government officials "to discuss our partnership in the region and at the United Nations."
She is also to meet Brazilian communities dealing with the more than 250,000 Venezuelan migrants, refugees and asylum seekers, and speak at the University of Brasilia, the mission said.
In Salvador, Thomas-Greenfield is scheduled to discuss the US' commitment to reinvigorate the 2008 US-Brazil Joint Action Plan to Eliminate Racial and Ethnic Discrimination and Promote Equality, and engage with Afro-Brazilian civil society and young people, it said.
Comments will be moderated. Keep comments relevant to the article. Remarks containing abusive and obscene language, personal attacks of any kind or promotion will be removed and the user banned. Final decision will be at the discretion of the Taipei Times.