Man tells of China's crackdown on COVID protests
Dazed and terrified, Huang Yicheng narrowly managed to escape being detained by police in Shanghai while attending historic protests calling for an end to China's COVID-19 curbs that spread across numerous cities in November last year.
The protests, unprecedented in Chinese President Xi Jinping's (習近平) decade in power, were suppressed by police within days, but helped hasten the end of three years of restrictions.
Four months later, 26-year-old Huang fled to Germany and decided to speak out in support of fellow demonstrators, some of whom remain in detention.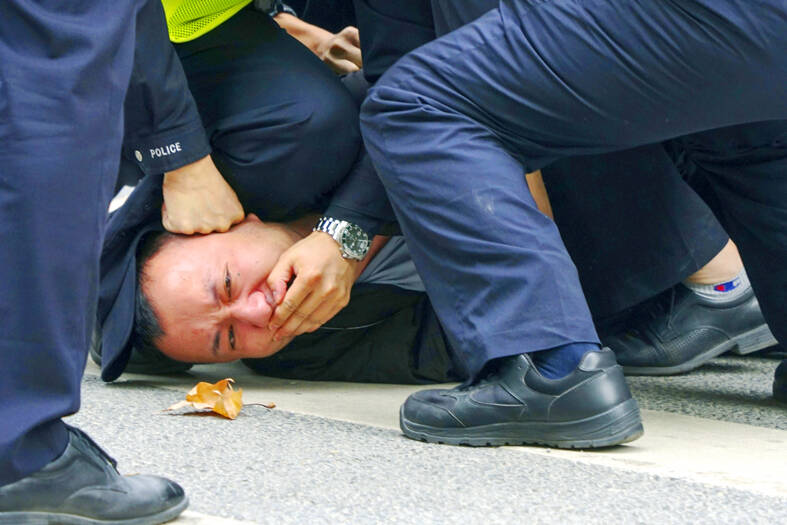 Police officers pin down a man during protests against COVID-19 restrictions in Shanghai on Nov. 27 last year.
Photo: AP
He is one of the first to publicly reveal his identity, after the vast majority of protesters fell silent under threat of official retribution.
"The moment I was detained was the most terrifying minute of my life. But after having experienced that, I now feel like I won't be afraid again," Huang told Reuters from the northern port city of Hamburg, where he is studying for a postgraduate degree.
"I feel like I need to speak up for Cao Zhixin (曹芷馨) and the other detained protesters... I want to urge more global forces to pay attention to them and Chinese people's efforts to struggle for their own freedom," he said.
Immediately following the protests, in which hundreds took to the streets in several cities across the country, police interrogated and detained dozens of participants, according to rights groups, lawyers and friends of those individuals.
Many were only held for 24 hours or less, or were released after a few weeks in detention.
Reuters could not independently verify the total number of protesters who were detained by police or have been charged and remain in custody.
However, Human Rights Watch has said Cao, a 26-year-old book editor, is one of four protesters who remain in detention in Beijing, having been formally charged with "picking quarrels and provoking trouble," which carries a sentence of up to five years.
Reuters could not reach Cao or her legal representatives, but one of her friends, who declined to be identified, confirmed she remains in detention.
China's Public Security Bureau did not respond to a faxed request for comment. The public security bureaus of Beijing and Shanghai could not be reached for comment.
China has not commented officially on the protests, whether they triggered the end of Beijing's "zero COVID-19" policy or subsequent detentions.
However, Xi reportedly told visiting European officials in December last year that "frustrated students" were behind the protests.
Huang said he still remembers clearly the evening of Nov. 27, when he saw "around 400 to 500" protesters near downtown Shanghai's Wulumuqi Road, named after the city of Urumqi where a deadly apartment blaze two days earlier triggered nationwide protest vigils against COVID-19 lockdowns.
The protests were initially peaceful, he said, as demonstrators chanted slogans and held up blank sheets of paper as a symbol of their discontent.
However, after nightfall, police started violently arresting protesters en masse, he said.
"A group of police officers rushed forward and pinned me to the ground, punching and kicking me. Then they grabbed me upside down and dragged me along the ground while upside down. My chin was bleeding profusely. I lost my glasses and shoes," he said.
He was then sat near the front of a police bus full of other detained protesters. There, he witnessed police slapping and beating several female protesters and managed to sneak out unnoticed amid the chaos. On the street, Huang bumped into an acquaintance who led him to a safe place away from the protest site, from where he caught a taxi home.
His name had not been taken down by the police, he said.
After the protests ended, Huang kept a low profile and "lived in extreme fear" of arrest while waiting for his student visa to travel to Germany. He finally left China late last month, without having been contacted by the police.
"The protesters who are still detained are young intellectuals and creatives: editors, journalists, Shakespeare lovers," Huang said, adding that they were neither seasoned activists or dissidents, but idealistic youngsters who acted spontaneously out of a sense of justice.
"Over the past 10 years, the space for us to exist — and the space for civil society in China — has continued to shrink," he said.
Huang said he believes that the demonstrations directly triggered the end of the "zero COVID-19" policy, but their lasting impact on China comes at a price.
"Even though 'zero COVID' is over, these people who sacrificed their freedom for us are still in prison," he said.
"As long as one protester is still detained, the world cannot stop paying attention to the white paper movement," he added.
Comments will be moderated. Keep comments relevant to the article. Remarks containing abusive and obscene language, personal attacks of any kind or promotion will be removed and the user banned. Final decision will be at the discretion of the Taipei Times.