Indonesia rejects rebels' claim of army deaths
Indonesia's military chief yesterday dismissed a separatist group's claim that they had killed more than a dozen government soldiers who were searching for a New Zealand pilot taken hostage by the rebels in the restive Papua region.
Indonesian National Armed Forces Commander Admiral Yudo Margono and the military's top brass flew to the region on Monday after initial information said attackers from the West Papua Liberation Army, the armed wing of the Free Papua Movement, ambushed 36 government soldiers in the hilly district of Nduga in mountainous Highland Papua Province.
Rebel spokesperson Sebby Sambom said in a statement on Monday that his group's fighters were holding the remains of 12 soldiers, including nine who he said "were arrested and executed."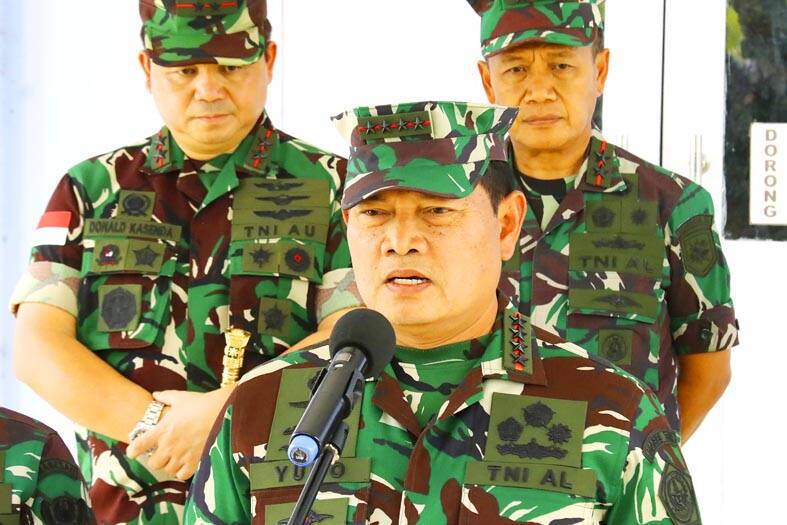 Indonesian Armed Forces Chief Admiral Yudo Margono, center, speaks during a news conference in Mimika, Indonesia, yesterday.
Photo: AP
The rebels offered no proof to back up their statement.
Margono confirmed only one fatality and said that four other soldiers were missing.
The rest had returned to their posts, he said, adding that four were wounded and were in stable condition after being evacuated to a hospital in Timika, a mining city in neighboring Central Papua Province.
"I'm here to find out directly and accurately from our troops on the ground about the exact situation, so that we can evaluate our [rescue] mission for the pilot," Margono told a news conference in Timika.
The soldiers were part of a group searching for Phillip Mark Mehrtens, a New Zealand pilot for the Indonesian aviation company Susi Air who was abducted by the rebels in February.
Sambom said in an earlier statement that the rebels carried out the attack in retaliation against Indonesia's "massive military operation" in Papua and the killings of two rebels in a shootout with security forces last month.
Margono rejected the rebel claims as "fake news" and said the military operations in Papua were launched with a view to keep casualties at a minimum.
However, he said that authorities would increase pressure on the rebels around several separatist strongholds, including in Nduga.
Comments will be moderated. Keep comments relevant to the article. Remarks containing abusive and obscene language, personal attacks of any kind or promotion will be removed and the user banned. Final decision will be at the discretion of the Taipei Times.