Italy blocks ChatGPT over data privacy failings
TOO MANY UNKNOWNS? The country's data agency said clarity is needed about whose information is being used, while there might be problems with the handling of data
Italy on Friday said it was temporarily blocking ChatGPT over data privacy concerns, becoming the first Western country to take such action against the popular artificial intelligence (AI) chatbot.
US firm OpenAI, which makes ChatGPT, had no legal basis to justify "the mass collection and storage of personal data for the purpose of 'training' the algorithms underlying the operation of the platform," the Italian Data Protection Authority said.
ChatGPT caused a global sensation when it was released last year, because of its ability to generate essays, songs, exams and even news articles from brief prompts.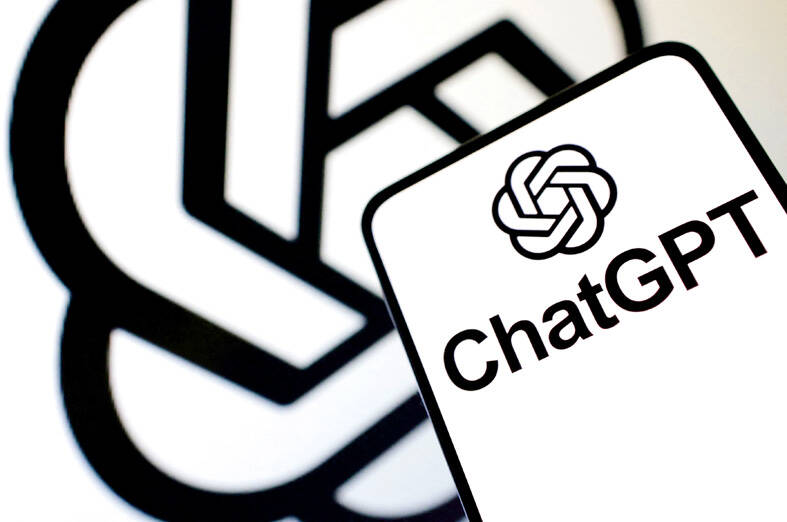 The ChatGPT logo is displayed on a cellphone on Feb. 3.
Photo: Reuters
Yet critics have long fretted that it was unclear where ChatGPT and its competitors got their data from or how they processed it.
Universities and some education authorities have banned the chatbot over fears that students could use it to write essays or cheat in exams, while hundreds of experts and industry figures this week signed an open letter calling for a pause in the development of powerful AI systems, saying they posed "profound risks to society and humanity."
The letter was prompted by OpenAI's release earlier this month of GPT-4, a more powerful version of its chatbot, with even less transparency about its data sources.
OpenAI on Friday said that it has "disabled ChatGPT for users in Italy."
"We are committed to protecting people's privacy and we believe we comply with ... privacy laws. We actively work to reduce personal data in training our AI systems like ChatGPT, because we want our AI to learn about the world, not about private individuals," an OpenAI spokesperson said.
"We also believe that AI regulation is necessary — so we look forward to working closely with [authorities in Italy] and educating them on how our systems are built and used," the spokesperson said. "Our users in Italy have told us they find ChatGPT helpful for everyday tasks, and we look forward to making it available again soon."
The Italian authority imposed a "temporary limitation of the processing of Italian user data" by OpenAI, and said that it had launched an investigation.
As well as a lack of legal basis for data collection, the authority also highlighted a lack of clarity over whose data was being collected.
It said wrong answers given by the chatbot suggested information was not being handled properly, and accused the firm of exposing children to "absolutely unsuitable answers."
The watchdog further referenced a data breach on March 20, where user conversations and payment information were compromised — a problem the firm blamed on a bug.
Nello Cristianini, a professor of AI at the University of Bath in England, said that it is easy to secure user data and enforce age limits.
However, Cristianini said that the other two accusations are more problematic — that the model is trained on personal data that is gathered without consent and then not treated properly.
"It is not clear how these can be fixed anytime soon," he said.
The company has been given 20 days to respond and could face a fine of 20 million euros (US$21.7 million) or up to 4 percent of annual revenue.
The runaway success of ChatGPT garnered OpenAI a multibillion-dollar deal with Microsoft, which uses the technology in its Bing search engine and other programs.
It also sparked a gold rush among other tech firms and venture capitalists, with Google hurrying out its own chatbot and investors pouring cash into all manner of AI projects.
Comments will be moderated. Keep comments relevant to the article. Remarks containing abusive and obscene language, personal attacks of any kind or promotion will be removed and the user banned. Final decision will be at the discretion of the Taipei Times.