Japan birth drive sparks online debate
The Japanese government has made tackling its falling birthrate a top priority, but with few women involved in official debate on the issue, some are making themselves heard on social media.
Japan recorded fewer than 800,000 births last year, the lowest in the nation of 125 million since records began.
Japanese Prime Minister Fumio Kishida has warned the trend threatens "whether we can continue to function as a society," and fresh focus on the issue has sparked countless articles.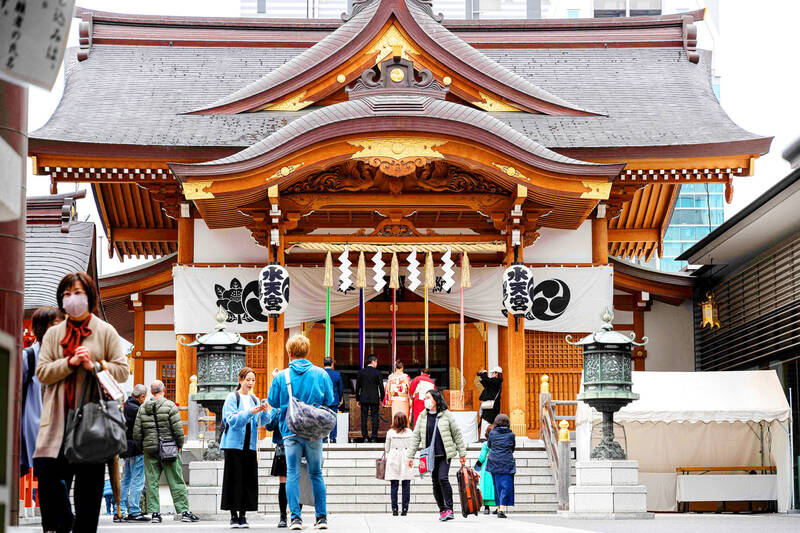 People visit the Suitengu Shrine, a popular place to pray for a happy and safe pregnancy and birth of a child, in the Ningyocho area of Tokyo yesterday.
Photo: AFP
However, one in particular, which said Japan has the highest ratio in the Organisation for Economic Co-operation and Development of women aged 50 who have never had children, triggered an outpouring of responses using the hashtag "life-long childlessness."
Tomoko Okada had long felt "ashamed" about not having children and initially hesitated to click on the trending topic on Twitter, fearing the usual barrage of criticism.
Instead, she found mostly sympathetic and nuanced discussions, with women explaining why they had been unable to start a family or, in some cases, why they had chosen not to.
"I used to strongly believe that giving birth was the 'normal' thing to do," the 47-year-old freelance writer said.
She tried matchmaking services, hoping to find a partner, with no luck, and was left feeling guilty when her dad asked for a grandchild for Father's Day.
However, posting her experiences and reading those of others helped her feel "my way of life is also OK."
'SO MUCH CRITICISM'
While many developed countries are struggling with low birthrates, the problem is particularly acute in Japan.
It has the world's second-oldest population after Monaco, and its relatively strict immigration rules mean it faces growing labor shortages.
Kishida has vowed policies — including financial aid for families, easier childcare access and more parental leave — to encourage people to have children.
But with female lawmakers accounting for fewer than 10 percent of Japan's powerful lower house, and Kishida's 19-minister Cabinet including just two women, most of those involved in the debate are men.
That has left some women feeling sidelined, or even under attack.
"Don't blame women for the low birth rate," tweeted Ayako, a 38-year-old Tokyo resident without children, who used the hashtag to call for recognition of "various choices" in life.
She said that Japan's traditional gender roles are central to the problem.
A 2021 government survey found that Japanese women spend about four times as long on chores and childcare as men, even with more husbands working from home.
Ayako is outspoken online, but said she finds herself "shunned" when she speaks about gender-related issues in real life, and preferred not to give her surname.
"It's hard to raise your voice in the real world. I feel like women receive so much criticism just for expressing their opinions," she said.
However, on social media, "I'm often surprised to find other people with the same views."
'ECHO CHAMBERS'
Yuiko Fujita, a media and gender studies professor at Meiji University, said social media has become a way for women in particular to discuss political and societal issues with less fear, often anonymously.
Other birthrate-related hashtags, railing against mothers being "single-operator childcare services" or lamenting rejected nursery applications, have also gone viral.
However, the outpouring has limited impact outside the "echo chambers" online, Fujita said.
"Unfortunately ... not many of these voices make it beyond the community of women to reach the political arena," she said.
Experts believe the declining birthrate is a complex problem with numerous roots.
Just 2.4 percent of births in Japan are outside of marriage, the lowest among the OECD group of 38 countries — a figure often attributed to conservative norms and financial structures that favor families.
Some point to economics, saying the country's long-stagnant growth discourages couples from having babies.
Policy changes such as expanding daycare provision can help boost birth rates, but the increase is often "temporary," Takumi Fujinami of the Japan Research Institute said.
As well as equality when it comes to household chores, "long-term economic stability and rising incomes are key," he said.
Comments will be moderated. Keep comments relevant to the article. Remarks containing abusive and obscene language, personal attacks of any kind or promotion will be removed and the user banned. Final decision will be at the discretion of the Taipei Times.