Poor Internet hinders Afghan girls' education
Sofia logged in to class on a laptop in Kabul for an online English course run by one of a growing number of educational institutes trying to reach Afghanistan's girls and women digitally in their homes.
However, when the teacher called on Sofia to read a passage, her computer screen froze.
"Can you hear me?" she asked repeatedly, checking her connection.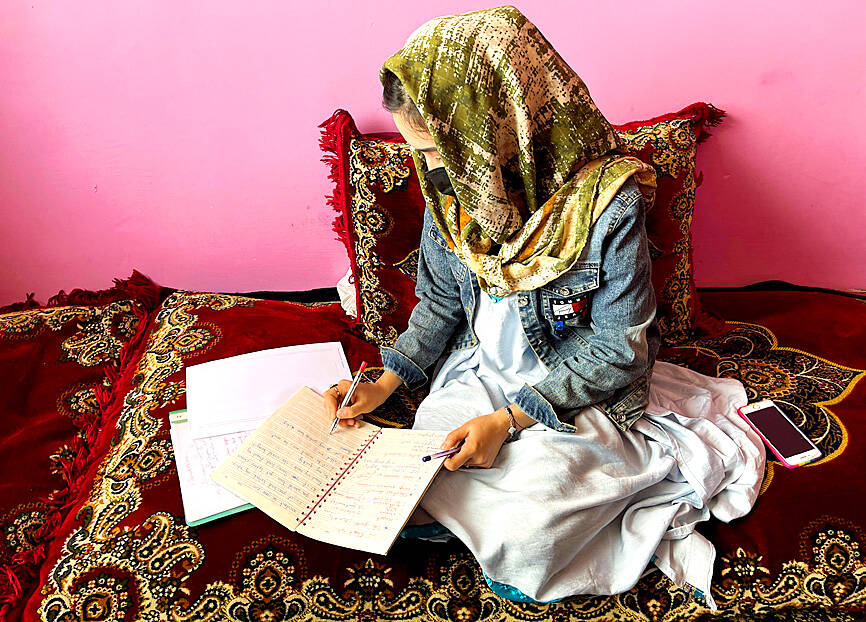 Afghan student Sofia takes notes during an online class at her house in Kabul on March 18.
Photo: Reuters
After a while, her computer stuttered back to life.
"As usual," a fellow student equally frustrated with the poor communications said as the class resumed.
Sofia, 22, is one of a growing stream of Afghan girls and women going online as a last resort to get around the Taliban administration's restrictions on studying and working.
Taliban officials, citing what they call problems including issues related to Islamic dress, have closed girls' high schools, barred their access to universities and stopped most women from working at non-governmental organizations.
One of the most striking changes since the Taliban were first in power, from 1996 to 2001, is the explosion of the Internet.
Virtually no one had access to the Internet when the Taliban were forced from power in the weeks after the attacks on the US on Sept. 11, 2001.
After nearly two decades of Western-led intervention and engagement with the world, 18 percent of the population had Internet access, World Bank data showed.
The Taliban has allowed girls to study individually at home and has not moved to ban the Internet, which its officials use to make announcements via social media.
However, girls and women face a host of problems, from power cuts to cripplingly slow Internet speeds, let alone the cost of computers and Wi-Fi, in a country where 97 percent of people live in poverty.
"For girls in Afghanistan, we have a bad, awful Internet problem," Sofia said.
Her online school, Rumi Academy, saw its enrollment of mostly females rise from about 50 students to more than 500 after the Taliban took over in 2021.
It has had hundreds more applications, but cannot enroll them for now because of a lack of funds for teachers and to pay for equipment and Internet packages, a representative of the academy said.
Sakina Nazari tried a virtual language class at her home in Kabul for a week after she was forced to leave her university in December, but she abandoned it in frustration after battling the problems.
"I couldn't continue," she said. "It's too hard to access Internet in Afghanistan, and sometimes we have half an hour of power in 24 hours."
Some Afghans have started calling on SpaceX CEO Elon Musk to introduce its satellite Internet service Starlink to Afghanistan, as it has done in Ukraine and Iran, posting requests for help on Twitter.
"We also call on Elon Musk to help us," Sofia said. "If they would be able to [introduce] that in Afghanistan, it would be very, very impactful for women."
Online schools are trying to accommodate Afghanistan's pupils.
Daniel Kalmanson, spokesperson for the online University of the People, which has had more than 15,000 applications from Afghan girls and women since the Taliban took over, said students can attend lectures at any time that conditions allow, and professors grant extensions on assignments when students face connection problems.
The non-profit Learn Afghanistan group, which runs several community-based schools with some remote classes, makes its curriculum available for free in Afghanistan's main languages.
Executive director Pashtana Durrani said the group makes lessons available via radio and works with international companies to find solutions to poor Internet access.
"Afghanistan needs to be a country where the Internet is accessible, digital devices need to be pumped in," Durrani said.
Sofia said that Afghan women had grown used to problems over years of war and they know how to persevere.
"We still have dreams and we will not give up, ever," she said.
Comments will be moderated. Keep comments relevant to the article. Remarks containing abusive and obscene language, personal attacks of any kind or promotion will be removed and the user banned. Final decision will be at the discretion of the Taipei Times.