Budget readies US for China confrontation: Austin
The US military must be ready for possible confrontation with China, US Secretary of Defense Lloyd Austin said on Thursday, pushing the US Congress to approve the Pentagon's proposed US$842 billion budget, which would modernize the force in Asia and around the world.
"This is a strategy-driven budget — and one driven by the seriousness of our strategic competition with the People's Republic of China," Austin told the US House of Representations Appropriations Subcommittee on Defense.
Pointing to increases in new technology, such as hypersonics, Austin said the budget proposes to spend more than US$9 billion, a 40 percent increase over last year, to build up military capabilities in the Indo-Pacific region and defend allies.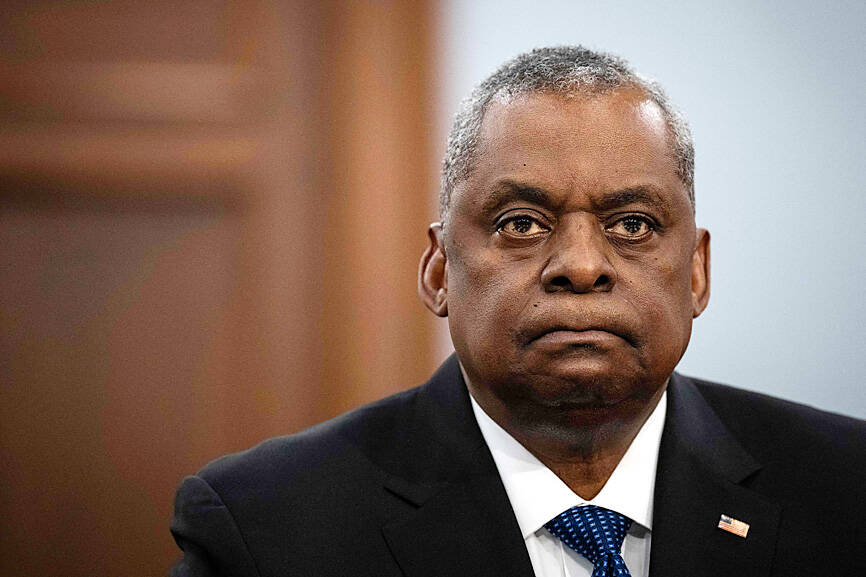 US Secretary of Defense Lloyd Austin speaks at a congressional hearing on Capitol Hill in Washington on Thursday.
Photo: AFP
The testimony comes on the heels of Chinese President Xi Jinping's (習近平) visit to Moscow, which added to concerns that China would step up its support for Russian President Vladimir Putin's war on Ukraine and increasingly threaten the West.
China's actions "are moving it down the path toward confrontation and potential conflict with its neighbors and possibly the United States," US Joint Chiefs of Staff Chairman General Mark Milley said.
He said deterring and preparing for war "is extraordinarily expensive, but it's not as expensive as fighting a war. And this budget prevents war and prepares us to fight it if necessary."
US Representative Hal Rogers pressed the defense leaders on Xi's meeting with Putin and its impact on US competition with China, which he called "the elephant in the room."
The US is "at a crucial moment here," he said.
The growing alliance between China and Russia, two nuclear powers, and Xi's overtures to Putin during the Ukraine war are "troubling," Austin said.
He added that the US had not yet seen China provide arms to Russia, but if it does, "it would prolong the conflict and certainly broaden the conflict potentially not only in the region but globally."
Milley, who is to retire later this year, said the Pentagon must continue to modernize its forces to ensure they would be ready to fight if needed.
"It is incumbent upon us to make sure we remain No. 1 at all times" to be able to deter China, he said.
Two decades of war in Afghanistan and Iraq eroded the US military's equipment and troop readiness, so Washington been working to replace weapons systems and give troops time to reset.
It has paid off, Milley said, referring to the US military overhaul.
"Our operational readiness rates are higher now than they have been in many, many years," Milley said, adding that more than 60 percent of the active force is at the highest states of readiness and could deploy to combat in less than 30 days, while 10 percent could deploy within 96 hours.
Comments will be moderated. Keep comments relevant to the article. Remarks containing abusive and obscene language, personal attacks of any kind or promotion will be removed and the user banned. Final decision will be at the discretion of the Taipei Times.