Beijing issues threat after US warship passage
CONFLICTING ACCOUNTS: The US destroyer's routine operations in the South China Sea would have 'serious consequences,' the defense ministry said
China yesterday threatened "serious consequences" after the US Navy sailed a destroyer around the disputed Paracel Islands (Xisha Islands, 西沙群島) in the South China Sea for the second day in a row, in a move Beijing claimed was a breach of its sovereignty and security.
The warning came amid growing tensions between China and the US in the region, as Washington pushes back at Beijing's growingly assertive posture in the South China Sea, a strategic waterway it claims virtually in its entirety.
On Thursday, after the US sailed the USS Milius guided-missile destroyer near the Paracel Islands, China said its navy and air force had forced the US vessel away, a claim Washington denied.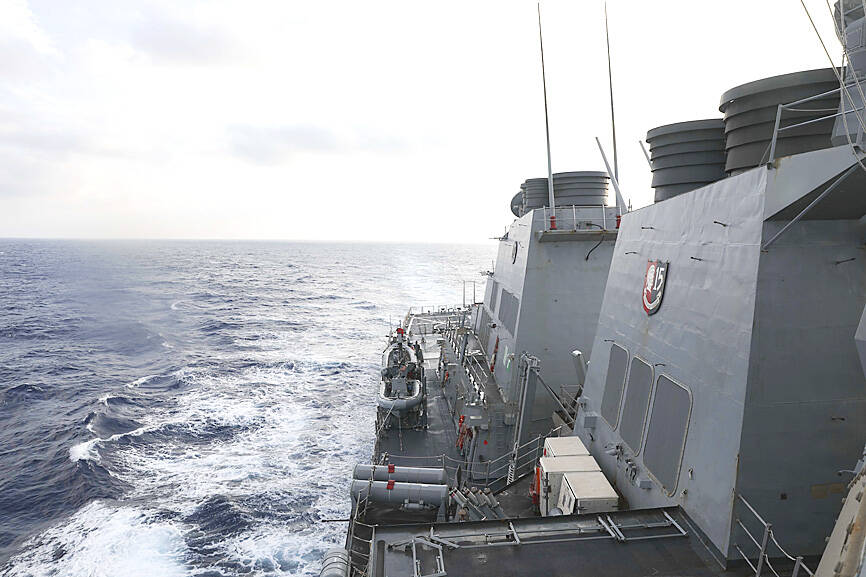 The USS Milius guided-missile destroyer conducts routine operations in the South China Sea yesterday.
Photo: AP
The US yesterday sailed the ship again in the vicinity of the islands, which are occupied by China, but also claimed by Taiwan and Vietnam, as part of what it called a "freedom of navigation operation" challenging requirements from all three nations requiring either advance notification or permission before a military vessel sails by.
"Unlawful and sweeping maritime claims in the South China Sea pose a serious threat to the freedom of the seas, including the freedoms of navigation and overflight, free trade and unimpeded commerce, and freedom of economic opportunity for South China Sea littoral nations," US Seventh Fleet spokesman Lieutenant Luka Bakic in an e-mailed statement.
"The United States challenges excessive maritime claims around the world regardless of the identity of the claimant," Bakic added.
The Chinese Ministry of National Defense responded by accusing the US of "undermining the peace and stability of the South China Sea" with its actions.
"The act of the US military seriously violated China's sovereignty and security, severely breached international laws, and is more ironclad evidence of the US pursuing navigation hegemony and militarizing the South China Sea," ministry spokesman Tan Kefei (譚克非) said. "We solemnly request that the US immediately stop such actions of provocation, otherwise it will bear the serious consequences of unexpected incidents caused by this."
He said China would take "all necessary measures" to ensure its security, but did not elaborate.
Like its statement on the Thursday incident, China again said it drove the US ship away from the islands.
Both sides said their actions were justified under international law.
Bakic said that the ship "was not driven away" and "continued on to conduct routine maritime security operations in international waters" after concluding its mission near the Paracel Islands.
Comments will be moderated. Keep comments relevant to the article. Remarks containing abusive and obscene language, personal attacks of any kind or promotion will be removed and the user banned. Final decision will be at the discretion of the Taipei Times.