US, Philippines to name new sites for US military
The US and the Philippines plan to announce new sites as soon as possible for an expanded Enhanced Defense Cooperation Agreement (EDCA), which gives the Western power access to military bases in the Southeast Asian country.
Philippine President Ferdinand Marcos Jr last month granted the US access to four military bases, on top of five existing locations under the 2014 EDCA, amid China's increasing assertiveness regarding the South China Sea and Taiwan.
Speaking at the Basa Air Base in Manila, one of the existing EDCA sites, US Secretary of the Air Force Frank Kendall said the defense agreements between the two countries are "not focused on any particular issue."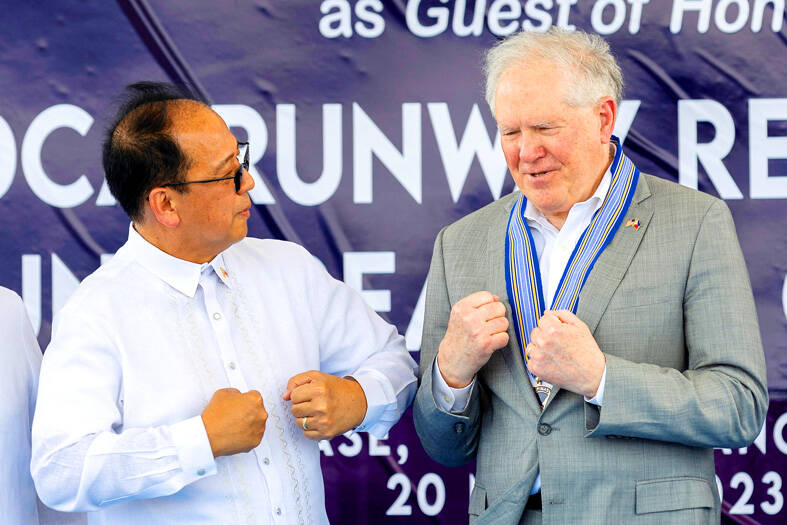 Philippine Secretary of National Defense Carlito Galvez, left, and US Secretary of the Air Force Frank Kendall gesture during the groundbreaking ceremony for an airstrip reconstruction project at Basa Air Base in Pampanga, the Philippines, yesterday.
Photo: Reuters
The EDCA gives the US access to Philippine bases for joint training, pre-positioning equipment and building facilities such as runways, fuel storage and military housing, but not a permanent presence.
While the Philippines has yet to formally identify the sites, a former military chief said the US had asked for access to bases in Isabela, Zambales and Cagayan, all on the island of Luzon, facing north toward Taiwan, and on Palawan in the southwest, near the disputed Spratly Islands (Nansha Islands, 南沙群島) in the South China Sea.
Leaders of local governments at the potential EDCA sites have backed Manila's decision to allow the US greater access to the bases, Philippine Secretary of National Defense Carlito Galvez said at a joint news conference with Kendall.
Galvez and Kendall were leading a groundbreaking ceremony for the reconstruction of the Basa Air Base's runway.
"Today's event is a physical manifestation of our Enhanced Defense Cooperation Agreement, a key pillar of the US-Philippine alliance," Kendall said, adding that it built on a seven-decade-old Mutual Defense Treaty that applied anywhere in the South China Sea.
"We are at an inflection point in history, and our cooperation will help ensure we stay on the path to peace and stability," he said.
The runway reconstruction is part of US$82 million the US has allocated for infrastructure investments at the existing five EDCA sites.
"Moving forward we hope the US will consider more EDCA projects," Galvez said.
Chinese Vice Minister of Foreign Affairs Sun Weidong (孫衛東) is scheduled visit the Philippines from tomorrow to Friday, the Chinese Ministry of Foreign Affairs said yesterday.
Comments will be moderated. Keep comments relevant to the article. Remarks containing abusive and obscene language, personal attacks of any kind or promotion will be removed and the user banned. Final decision will be at the discretion of the Taipei Times.