US probes TikTok owner over spying on reporters
The US Department of Justice is investigating whether ByteDance, the Chinese owner of TikTok, has been conducting improper surveillance on US citizens and journalists, as the company deals with significant opposition in its efforts to continue operating the popular video-sharing app in the US.
The probe is being conducted by the department's criminal division and the FBI, said a person familiar with the development who asked to remain anonymous as they were speaking about an ongoing matter.
Forbes earlier reported that US prosecutors had sent ByteDance a subpoena regarding efforts by its employees to access journalists' location information or other private user data using TikTok.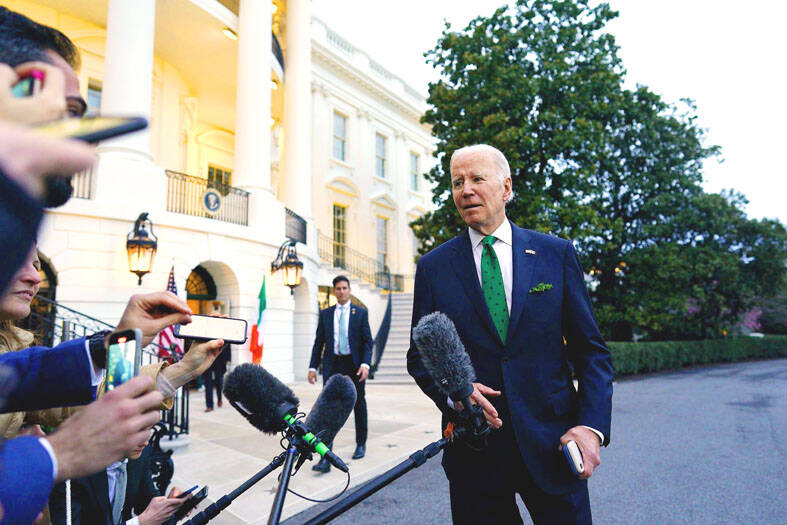 US President Joe Biden speaks to reporters at the White House in Washington on Friday.
Photo: Bloomberg
ByteDance said in a statement: "We have strongly condemned the actions of the individuals found to have been involved, and they are no longer employed at ByteDance."
"Our internal investigation is still ongoing, and we will cooperate with any official investigations when brought to us," the firm said.
The revelation comes as the administration of US President Joe Biden told the company to sell its shares of TikTok in the US or risk a ban of the popular app, a major escalation in the long-running standoff over privacy and national security concerns over Chinese control of its data and algorithm.
The demand indicates that the Biden administration has given up on a security review that was intended to blunt potential Chinese influence regarding the app, allowing it to keep operating in the US.
Separately, Sky News reported on Friday that TikTok would be removed from Scottish parliament smartphones and devices amid security concerns.
Members of the Scottish parliament and staff were "strongly" advised to remove TikTok, including from personal devices used to access the legislature's IT systems, the report said, citing an e-mail.
Comments will be moderated. Keep comments relevant to the article. Remarks containing abusive and obscene language, personal attacks of any kind or promotion will be removed and the user banned. Final decision will be at the discretion of the Taipei Times.