Philippines faces barrage of fake online medical posts
Philippine vlogger Rosanel Demasudlay holds a heart-shaped "virginity soap" bar in front of the camera and assures her hundreds of YouTube followers that it can be safely used to "tighten" their vaginas.
The video is part of a barrage of bogus and harmful medical posts on social media platforms where Filipinos rank among the world's heaviest users.
Even before COVID-19 pandemic restrictions confined people to their homes and left them fearful of seeing a doctor, many in the Philippines sought remedies online because they were cheaper and easier to access.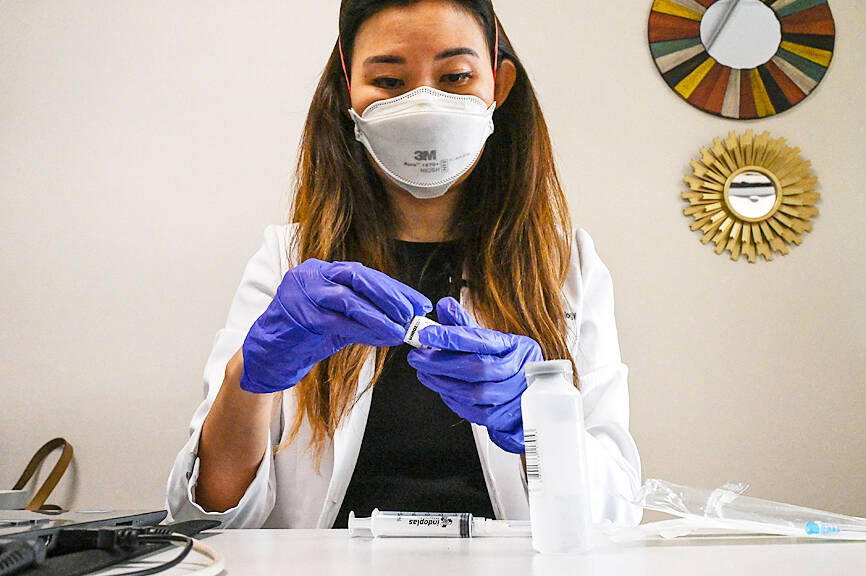 Rheumatologist Geraldine Zamora prepares medication at her office in a hospital in Manila on Nov. 3 last year.
Photo: AFP
During the pandemic, the Agence France-Presse's (AFP) Fact Check team saw an explosion of misinformation about untested cosmetic products and quick-fix treatments for chronic illnesses.
The majority were free posts or paid advertisements on Facebook, the most popular social media site among the 76 million Internet users in the Philippines.
They can circulate for weeks or even months without detection as Facebook struggles to keep up with the torrent of misinformation flooding its platform.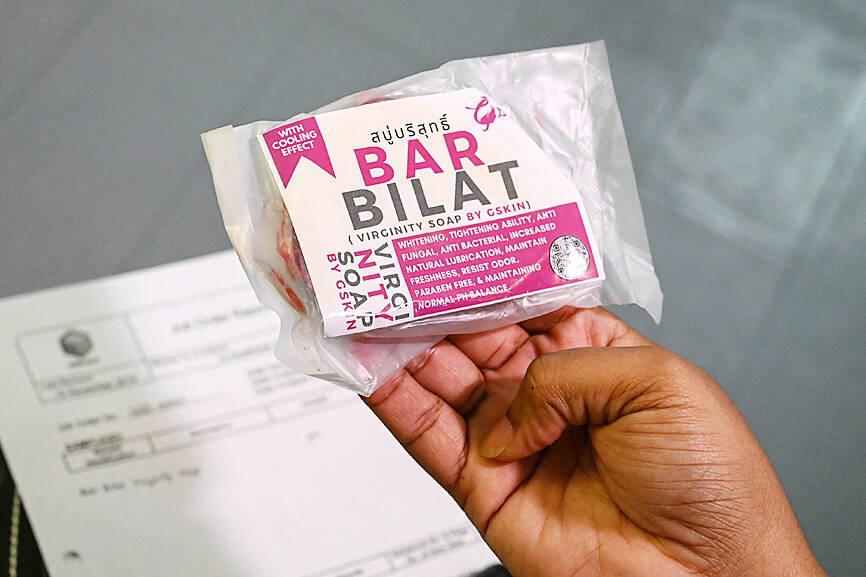 A person holds a package of Bar Bilat on Feb. 13, a brand of "virginity soap" not approved by the Philippine Food and Drug Administration.
Photo: AFP
While there is no vetting of posts before they go live, Facebook has a multi-stage, largely automated, review system to check ads before they are published.
Many of the products are promoted in videos that have been doctored to make it look like real medical professionals are endorsing them. Others appear in falsified news reports, while some are touted by vloggers such as Demasudlay.
AFP fact checkers have debunked dozens of claims, including a manipulated Philippine news report that appeared to promote a herbal supplement for diabetics as an alternative to insulin.
A single post of the video was viewed more than 3 million times, shared more than 7,000 times and attracted almost 10,000 comments, many saying they wanted to buy it.
Demasudlay's 15-minute video was posted in August last year and has been viewed more than 10,000 times.
She said that the "Bar Bilat Virginity Soap" had been approved by the Philippine Food and Drug Administration (FDA) as a treatment for skin conditions and a way to tighten the vagina.
"Bilat" means "vagina" in a local Philippine language.
However, the FDA has warned people against using the "unauthorized" soap due to possible health risks that range from skin irritation to organ failure.
A few months later, Demasudlay said in another video that the soap had left her "itchy to the point of bleeding," but she kept promoting it.
Demasudlay declined to be interviewed.
Philippine doctors worried about the explosion of medical misinformation during the pandemic began posting videos providing free information about common health conditions.
However, the move backfired as promoters of spurious treatments used clips from those videos and inserted them into their own posts for credibility.
Geraldine Zamora, a rheumatologist in the capital, Manila, was among those targeted.
In 2020, she began recording videos and posting them on TikTok, where she has more than 60,000 followers.
"It was a good thing for us because we were able to extend our medical knowledge to people who otherwise wouldn't be able to consult with doctors," Zamora said.
Her videos were watched hundreds of thousands of times.
However, the footage was used to promote an unregistered brand of supplement for arthritis, which the FDA had warned about.
The manipulated posts were viewed tens of thousands of times before being taken down by Facebook.
Zamora said that some of her patients considered purchasing the product in the belief that she was endorsing it.
The WHO told reporters that "inappropriate promotion and advertisements" for unregistered medical products had long been a global problem and the pandemic might have made it worse.
People in the Philippines were particularly vulnerable to false or misleading health claims due to a shortage of doctors in the country and their heavy Internet usage, said Eleanor Castillo, a public health expert at the University of the Philippines.
"Even if we have our rural health units, or village health centers, many of them don't have doctors or they would visit once a week or twice a month, especially in far-flung areas," Castillo said.
The consequences of using unapproved treatments can be dire.
Philippine Academy of Ophthalmology president Vicente Ocampo said that people as young as 12 had become blind after using eye drops bought online instead of consulting a doctor.
"It saddens us that people will readily believe advertisements that claim to heal all eye problems as speedily as possible and pay exorbitant prices for these eye drops," Ocampo said.
Ocampo said that Facebook posts selling an unregistered eye drop brand had used images of real doctors and the academy's name.
The academy struggled to get traction with its warnings about the misinformation. Its statement issued in September last year notifying people about the false posts received 57 interactions — likes, shares and comments.
In the same month, four ads for the product reviewed by AFP fact checkers received almost 34,000 interactions.
Some of the viral medical posts AFP has debunked on Facebook were paid advertisements.
The ad policy of Meta, the parent company of Facebook, prohibits any "promises or suggestions of unrealistic outcomes" for "health, weight loss or economic opportunity."
Ads for over-the-counter medicines should comply with licenses and approvals required by local laws, it says.
However, keyword searches on Meta's ad library found hundreds of advertisements for products that have been debunked still on the site.
Meta told AFP that it was working with Philippine law enforcement "to address" illegal commercial listings.
Comments will be moderated. Keep comments relevant to the article. Remarks containing abusive and obscene language, personal attacks of any kind or promotion will be removed and the user banned. Final decision will be at the discretion of the Taipei Times.