Netanyahu rejects judicial compromise
'UNFORTUNATE TRUTH': President Isaac Herzog's proposal perpetuates the current situation and does not bring the needed balance between the branches, the PM said
Israeli Prime Minister Benjamin Netanyahu on Wednesday rejected a proposal aimed at resolving a standoff over his plans to overhaul the country's legal system.
Israeli President Isaac Herzog presented the compromise in a nationally televised address.
Herzog, whose role is meant to serve as a national unifier and moral compass, unveiled the proposal after more than two months of mass protests against Netanyahu's plan.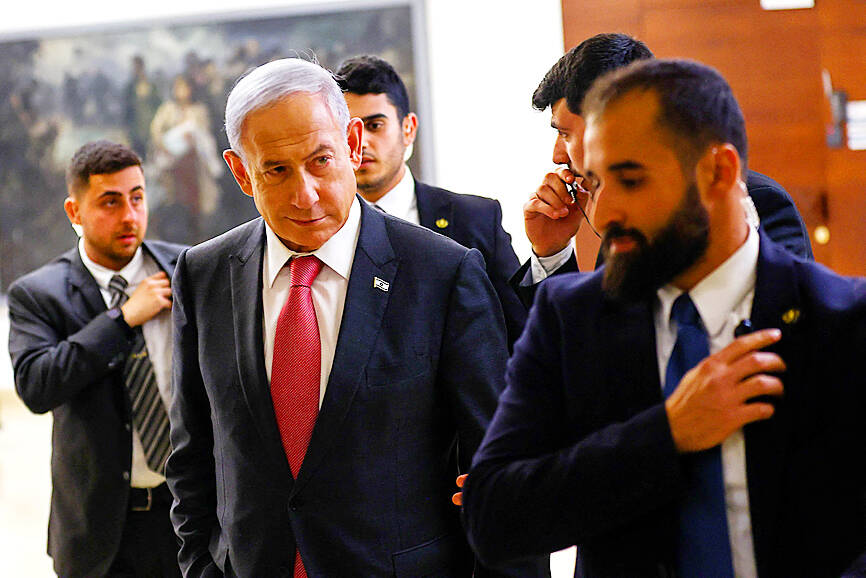 Israeli Prime Minister Benjamin Netanyahu, center, leaves his office in the Knesset in Jerusalem on Wednesday.
Photo: Reuters
He said he had been consulting with a broad cross section of the country and suggested that Israel's survival depends on reaching a compromise.
"Anyone who thinks that a real civil war, of human life, is a line that we will not reach has no idea," Herzog said. "The abyss is within touching distance."
However, Netanyahu turned it down.
"Unfortunately, the things the president presented were not agreed to by the coalition representatives," Netanyahu said at Israel's main international airport before departing to Germany. "And central elements of the proposal he offered just perpetuate the current situation and don't bring the necessary balance between the branches. That is the unfortunate truth."
Netanyahu's plan would allow parliament to overturn decisions of the Israeli Supreme Court and give parliament the final say over all judicial appointments.
Netanyahu's allies say the plan is needed to curb excessive powers of unelected judges.
Their opponents say it would destroy the country's system of checks and balances by concentrating power.
They also say that Netanyahu, who is on trial for corruption charges, has a conflict of interest.
The proposal by Herzog offered incentives to both sides.
Parliament would not be able to overturn rulings, but judges would not be allowed to overturn major legislation known as Basic Laws, which serve as a sort of constitution.
However, Basic Laws would require a parliamentary supermajority, instead of a simple majority, to pass.
Judicial appointments would be made by a committee comprised of coalition and opposition lawmakers, judges and public representatives. Appointments would require a broad consensus, and no single party would wield a veto.
"This is not the president's draft. It is the draft of the nation," Herzog said. "There is no side that wins, no side that loses."
Merav Michaeli, leader of the opposition Labor party, welcomed the proposal and said Netanyahu's rejection shows he "is not for legal reform, but for judicial overthrow."
Netanyahu's proposal has sparked weeks of mass protests by tens of thousands of Israelis and drawn criticism from business leaders, economists and legal experts.
Military reservists have threatened to stop reporting for duty if it passes. Even some of Israel's closest allies, including the US, have urged caution.
Earlier on Wednesday, a senior delegation of Jewish-American leaders paid a flash visit to Israel to urge leaders to find a compromise.
The arrival of about 30 leaders from the Jewish Federations of North America marked a rare foray by the US Jewish community into domestic Israeli affairs and reflected concerns that the turmoil inside Israel could spill over to Jewish communities overseas.
Eric Fingerhut, president and chief executive of the Jewish Federations, said that the 24-hour visit, coming at short notice, illustrated the "grave concern and worry" the Israeli debate has raised among American Jews.
The federation said the visit was the first time "in recent history" that it has sent such a delegation to discuss Israeli policy with Israeli leaders.
Fingerhut said his group's message to all sides was to find a compromise and calm the deeply polarized atmosphere.
Comments will be moderated. Keep comments relevant to the article. Remarks containing abusive and obscene language, personal attacks of any kind or promotion will be removed and the user banned. Final decision will be at the discretion of the Taipei Times.