Ex-PM slams Australia submarine deal
LEADERS MEET: Australia's Anthony Albanese met Fiji's Sitiveni Rabuka to reiterate that the submarines would not carry nuclear weapons, amid unease over the plan
A former Australian prime minister yesterday rubbished the country's landmark nuclear-powered submarine deal, saying that it unnecessarily targeted China and could have "deadly consequences."
Australia on Monday announced that it would buy up to five US submarines in an ambitious effort to bulk up Western muscle in the face of a rising China.
With the help of the US and UK, Australia is also embarking on a 30-year plan to build its own fleet of nuclear-powered submarines.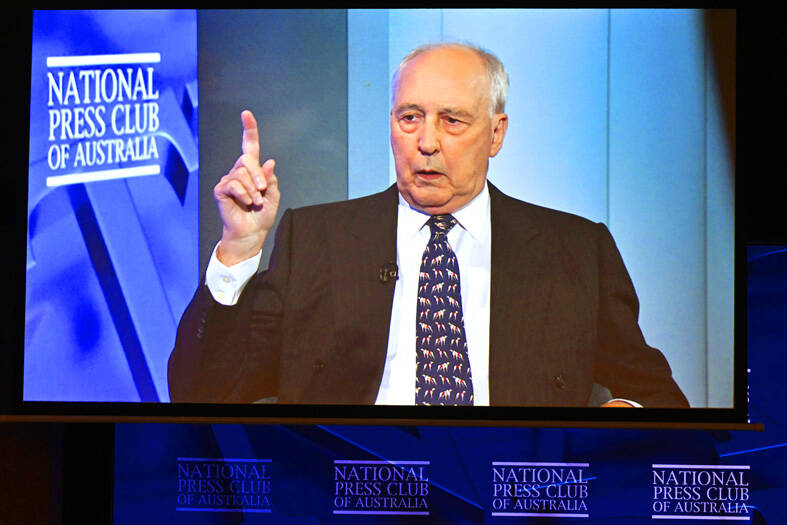 Former Australian prime minister Paul Keating addresses the National Press Club in Canberra yesterday via videoconference.
Photo: AP
Australian Prime Minister Anthony Albanese said that the deal was the country's biggest-ever military upgrade, while US President Joe Biden said it would ensure that the region remained "free and open."
However, former Australian prime minister Paul Keating has derided it as a "great misadventure."
"History will be the judge of this project in the end, but I want my name clearly recorded among those who say it is a great mistake," he said in a statement.
The former Labor prime minister — who led the country between 1991 and 1996 — said that Australia had blindly followed the US and UK, and that China posed no tangible military threat.
"What would be the point of China wanting to occupy Sydney and Melbourne? Militarily? And could they ever do it," he said. "The question is so dumb, it's hardly worth an answer."
Keating said Australia was beginning a "dangerous and unnecessary journey" at the urging of the US, and that this could carry "deadly consequences" if the country became tangled in future conflicts.
"Signing the country up to the foreign proclivities of another country — the United States — with the gormless Brits lunging along behind is not a pretty sight," he said.
Acquiring submarines powered by nuclear reactors puts Australia in an elite club and at the forefront of US-led efforts to push back against Chinese military expansion. While Australia on Tuesday said that the submarines would not carry nuclear weapons, its submarine plan marks a significant new stage in the confrontation with China, which has been racing to strengthen its own sophisticated naval fleet.
Seperately, Albanese yesterday met his Fijian counterpart in Suva to press Canberra's message that its submarine program does not contravene its nuclear non-proliferation commitments.
Australia is party to a nuclear-free zone treaty with 12 other South Pacific nations, including Fiji, in a region where sensitivity over nuclear weapons is high, because of the effects of nuclear weapons tests by the US and France.
Albanese met with Fijian Prime Minister Sitiveni Rabuka to discuss regional security, a day after unveiling details of the submarine program in San Diego with the leaders of the US and UK.
China has said the AUKUS partnership between the three contravenes the nuclear non-proliferation treaty, which Australia rejects.
Chinese Special Envoy for Pacific Island Countries Affairs Qian Bo (錢波) this month sought support from a sub-regional group of Fiji, Vanuatu, Papua New Guinea and the Solomon Islands for a security training and assistance role for China, a statement from the Melanesian Spearhead Group showed.
Qian has visited Papua New Guinea, Vanuatu and the Federated States of Micronesia in the past two weeks.
In a statement on Friday last week, the leader of the Melanesian Spearhead Group — an intergovernmental organization of Fiji, Papua New Guinea, the Solomon Islands, Vanuatu and a pro-independence party of New Caledonia — said that it would consider security assistance, including training and equipment from China.
"My members have affirmed in very strong terms that no one will choose their friends or enemies for them," Melanesian Spearhead Group director-general Leonard Louma said.
Comments will be moderated. Keep comments relevant to the article. Remarks containing abusive and obscene language, personal attacks of any kind or promotion will be removed and the user banned. Final decision will be at the discretion of the Taipei Times.