Michelle Yeoh's mom proud of 'little princess'
'JAW-DROPPING MOMENT': Michelle Yeoh in her Oscars speech dedicated her award to her mother and said 'all the moms in the world' were the real superheroes
Michelle Yeoh's mother cried for joy for her "little princess" when the Malaysian performer became the first Asian to win the best actress Oscar.
Yeoh's family and two Malaysian Cabinet ministers were among the supporters roaring with joy at Yeoh's win during a special Academy Awards viewing party in Malaysia on Monday morning. Her trophy for her performance as a laundromat owner was one of seven Oscars for Everything Everywhere All at Once, including best picture.
Janet Yeoh, 84, praised the actor as intelligent and hardworking, and a filial daughter.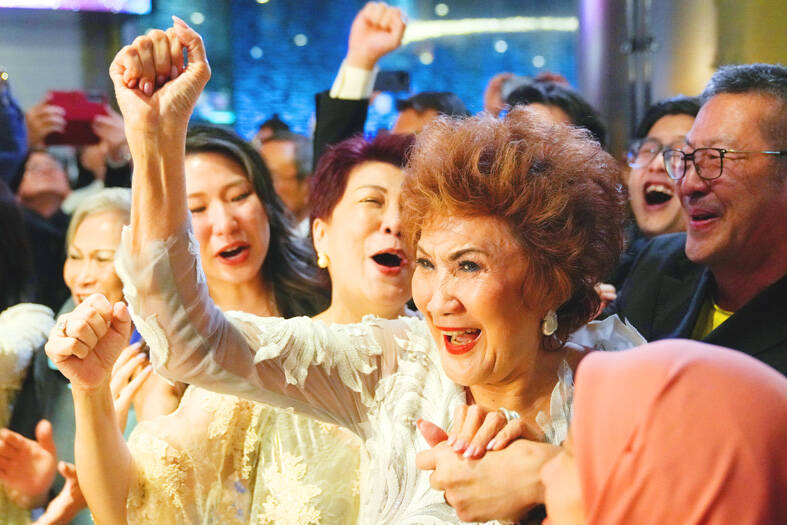 Janet Yeoh, the mother of Michelle Yeoh, front, celebrates in Kuala Lumpur on Monday after her daughter won best actress at the Academy Awards in Los Angeles.
Photo: AP
"I so love my daughter and she has made Malaysia proud," Janet Yeoh told a news conference after the viewing at a cinema in Kuala Lumpur. "Malaysia Boleh [Malaysia Can]."
Janet Yeoh said she was immensely proud of "my little princess," who wanted to be a ballerina before entering the movie world.
She said she pushed her daughter out of her cocoon, despite protests from her late husband, a lawyer whom she described as "old-fashioned."
In her acceptance speech, Michelle Yeoh dedicated her award to her mother and said "all the moms in the world" were the real superheroes.
Shortly after, Michelle Yeoh made a video call to her mom, holding up her trophy in triumph.
"It was such a jaw-dropping moment. I was speechless, I cried," said Vicki Yeoh, Michelle Yeoh's niece, who was at the special viewing. "The nominees are really strong, but we had no doubt. We keep telling her that you will win ... you will stand on the stage with the golden man."
Malaysian Prime Minister Anwar Ibrahim said the government joined the nation to congratulate Michelle Yeoh for creating history.
"Coupled with this achievement, Michelle's illustrious and exemplary career in this field will certainly continue to be a source of great inspiration and motivation to our homegrown actors and actresses, and provide even greater impetus to the growth of our local industry," Anwar said in a statement. "Way to go, Michelle."
Malaysian Minister of Youth and Sports Hannah Yeoh, who was at the viewing, immediately posted on social media: "Most inspiring quote for all of us aunties — 'Ladies, don't let anybody ever tell you that you are past your prime' — Michelle Yeoh."
Lawmakers Sim Tze Sin and Wee Ka Siong thanked Michelle Yeoh for "breaking glass ceilings" for Asian and Malaysian women. They praised her for being an icon for resilience and perseverance.
Michelle Yeoh, 60, learned ballet before turning to acting. Her first major Hollywood role was playing a Chinese spy in the Bond film Tomorrow Never Dies in 1997 alongside Pierce Brosnan.
She gained renown for her role in the 2000 martial arts masterpiece Crouching Tiger, Hidden Dragon, which won the Oscar for best foreign-language film.
Michelle Yeoh had more success in Crazy Rich Asians in 2018 and Marvel's Shang-Chi and the Legend of the Ten Rings in 2021.
"We are incredibly proud. We hope she goes to break more records and win more awards," her nephew Kelvin Yeoh said.
Comments will be moderated. Keep comments relevant to the article. Remarks containing abusive and obscene language, personal attacks of any kind or promotion will be removed and the user banned. Final decision will be at the discretion of the Taipei Times.