Rain, snow continue to pummel California
More than 9,000 California residents were under evacuation orders on Friday as a new atmospheric river brought heavy rain, thunderstorms and strong winds, swelling rivers and creeks and flooding several major highways and small rural communities.
In Santa Cruz County, a creek bloated by rain destroyed a portion of Main Street in Soquel, a town of 10,000 people, isolating several neighborhoods.
Crews were working to remove trees and other debris and find a way for people to cross the creek, county officials said.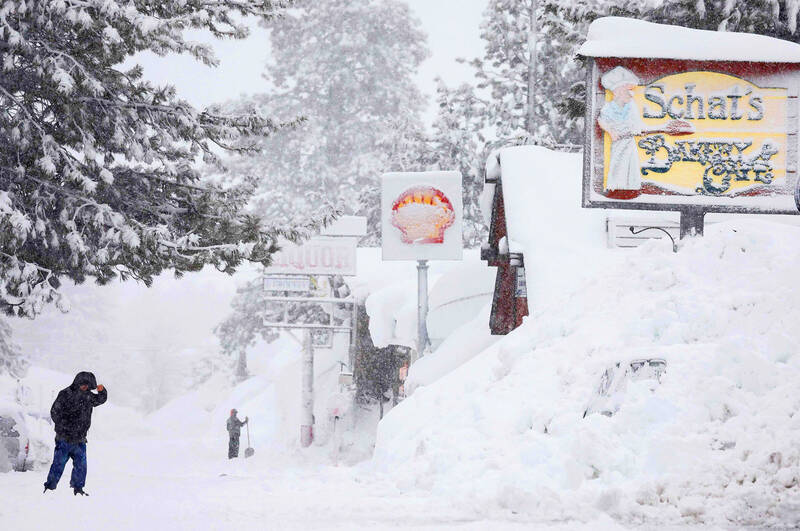 A person walks as snow falls above snowbanks piled up from previous storms during a winter storm in the Sierra Nevada mountains in Mammoth Lakes, California, on Friday.
Photo: AFP
County authorities asked the town's residents to stay indoors.
Heather Wingfield, a teacher who runs a small urban farm with her husband in Soquel, said she and her neighbors were, for the time being, trapped in their homes as Bates Creek rushed through what was once Main Street.
"It's horrible," she said. "Hopefully no one has a medical emergency."
In central California, the Tule River overflowed its banks and flooded several homes.
Videos posted on social media showed a handful of homes and vehicles under a few feet of water and at least one road washed out by the rushing river in Springville, a Tulare County town of about 1,000 people in the foothills of the southern Sierra Nevada.
There were also flash floods in Kernville, another foothill town in Kern County.
In the San Francisco Bay Area, flooding blocked portions of several major highways, including Interstate 580 in Oakland, disrupting travel.
Peet's Coffee, a California-based chain, reported that after a heavy storm, an investigation is underway to determine the cause of a roof collapse that killed a worker at a distribution center leased by the company in Oakland.
Martin Gonzalez, 57, had worked there for 17 years, the company said.
The storm marked the state's 10th atmospheric river of the winter, storms that have brought enormous amounts of rain and snow to the state and helped lessen the drought conditions that had dragged on for three years.
State reservoirs that had dipped to strikingly low levels are well above the average for this time of year, prompting state officials to release water from dams to assist with flood control and make room for even more rain.
State transportation officials on Friday said they removed so much snow from the roadways last month that it would be enough to fill the iconic Rose Bowl 100 times.
The atmospheric river, known as a "Pineapple Express" because it brought warm subtropical moisture across the Pacific from near Hawaii, was melting lower parts of the huge snowpack built in the mountains.
Snow levels in the Sierra Nevada, which provides about a third of the state's water supply, are more than 180 percent of the April 1 average, when it is historically at its peak.
Comments will be moderated. Keep comments relevant to the article. Remarks containing abusive and obscene language, personal attacks of any kind or promotion will be removed and the user banned. Final decision will be at the discretion of the Taipei Times.