January tip failed to stop Hamburg attack
NO CAUSE: Although an anonymous tip-off said the suspect might have a mental illness and anger toward Jehovah's Witnesses, police still found no reason to remove his guns
A deadly rampage at a Jehovah's Witnesses hall in Hamburg has put scrutiny on how the shooter was in legal possession of a semi-automatic pistol despite Germany's tightened gun laws and a prior warning about his suspicious behavior.
The 35-year-old man, whose name was given as Philipp F. in accordance with German privacy laws, killed six people and then himself when he opened fire on Thursday evening, authorities said on Friday.
Eight people were wounded, including four seriously, Hamburg Senator Andy Grote said, calling it "the worst crime in our city's recent history."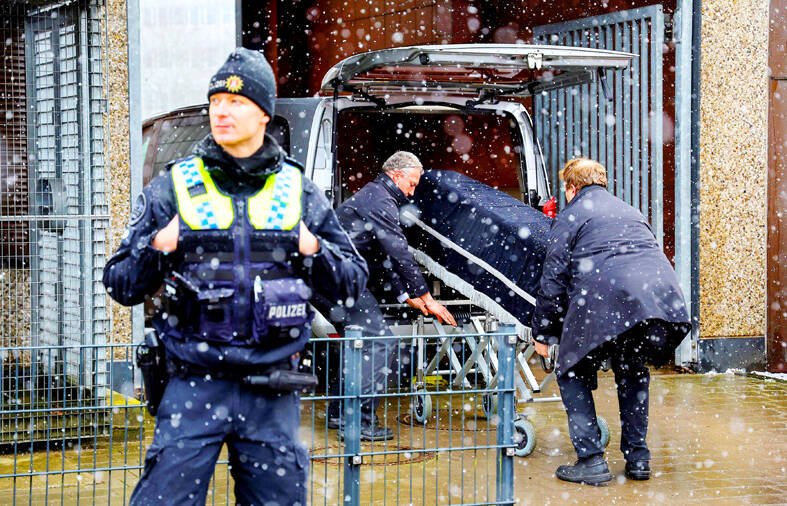 A police officer stands watch as the body of a victim of a shooting in Hamburg, Germany, is moved on Friday.
Photo: Reuters
The exact motives were still unknown, but officials said the shooter had been a member of the Christian group and left the community about 18 months ago, "but apparently not on good terms," police said.
An anonymous tip-off had been sent to the weapons control authority in January, claiming that Philipp F. might have had an undiagnosed psychological illness and a "particular anger against religious members or against the Jehovah's Witnesses and his former employer."
Raids following the shooting on his apartment uncovered 15 magazines loaded with 15 bullets each and four further packs of ammunition with about 200 rounds.
Philipp F., an amateur marksman, was the licensed owner of a Heckler & Koch P30 semi-automatic handgun, according to a briefing given by police and prosecutors.
He had no criminal record or any links to terrorism prior to the attack that would have automatically prevented him from owning a gun.
The tip-off prompted two police officers to carry out an unannounced check at his home on Feb. 7.
When they met Philipp F., he was cooperative and gave no indication of mental health problems. The officers even ended up chatting about how the flat was furnished.
His license was inspected and police also had to check whether his weapon and ammunition were properly stored, which they were, except for one projectile that was incorrectly lying on top of the gun safe.
Philipp F. was given a verbal warning about the stray projectile. He was apologetic and the projectile was placed into the safe, after which the police felt they could not take any more action.
"The entire situation also showed no indications for the officers that could have pointed to a mental illness," Hamburg Police Chief Ralf Meyer said. "On the contrary, they had a further conversation with him about a variety of things, such as the furnishing of the flat and similar things, and at the end they went out and gave him a verbal warning for the minor offense."
The German Ministry of the Interior said the country's gun controls are already strict, but the government has come under pressure to tighten rules, following a string of attacks in the past few years and most recently after authorities uncovered an extremist network plotting an armed coup late last year.
A law on tighter gun control that Berlin is preparing stipulates would-be owners undergo a psychological suitability test, German Minister of the Interior Nancy Faeser said on Friday on a visit to the scene of the shooting.
Separately on Friday, police said they had arrested a male suspect after a special unit stormed a pharmacy in the southwestern city of Karlsruhe, Germany, where multiple people had been held hostage for hours.
Officers restrained a man they had brought out of the pharmacy, covered his head in a blanket and bundled him into a car.
The building was being searched and there appeared to be no injuries, they said.
Comments will be moderated. Keep comments relevant to the article. Remarks containing abusive and obscene language, personal attacks of any kind or promotion will be removed and the user banned. Final decision will be at the discretion of the Taipei Times.