Rhetoric intensifies between US, China
'VOLATILE SITUATION': Analysts said that the US-China relationship is 'stuck in a negative feedback loop' that is reminiscent of the war of words during the Cold War
China and the US have locked themselves into a new cycle of recriminations, provoking fresh worries that the world's two biggest economies are heading down a path that could lead to open conflict.
The latest back-and-forth started on Monday, when Chinese President Xi Jinping (習近平) said in a speech that China was the victim of "comprehensive containment and suppression by Western countries led by the US."
Two days later, US Director of National Intelligence Avril Haines called Xi's remarks "the most public and direct criticism that we've seen from him to date" — and she responded in kind.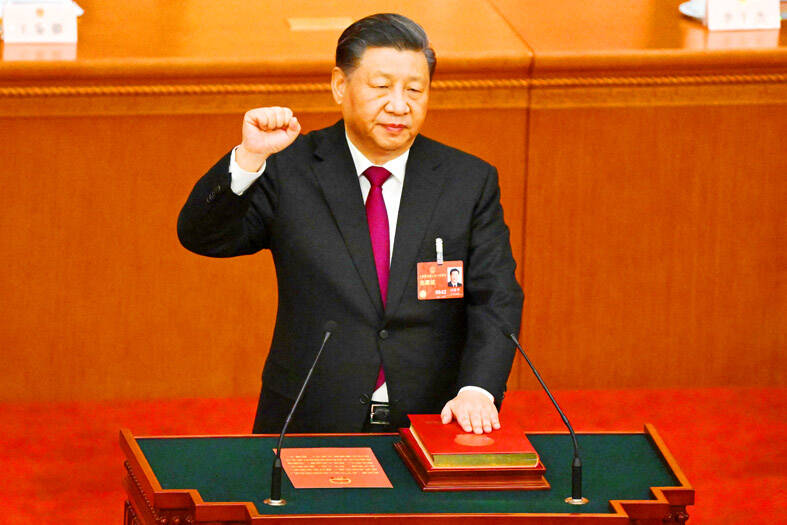 Chinese President Xi Jinping is sworn in for a third term at a session of the Chinese National People's Congress at the Great Hall of the People in Beijing yesterday.
Photo: AFP
The Chinese Communist Party "represents both the leading and most consequential threat to US national security and leadership globally," Haines told a US Senate hearing that covered everything from dangers posed by Chinese-owned TikTok to the threat of a US-China war over Taiwan.
The narratives brought into sharp focus how the US and China increasingly have one thing in common: a growing distrust of the other side. Even worse, the escalating rhetoric is entrenching divisions that could make it harder for both sides to find a way to coexist peacefully over the long term.
"The US-China relationship is stuck in a negative feedback loop," said Jacob Stokes, a senior fellow at the Center for a New American Security. "It's a volatile situation."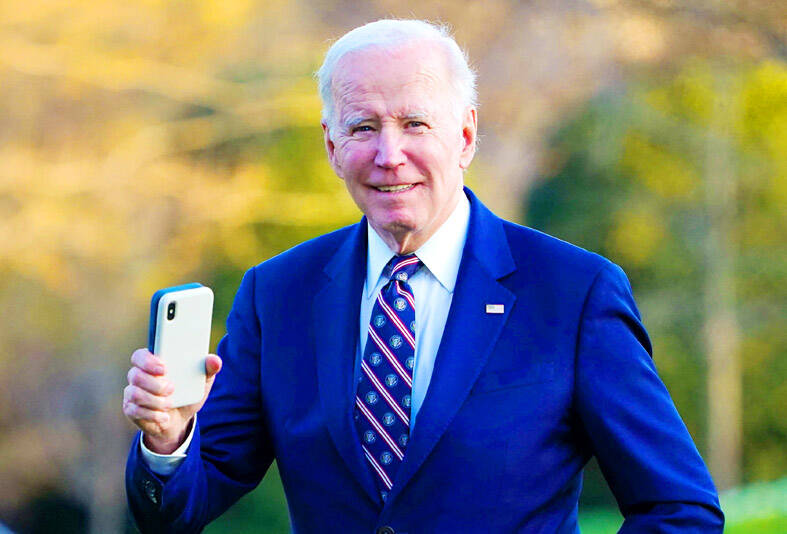 US President Joe Biden walks accross the Wite House's South Lawn in Washington on Thursday.
Photo: AFP
Haines and CIA Director William Burns on Thursday said that the US intelligence community assesses that China does not want a military conflict over Taiwan, particularly after seeing the US and allied support for Ukraine after Russia's invasion.
The countries remain each other's top trading partners and both sides have insisted they do not want a new Cold War.
Still, each side is now accelerating preparations for that very scenario.
Xi this week implored his government to prepare for greater self-reliance, especially in science and technology, while the US is pushing its allies to reorient supply chains to deny China advanced chips and other strategic goods.
While pessimism around US-China ties is nothing new, relations have deteriorated at an alarming speed since US President Joe Biden met Xi in November last year and pledged to improve ties.
A national uproar over an alleged Chinese spy balloon that traversed the US fanned tensions and US Secretary of State Antony Blinken canceled a trip to Beijing meant to build upon the Biden-Xi summit.
After the US military shot down the balloon, a response that China called "hysterical," Biden said he expected to soon be speaking with Xi.
Yet nearly a month later, the two leaders have not spoken.
Privately, Chinese officials say their attempts to extend a hand to Washington have been consistently slapped away.
One Chinese official said that the US speaks publicly about improving ties with China, but seeks confrontation in practice.
Another said that the countries are caught in a downward spiral that neither side knows how to stop.
Gao Zhikai (高志凱), a former Chinese diplomat who served as translator to former Chinese leader Deng Xiaoping (鄧小平), said Beijing believes that "China has been on the defensive side and the US has been on the aggressive side," pointing to Washington's evolving Taiwan policy and what he characterized as its efforts to "prevent China's development by bashing its kneecaps."
US officials, for their part, say that China still has not changed any of the behavior that has drawn criticism, from assertiveness toward its neighbors to its efforts to steal the intellectual property of US companies and harass dissidents overseas.
The tone taken by Chinese diplomats and state media have also made it more difficult to improve ties, they say.
This week alone produced a series of actions from the US Congress and the Biden administration that are likely to make it even more difficult to mend fences.
On Wednesday, US House of Representatives Speaker Kevin McCarthy confirmed plans to meet with President Tsai Ing-wen (蔡英文) in the US this year and has refused to rule out a trip to the nation.
The next day the Biden administration announced a budget proposal that included billions of dollars in requests to boost its military presence in Asia. The US even plans to sell nuclear-powered submarines to Australia.
"If the United States does not hit the brakes, but continues to speed down the wrong path, no amount of guardrails can prevent derailing and there will surely be conflict and confrontation," Chinese Minister of Foreign Affairs Qin Gang (秦剛) said at the annual gathering of China's National People's Congress on Monday.
He ended with a glimmer of hope, saying China would still pursue a "sound and stable" US relationship.
"China's overreach has triggered an extreme American overreaction," said Susan Shirk, a former deputy assistant secretary of state for China.
"The war of words reminds me of the polemics during the US-
Soviet Cold War that made it almost impossible for us to think sensibly about the trade-offs between the costs and benefits of our own policies, or pursue diplomacy with the other side without being pilloried for being weak or unpatriotic," she said.
Comments will be moderated. Keep comments relevant to the article. Remarks containing abusive and obscene language, personal attacks of any kind or promotion will be removed and the user banned. Final decision will be at the discretion of the Taipei Times.