Australian PM begins India visit with cricket event
Indian Prime Minister Narendra Modi and Australian Prime Minister Anthony Albanese yesterday lent a touch of cricket diplomacy to their ties as they inaugurated a Test match between their teams in the Indian city of Ahmedabad.
Albanese and Modi handed caps emblazoned with national emblems to rival captains Steve Smith and Rohit Sharma. They clasped their hands and raised them to the delight of thousands of cricket fans.
The prime ministers were cheered by cricket fans as they went around the stadium named after Modi, and later sat down to watch the start of the game.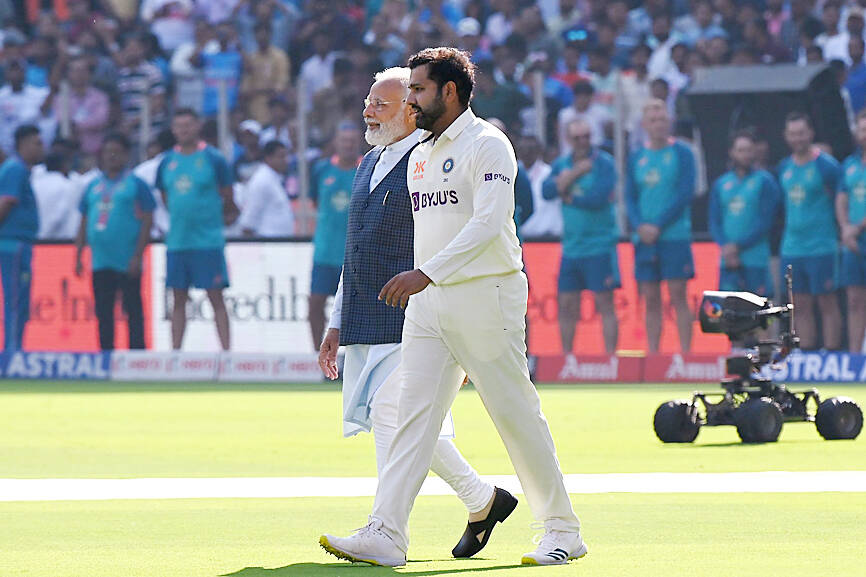 Indian Prime Minister Narendra Modi, left, and India cricket captain Rohit Sharma walk through the Narendra Modi Stadium in Ahmedabad, India, yesterday.
Photo: Bloomberg
Modi and Albanese saw a photo exhibition highlighting their countries' cricketing ties. The India-Australia cricket rivalry is considered one of the most intense in the world, comparable to the Ashes Test series played between England and Australia.
Albanese arrived on Wednesday in Ahmedabad, a key city in Modi's home state of Gujarat, at the start of his four-day visit to India.
He paid tributes to Indian independence leader Mohandas Gandhi during a visit to the Sabarmati Ashram, which was one of Gandhi's abodes in India.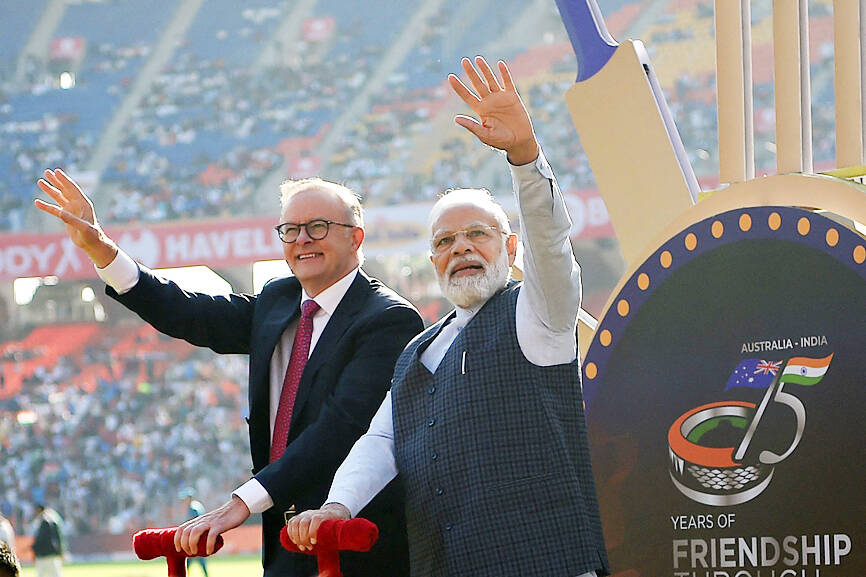 Indian Prime Minister Narendra Modi, right, and Australian Prime Minister Anthony Albanese wave to spectators at the Narendra Modi stadium in Ahmedabad, India, yesterday.
Photo: AFP
Albanese also attended an event related to the Hindu Holi festival at Governor of Gujaratthe Acharya Devvrat's residence.
Albanese was later yesterday to leave for Mumbai, where he is scheduled to visit India's homemade aircraft carrier INS Vikrant.
The two leaders are to hold official talks today in New Delhi.
"Australia and India are important partners," Albanese said in Perth before leaving for India.
India, along with Indonesia, would grow to be the third and fourth-largest economies in the world, which presented "an incredible opportunity" for Australia, he said.
India's goods exports to Australia were worth US$8.3 billion, and imports from the country aggregated to US$16.75 billion from 2021 to 2022, the economic think tank Global Trade Research Initiative said.
Comments will be moderated. Keep comments relevant to the article. Remarks containing abusive and obscene language, personal attacks of any kind or promotion will be removed and the user banned. Final decision will be at the discretion of the Taipei Times.