Belarus jails Nobel laureate for 10 years
'SHAM RULING': The UN and Nobel committee were among those who condemned the charges against Ales Bialiatski and three of his associates as politically motivated
Belarus on Friday sentenced Nobel Prize-winning activist Ales Bialiatski to 10 years in jail, drawing sweeping international condemnation.
Bialiatski, who founded the authoritarian nation's most prominent rights group, has repeatedly run into trouble with security forces in Belarus, which is often described as "Europe's last dictatorship."
He was in the dock with two allies after they were jailed in the aftermath of historic demonstrations against the disputed re-election of Belarusian President Alexander Lukashenko in 2020.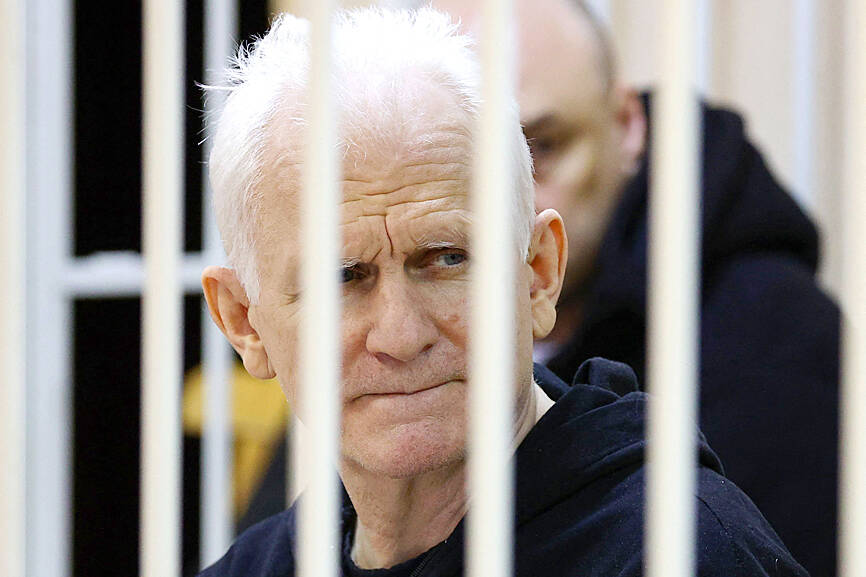 Nobel Prize-winning activist Ales Bialiatski sits in the defendants' cage in a courtroom at the start of a hearing in Minsk on Jan. 5.
Photo: AFP
The 60-year-old and his associates had been convicted of smuggling and financing "activities that grossly violate public order," said the Viasna (Spring) rights group founded by Bialiatski.
Bialiatski's codefendants Valentin Stefanovich and Vladimir Labkovich were given nine and seven years in prison respectively.
"These are very cruel sentences, for all of them," Bialiatski's wife Natalya Pinchuk said in comments released by Viasna. "The terms are horrific."
The defendants have said they are innocent of the charges.
A fourth defendant, Dmitry Solovyov, who was tried in absentia, was sentenced to eight years in jail.
The terms drew immediate condemnation, with the UN saying "the arbitrary arrest and detention of Belarusian human rights defenders on politically motivated charges are alarming."
The Nobel committee described the case as "politically motivated" and said "the verdict shows that the current regime uses all means to suppress its critics."
German Minister of Foreign Affairs Annalena Baerbock said the charges and proceedings were a "farce," while the French Ministry for Europe and Foreign Affairs criticized Minsk's "unprecedented policy of repression."
US Secretary of State Antony Blinken condemned what he deemed a "sham court ruling," and called for "the release of Bialatski and all political prisoners in Belarus."
Bialiatski was among the three co-recipients of last year's Nobel Peace Prize, alongside Russian and Ukrainian human rights groups.
Founded in 1996, Bialiatski's organization has charted the increasingly authoritarian tendencies of Lukashenko and his security forces.
Lukashenko has ruled the country with an iron first for nearly three decades.
He is a staunch ally of Russian President Vladimir Putin, allowing Moscow to deploy troops to Ukraine from Belarus in February last year.
Belarus witnessed a historic protest movement denouncing the controversial re-election of Lukashenko in 2020.
With the help of Putin, Lukashenko has cracked down hard on the opposition movement, jailing his critics or pushing them into exile.
Solovyov, who fled to Poland and was sentenced in absentia, called the trial "a propaganda spectacle" and "a massacre of human rights defenders."
Comments will be moderated. Keep comments relevant to the article. Remarks containing abusive and obscene language, personal attacks of any kind or promotion will be removed and the user banned. Final decision will be at the discretion of the Taipei Times.