Trudeau must be tougher on China, Canadians say
MEDDLING: People are indicating that they expect the Canadian government to seriously investigate Chinese interference in elections, a researcher at a pollster said
A majority of Canadians want Canadian Prime Minister Justin Trudeau to respond more forcefully to alleged election interference by China, a poll published on Wednesday showed, as relations between the two countries again take a turn for the worse.
About 53 percent of respondents said they felt Canada's response following a string of recent events, including the arbitrary detention of two Canadians by Beijing and media reports of election meddling, was "not strong enough," polling firm Angus Reid Institute said.
Another 41 percent said the federal government's response was "about right," while 6 percent said it was "too strong," the poll showed.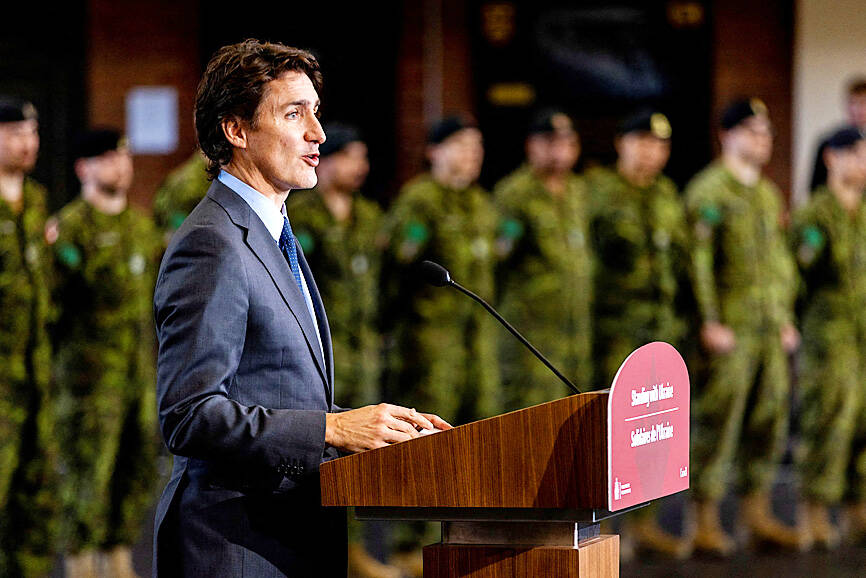 Canadian Prime Minister Justin Trudeau speaks at Fort York Armoury in Toronto on Friday last week.
Photo: REUTERS
"Canadians are indicating that they expect their government to take this seriously," institute president Shachi Kurl said.
Trudeau has acknowledged that there were attempts by China to interfere in the elections, but he has said that the outcome of the 2019 and the 2021 polls were not altered. He has resisted calls for a public inquiry into the allegations.
The poll, which surveyed 1,622 Canadian adults from Thursday to Saturday last week, and has a margin of error of plus or minus-2 percentage points, comes amid ongoing tensions between Canada and China over election and other security concerns.
Canada this week banned the use of the Chinese-owned social media app TikTok on government-issued devices, citing privacy and security risks. A suspected Chinese spy balloon flew over the US and Canada before being shot down last month.
Recent media reports have alleged ongoing Chinese interference in Canadian elections, with Trudeau this week denying one article saying his office was told by the Canadian Security Intelligence Service to drop a Chinese-Canadian candidate in 2019 because of his ties with Beijing.
On Wednesday, the Chinese embassy in Ottawa responded to the latest report in an e-mail, saying the allegations were "baseless and defamatory."
"We are not interested in meddling with Canada's internal affairs, nor have we ever tried to do so," the embassy said.
However, most Canadians disagree with the embassy's statement. About 65 percent said they believe that the Chinese government "definitely" or "probably" tried to interfere in the 2021 vote, the survey showed.
Comments will be moderated. Keep comments relevant to the article. Remarks containing abusive and obscene language, personal attacks of any kind or promotion will be removed and the user banned. Final decision will be at the discretion of the Taipei Times.