Chinese provinces offer 30 days paid marriage leave
Some Chinese provinces are giving young newlyweds 30 days of paid leave in the hope of encouraging marriage and boosting a flagging birthrate, the state-run People's Daily Health said on Tuesday.
China's minimum paid marriage leave is three days, but provinces have been able to set their own more generous allowances starting this month.
The northwestern province of Gansu and coal-producing Shanxi Province now give 30 days, while Shanghai gives 10 and Sichuan Province still only three, the People's Daily Health said.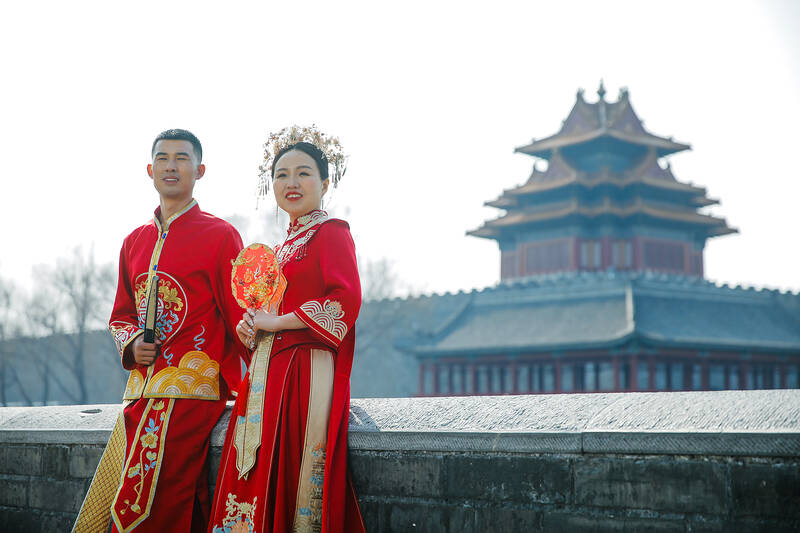 A couple pose for pre-wedding photographs near the Turret of the Palace Museum in Beijing yesterday.
Photo: EPA-EFE
"Extending marriage leave is one of the effective ways of increasing the fertility rate," Yang Haiyang (楊海洋), dean of the Social Development Research Institute of Southwestern University of Finance and Economics, was quoted as saying.
"The extension of marriage leave is mainly in some provinces and cities with relatively slow economic development," he said, adding that there was an urgent need to both expand the labor force and stimulate consumption.
A host of other supporting policies are still needed, including housing subsidies and paid paternity leave for men, he said.
China's population fell last year for the first time in six decades, official data showed — a turning point that is expected to mark the start of a long period of decline.
Last year, China recorded its lowest ever birthrate, of 6.77 births per 1,000 people.
Much of the downturn is the result of a "one child" policy imposed from 1980 to 2015, and a surge in education costs that has put many Chinese off having more than one child, or even having any at all.
Comments will be moderated. Keep comments relevant to the article. Remarks containing abusive and obscene language, personal attacks of any kind or promotion will be removed and the user banned. Final decision will be at the discretion of the Taipei Times.