Sweden puts brakes on treatments for trans minors
Sweden, the first country to introduce legal gender reassignment, has begun restricting gender reassignment hormone treatments for minors, as it, like many Western countries, grapples with the highly sensitive issue.
With the number of diagnoses soaring, the medical community faces the dilemma of weighing precaution against the risks associated with not offering treatment to those with "gender dysphoria."
Sweden in February last year halted hormone therapy for minors except in rare cases, and in December, the Swedish National Board of Health and Welfare said that mastectomies for teenage girls wanting to transition should be limited to a research setting.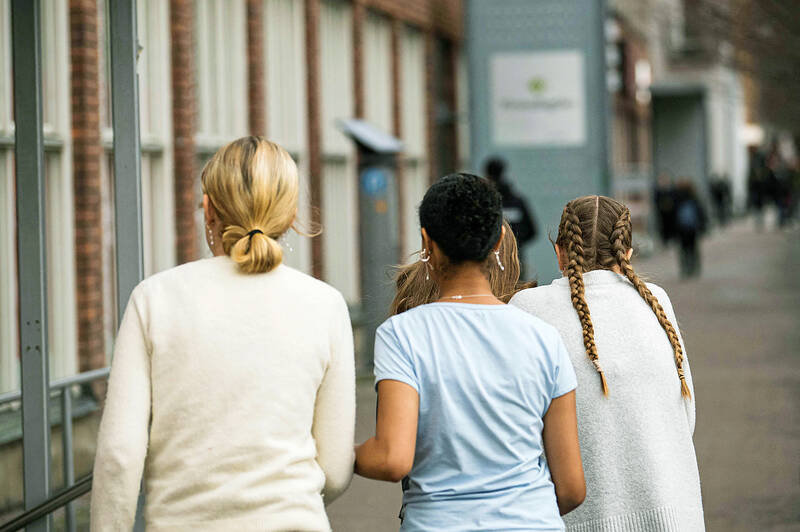 Teenagers walk in Sundbyberg, Sweden, on Jan. 18.
Photo: AFP
"The uncertain state of knowledge calls for caution," Board Director of Knowledge-Based Policy of Healthcare Thomas Linden said in a statement in December.
So-called puberty blockers have been used in young teens contemplating gender transition to delay the onset of unwanted physical changes.
Like many other countries, Sweden has seen a sharp rise in cases of gender dysphoria, a condition where a person might experience distress as a result of a mismatch between their biological sex and the gender they identify as.
In a country of about 10 million people, about 8,900 were diagnosed with gender dysphoria between 1998 and 2021, board data showed.
In 2021, about 820 new cases were registered.
The trend is particularly visible among 13 to 17-year-olds born female, with an increase of 1,500 percent since 2008.
"It used to be a male phenomenon and now there is a strong female overrepresentation," said psychiatrist Mikael Landen, chief physician at Sahlgrenska University Hospital in Gothenburg.
Landen, who contributed to the scientific study on which the board based its decision, said the reasons for this increase remain largely a "mystery."
"Tolerance has been high in Sweden for at least the last 25 years, so you can't say it has changed," he said when asked if it was simply a result of a more accepting society.
The profile of those diagnosed is often complex, as gender dysphoria often occurs in those also with other diagnoses, such as attention deficit and eating disorders or autism, Linden said.
In May 2021 — before Swedish authorities' restricted gender reassignment hormone treatments — the prestigious Karolinska University Hospital in Stockholm restricted such hormone treatments to research projects only.
Other countries are weighing the same questions.
Neighboring Finland took a similar decision in 2020, while France has called for "the utmost reserve" on hormone treatments for young people.
In the UK, Keira Bell filed a high-profile court case in 2020.
Bell, who said she regretted her transition from female to male, filed a complaint against the public body responsible for gender dysphoria treatments, claiming she had been too young at age 16 to consent to the treatments. She ultimately lost her case.
Sweden's recent rollback is all the more notable as it was first to authorize legal gender transition in 1972, paving the way for sex reassignment surgery to be covered by its universal healthcare system.
Rights groups have expressed concern.
Elias Fjellander, president of the youth branch of RFSL, the country's main organization advocating for LGBTQ rights, said that Sweden's decision risks leading to increased suffering.
"These people might need more care and invasive procedures in the future, because the decision could not be made earlier, even though the medical need was there," he said.
Twenty-year-old Antonia Lindholm, a transgender woman who began her transition as a teenager, agreed.
"I think hormones save a lot of people," she said.
"If I were 13 today, I wouldn't have a chance" of getting this treatment, Lindholm added.
Others who have had hormone treatment support the Swedish position.
Mikael Kruse, 36, changed his gender in his late 20s, but had a change of heart and "detransitioned."
"I think it's good to take a break to understand what's going on," he said.
For seven years, the Swede lived as a woman, but that never resolved his discomfort.
A new diagnosis revealed he had Asperger's syndrome as well as attention deficit disorder, and the suffering he thought was related to his gender was due to different factors.
"All the pieces of the puzzle fell into place," Kruse said.
For Carolina Jemsby, codirector of the Swedish documentary The Trans Train, which brought the care of adolescents into the limelight in 2019, the current debate shows it is "more complex than the healthcare system and society had hoped."
"One aspect of this dilemma is that it has become a political issue," she said. "It does a disservice to this group who need scientifically proven medical care to help them and give them a better life, and a better ability to live who they are."
Comments will be moderated. Keep comments relevant to the article. Remarks containing abusive and obscene language, personal attacks of any kind or promotion will be removed and the user banned. Final decision will be at the discretion of the Taipei Times.