Unpacking Bolsonaro's move to small Florida town
He used to preside over Latin America's largest country and its 214 million people. Former Brazilian president Jair Bolsonaro now lives in a small Florida town and eats alone in a fast-food restaurant.
Bolsonaro, 67, has found an unusual refuge in the US, where he arrived in late December last year, several days before his supporters stormed government buildings in Brasilia in an attempt to overturn the election victory of his rival, Brazilain President Luiz Inacio Lula da Silva.
At home, Bolsonaro is being investigated over his alleged involvement in the unrest, which he denies.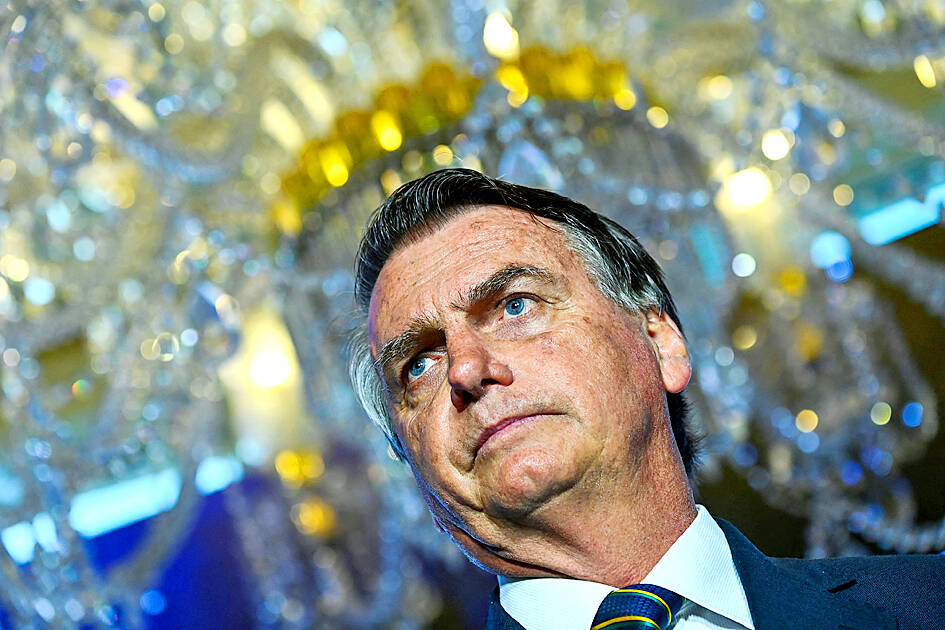 Former Brazilian president Jair Bolsonaro speaks at a "Power of the People Rally" at the Trump National hotel in Doral, Florida, on Friday.
Photo: AFP
From the lavish presidential palace, Bolsonaro, a political soulmate of former US president Donald Trump, went on to live in a small community of nearly identical houses near the Disney World resort.
In his first six weeks in the US, Bolsonaro has kept a low profile, staying at the Orlando home of Brazilian former martial arts champion Jose Aldo, making a trip to a local supermarket and being photographed eating fried chicken alone at a KFC restaurant.
On Friday, the man who until recently commanded huge crowds in his home country, spoke to about 400 supporters at an event organized by the US conservative organization Turning Point USA at the Trump National hotel in the city of Doral, near Miami.
It was unclear if Trump himself played any part in organizing the event.
The meeting had the vibe of an election rally. Bolsonaro spoke passionately about fulfilling his duties to his country — except that the man dubbed the "Trump of the Tropics" was in Florida, several thousand kilometers away from his homeland.
"There is no greater satisfaction than that of having fulfilled a duty," Bolsonaro said of his presidency.
He spoke before an audience dressed in elegant suits and dresses, as well as the yellow-and-green shirts of the Brazilian soccer team.
Three days earlier, Bolsonaro spoke in the ballroom of a shopping mall restaurant in Orlando at an event put together by the Brazilian expatriate community in Florida.
Bolsonaro, who had repeatedly cast doubt on Lula's narrow victory in runoff on Oct. 30, again questioned his election loss, calling himself "more popular than ever."
"Many people are still shaken by what happened in the elections ... but we will face this moment and, God willing, we will win together," he said.
However, Bolsonaro said that he regretted "what some inconsistent people did" during the unrest.
The crowd was welcoming at both Florida events, with supporters hugging and taking selfies with him and cheering him on.
However, he faces an uncertain future.
After publicly declaring his intention to return to Brazil at the end of January, Bolsonaro last week applied for a new visa to be able to stay in the US for six more months.
One of his sons, Senator Flavio Bolsonaro, has said that the former president had no return date.
"It may be tomorrow, or six months from now, or he may never come back," he told reporters.
At the Orlando restaurant on Tuesday, Bolsonaro nevertheless promised to "remain active in Brazilian politics."
He did not elaborate.
Now it remains to be seen whether he maintains a low profile or whether he tries to boost his standing in the US.
"I've always been a huge admirer of the American people — their liberties, their patriotism and their love of the flag," he told the gathering on Friday.
Comments will be moderated. Keep comments relevant to the article. Remarks containing abusive and obscene language, personal attacks of any kind or promotion will be removed and the user banned. Final decision will be at the discretion of the Taipei Times.