Koran burning obstacle to Swedish NATO membership
turkey's ultimatum: Stockholm should stop shielding hate crimes with speech freedoms, while Finland could be approved by NATO separately, the Turkish president said
Turkish President Recep Tayyip Erdogan on Wednesday said that Turkey would not allow Sweden to join the NATO military alliance as long as the Scandinavian country permits protests that desecrate Islam's holy book.
Turkey, which had already been holding off approving Sweden and Finland's membership in the Western military alliance, has been infuriated by a series of separate demonstrations in Stockholm.
In one case a solitary anti-Islam protester burned the Koran outside the Turkish embassy, while in an unconnected event, an effigy of Erdogan was hanged.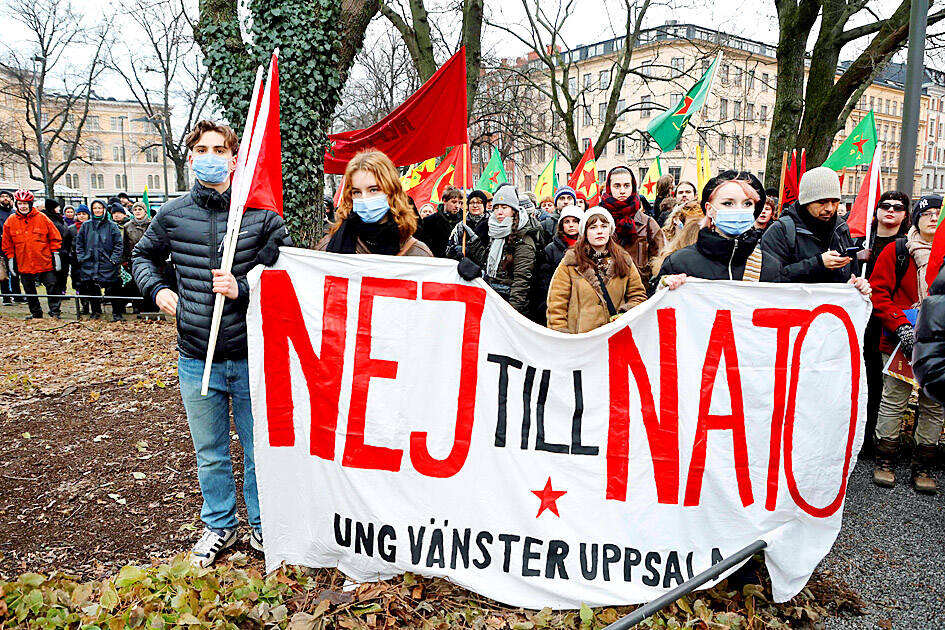 People in Stockholm on Jan. 21 hold a banner reading "No to NATO" during a demonstration organized by the Kurdish Democratic Society Center against Sweden's bid for NATO membership.
Photo: AFP
Even before that, Ankara had been pressing Sweden and Finland to crack down on exiled members of Kurdish and other groups it considers to be terrorists, and to allow arms sales to Turkey.
Turkey has indefinitely postponed a key meeting in Brussels that would have discussed the two Nordic countries' NATO entry.
"Sweden, don't even bother! As long as you allow my holy book, the Koran, to be burned and torn, and you do so together with your security forces, we will not say 'yes' to your entry into NATO," Erdogan said in a speech to his ruling party's legislators.
Swedish government officials have distanced themselves from the protests, including some by a far-right anti-Islam activist who burned copies of the Koran in Stockholm and in Copenhagen, Denmark, while also stressing that the demonstrations are protected by freedom of speech.
Swedish Prime Minister Ulf Kristersson on Tuesday denounced the demonstrators as "useful idiots" for foreign powers who want to inflict harm on the Scandinavian country as it seeks to join NATO.
"We have seen how foreign actors, even state actors, have used these manifestations to inflame the situation in a way that is directly harmful to Swedish security," Kristersson told reporters in Stockholm.
Sweden and neighboring Finland abandoned decades of neutrality and applied to join NATO in the wake of Russia's invasion of Ukraine. All NATO members except Turkey and Hungary have ratified their accession, but unanimity is required.
Erdogan in a television interview on Wednesday suggested that Sweden needs to prevent the Koran from being burned at protests.
"Hate crimes against Muslims under the guise of freedom of expression are unacceptable. We expect that the beliefs of all groups are respected and sincere steps are taken in the fight against Islamophobia," he told Turkish state broadcaster TRT.
In Finland, which has seen no anti-Turkish or anti-Islam demonstrations, contravening religious peace is punishable by law, and desecrating a book held sacred by a religious community would likely violate legislation. As a result, police would not allow a protest that involved burning the Koran.
There is no similar legislation in other Nordic countries, Finnish public broadcaster YLE said.
YLE on Tuesday reported that a group of anti-NATO demonstrators had planned to burn the Koran in Helsinki last week, but changed their minds after police heard of their plan on social media.
Turkish Minister of Foreign Affairs Mevlut Cavusoglu said Ankara has fewer problems with Finland becoming a NATO member than with Sweden, adding that the military alliance could decide to accept one country and not the other.
The two countries are committed to joining together.
Should NATO decide to deal with the membership processes of the Nordic neighbors separately, Turkey would "then of course reconsider [ratifying] Finland's membership separately and more favorably, I can say," Cavusoglu said at a joint news conference with his Estonian colleague in Tallinn.
Swedish Minister of Foreign Affairs Tobias Billstrom told Swedish news agency TT that his country was complying with an agreement reached by Turkey, Sweden and Finland last year, but said that "religion is not part of the agreement."
"Having said that, I fully understand that people take offense to the burning of holy writings and perceive it as deeply hurtful," he said.
Comments will be moderated. Keep comments relevant to the article. Remarks containing abusive and obscene language, personal attacks of any kind or promotion will be removed and the user banned. Final decision will be at the discretion of the Taipei Times.