Eritrean forces seen leaving two towns in Ethiopia's Tigray
Convoys of Eritrean troops have been seen leaving two towns in the war-torn Ethiopian region of Tigray, where they had spent the past two years supporting the Ethiopian army in its campaign against Tigrayan rebels, locals said.
Troops have been leaving Shire and Adwa since Friday afternoon for an unknown destination, although some soldiers were still present in the two towns on Saturday, witnesses said.
US Secretary of State Antony Blinken on Saturday hailed "the ongoing withdrawal" of Eritrean troops as "key to securing a sustainable peace in northern Ethiopia," but neither Tigrayan authorities, nor the Ethiopian government, nor a regional body acting as a mediator have confirmed the retreat.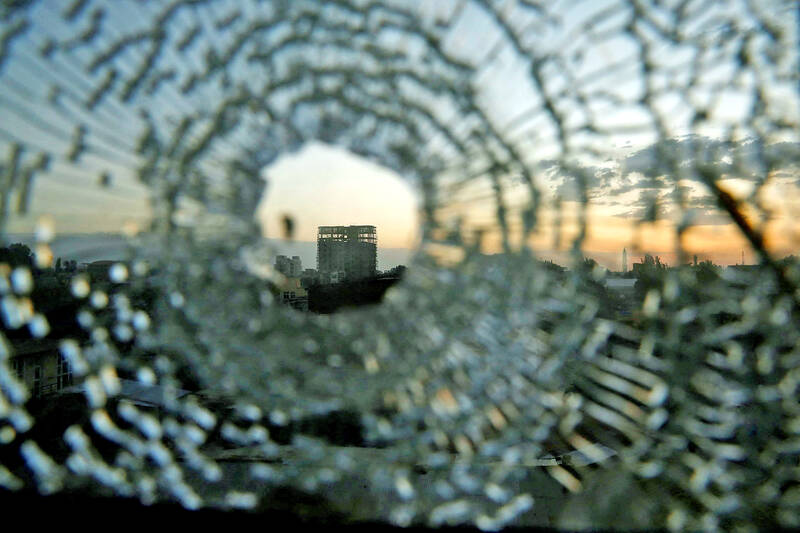 A building is seen through a bullet hole in a window of the Africa Hotel in the town of Shire, Tigray region, Ethiopia, on March 16, 2021.
Photo: Reuters
"I saw some Eritrean forces leaving Shire towards the northeast. I don't know if they're making a full retreat," one resident said, speaking on condition of anonymity.
A video taken by the resident and sent to Agence France-Presse showed trucks of soldiers driving out of town with their horns blaring and the Eritrean flag flapping in the wind.
Another local confirmed having seen a convoy of trucks, buses, tanks and pieces of artillery rolling out of town.
However, some Eritrean soldiers were still "walking the streets and around the markets" on Saturday, he added.
The presence of the Eritrean troops, accused by the US and human rights groups of some of the worst abuses in the bloody conflict, has been seen as the main obstacle to peace in the region, despite the signing of a landmark peace deal between Tigrayan rebels and the Ethiopian government in November.
Eritrean forces have also been seen leaving Adwa, about 85km to the east of Shire.
"The majority were headed west... while some others were headed towards the north in the direction of Rama," a town near the Eritrean border, one Adwa resident said on Saturday.
However, he said: "This morning I saw there were still quite a few Eritrean soldiers left."
"People are waiting to find out if the Eritrean forces are really withdrawing," he said. "There have already been announcements of Eritrean soldiers leaving, only for them to come back later from other directions."
Situated on the border with Tigray, Eritrea sent in troops at the start of the conflict to support Ethiopian forces dispatched to unseat regional authorities challenging the power of Eritrean Prime Minister Abiy Ahmed.
Comments will be moderated. Keep comments relevant to the article. Remarks containing abusive and obscene language, personal attacks of any kind or promotion will be removed and the user banned. Final decision will be at the discretion of the Taipei Times.