China readies for COVID-19 ordeal during New Year
The sudden dismantling of China's "zero COVID" policy last month means hundreds of millions of people are headed home for the Lunar New Year holiday for the first time since 2019. The crush of travel risks supercharging the world's biggest COVID-19 outbreak, spreading it to every corner of the country.
Migrant workers, college students, educated urban elites and other travelers risk carrying the highly infectious Omicron variant of SARS-CoV-2 to swathes of rural China that have managed to evade the pandemic until now.
About 2.1 billion trips are expected to take place during the 40-day Spring Festival period, double the number from last year.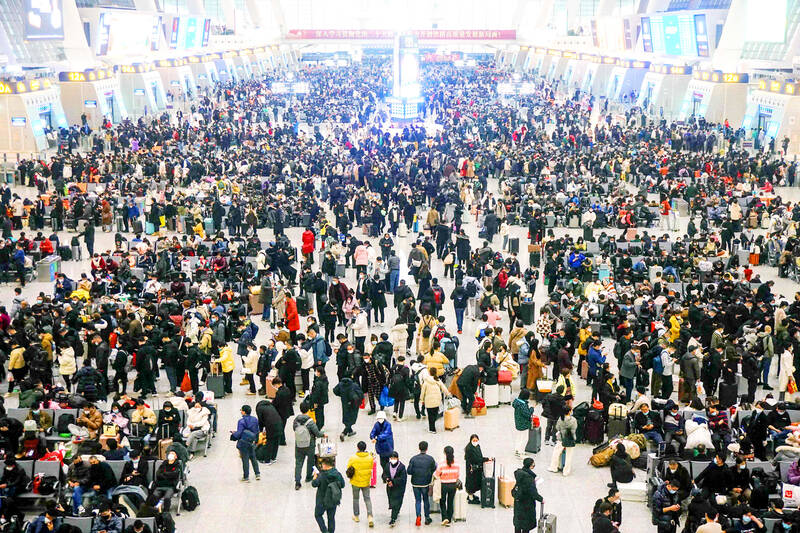 Passengers wait to board trains at Hangzhou East Railway Station in eastern Zhejiang Province, China, yesterday.
Photo: AFP
"There is a lot of jubilation around going home to celebrate the Chinese New Year, but that could also bring about tragedy for a lot of families," University of California, Los Angeles epidemiologist Zhang Zuo-feng (張作風) said.
Chinese President Xi Jinping (習近平) singled out COVID-19's rural spread in a nationwide video address he held before the holiday, saying he is especially concerned about efforts to battle the disease in the countryside.
Health experts are worried that the virus could spread in vulnerable in villages with sparse healthcare infrastructure, creating worse outcomes than the outbreaks that have already strained hospitals, overwhelmed crematoriums and crippled the nation's largest cities.
Rural China is particularly susceptible to harm from COVID-19, Zhang said.
Nearly 25 percent of residents are aged 60 or older, compared to 19 percent of the total population, a group that is comparatively less vaccinated and more likely to develop complications. Many people are unfamiliar with the virus, with no exposure or natural immunity to the infection.
Medical resources in remote areas are scarce. There are an estimated 1.62 doctors and nurses for every 1,000 people in rural China, compared with 2.9 doctors and 3.3 nurses nationally. Access to intensive care with experienced doctors and equipment to help gravely ill patients survive is often difficult to reach.
Health analytics firm Airfinity Ltd estimates China's COVID-19 deaths to peak at 36,000 a day during the holiday. The firm initially anticipated two surges of infections, one before and one after the Chinese New Year celebration. Now it says unfettered New Year travel is likely to merge them into one massive wave.
The result is to become "a significant burden on China's healthcare system for the next fortnight," Airfinity analytic director Matt Linley said. "Many treatable patients could die due to overcrowded hospitals and lack of care."
The virus has quickly raced through China's megacities and highly settled regions. Henan, one of the country's most populous provinces, said nearly 90 percent of its residents have been infected. Beijing, Shanghai and Guangzhou have all said their outbreaks have peaked.
Health authorities issued a slew of directives urging local governments to improve hospital preparation and help them work with rural clinics to handle patients with severe infections. The agriculture ministry is sending one oxygen concentrator and two pulse oximeters to village clinics across the country.
"The plans dedicated to COVID-19 control and prevention in rural areas are well devised, but how to implement them is a big problem," former Chinese Center for Disease Control and Prevention chief epidemiologist Zeng Guang (曾光) said at a recent seminar.
Zhang said the lack of information about infections makes it difficult to predict the scope of severe disease and deaths ahead.
Regardless, he is concerned about consequences that could linger well after the joy from the reunions has faded and travelers have returned to jobs in distant factories and cities.
"This New Year travel could bring about inevitably catastrophic consequences for many families," he said.
Comments will be moderated. Keep comments relevant to the article. Remarks containing abusive and obscene language, personal attacks of any kind or promotion will be removed and the user banned. Final decision will be at the discretion of the Taipei Times.