Show goes on at Palestinian theaters despite hurdles
Past the sandbags and anti-tank obstacles in Jenin refugee camp in the occupied West Bank, theater director Mustafa Sheta ponders the fate of Palestinian thespians.
"We are under a very abnormal situation," Sheta told reporters at the camp's Freedom Theatre.
The streets were silent that day last month as residents had called a public strike to protest Israeli forces killing a 16-year-old Palestinian girl in Jenin hours earlier.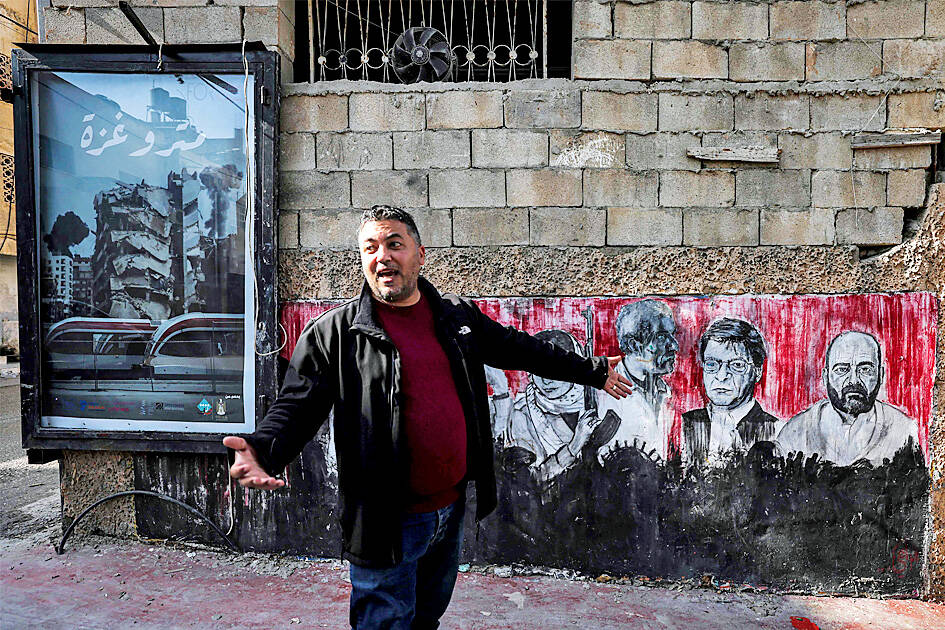 Freedom Theatre general manager Mustafa Sheta speaks outside the theater at the Jenin camp for Palestinian refugees in the occupied West Bank on Dec. 12 last year.
Photo: AFP
With Israeli forces raiding Jenin repeatedly in the past few months, engaging in gunfights with Palestinian militants, the Freedom Theatre's ability to provide residents with respite has been under growing strain.
In 2011, the theater's well-known Israeli-Palestinian director Juliano Mer-Khamis was gunned down in Jenin's refugee camp, in an attack that remains unsolved.
Other Palestinian cultural institutions across the West Bank, annexed east Jerusalem or Israel also face many obstacles.
"It's not like you have a clear plan in your schedule... You need to prepare for different scenarios," said Sheta, 42.
Ahead of the opening night of the theater's latest production, Metro Gaza, the creatives woke up to find three Palestinians had been killed in an Israeli operation.
"What can we do? Can we continue, or stop, cancel the show?" Sheta said.
The actors took to the stage as planned and an audience of about 75 filled half the stalls.
Yasmin Shalaldeh, 30, a Jerusalemite who plays a Gazan girl in the show, said it was "essential to keep on working," particularly in Jenin.
More than 40 Palestinians were killed last year during Israeli operations in the Jenin area, including militants, children and a teenager involved in the theater's youth programme who was shot dead in November.
After Jenin, Metro Gaza went on tour to Ramallah, east Jerusalem and finally Haifa in northern Israel.
Each playhouse faces its own challenges and Jerusalem's El-Hakawati, also known as the Palestinian National Theatre, has seen its audiences dwindle since Israel began constructing a barrier around the West Bank in the early 2000s.
"After the wall and the checkpoints, [it] started to get less and less, people cannot come," said director Amer Khalil, as the sound of children enjoying a puppet show drifted into the room.
Whether living in Jerusalem, the West Bank, Israel or the blockaded Gaza Strip, Palestinians hold different papers which impact the ability of theater casts and audiences to travel.
"It's torture," Shalaldeh said. "When you have a play in Jerusalem and you send it to someone from Gaza and they want to come, they can't."
Long gone are the days when directors must submit their script to Israeli censors, yet the theater is "threatened by other things," Khalil said.
Decorated with posters of past productions, El-Hakawati's foyer bustles with Jerusalemites ahead of each new performance.
However, the director described a "very, very, very difficult — critical — economic situation," with ticket sales not even covering one-third of running costs.
El-Hakawati cannot receive any support from the Palestinian Authority, which is banned by Israel from operating in Jerusalem, leaving it to "live on donations" largely from European states, Khalil said.
"Like the whole world, you have a national theater and ... the running costs — electricity, water, taxes — are all paid by the government or by the municipality. And this is what we don't have here," he said.
For Al Saraya, a theater in the coastal city of Jaffa that receives state funding from Israel, such support is far from unconditional.
Mahmoud Abu Arisheh, its 34-year-old director, said the theater's mission is to celebrate "the richness and uniqueness of the Arab culture."
In November, then-Israeli minister of finance Avigdor Lieberman called on authorities to take "all the available measures, including denying funding" when Al Saraya screened Farha, a film depicting alleged Israeli atrocities against Palestinians.
Abu Arisheh said threats and incitements against the theater "are already limiting our freedom of speech and expression."
Sanctions by Israeli authorities "could happen at any time," the director said.
However, Palestinian artists, whether in Jaffa, Jenin or Jerusalem, must keep the show going, Shalaldeh said.
Comments will be moderated. Keep comments relevant to the article. Remarks containing abusive and obscene language, personal attacks of any kind or promotion will be removed and the user banned. Final decision will be at the discretion of the Taipei Times.