Japanese PM Kishida defends campaign spending last year
Japanese Prime Minister Fumio Kishida yesterday sought to brush off a magazine report that questioned election expenses from last year by saying that while some receipts his office submitted did not include complete information, the money had been spent appropriately.
Kishida also denied domestic media reports that he was thinking of reshuffling his Cabinet in the next few weeks.
Kishida's support has tumbled to its lowest since he took office in October last year and he has been trying to repair damage after a series of scandals forced him to replace three ministers in the space of a month.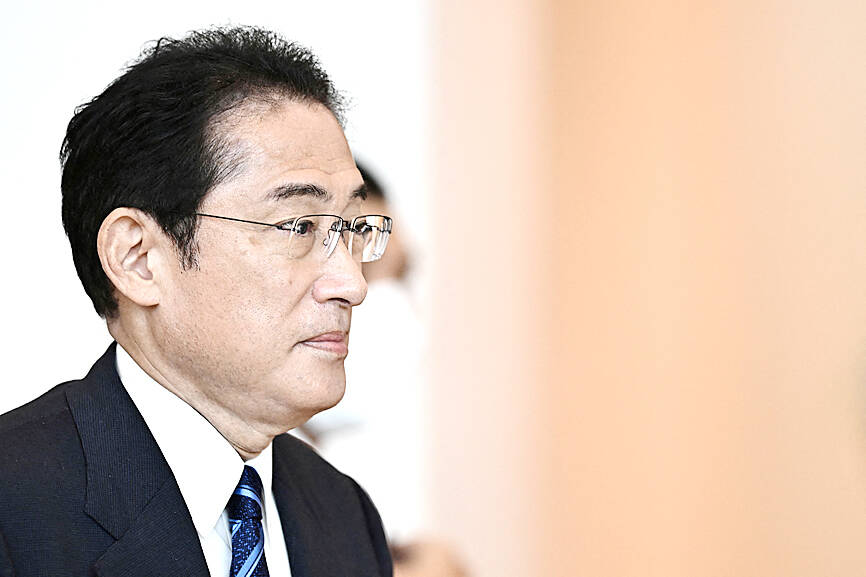 Japanese Prime Minister Fumio Kishida arrives at an APEC summit in Bangkok on Friday last week.
Photo: Reuters
Although he need not face another election for more than two years, sagging approval ratings make it more difficult for Kishida to control his party and push policy pledges through parliament, including an increase in defense spending.
On top of this, Kishida is also struggling to deal with the country's highest inflation in decades.
"I'm aware of the media reports, but I'm not thinking of that at all," Kishida said when asked about plans to reshuffle the Cabinet. "I must focus on parliament now."
An online report by Bunshun magazine emerged this week about incomplete receipts relating to his campaign for the general election last year.
The prime minister said he would instruct his office to make sure such problems do not recur.
He said that he did not know the total amount involved, but believed that the items purchased included things such as food from a convenience store and stationery.
The money was spent appropriately, in accordance with a report to which the receipts were attached, he said.
Kishida, who came to office buoyed by a clean image, was battered by a scandal over his party's links to the Unification Church, which has a long list of court rulings against it over its fundraising methods.
The religious group came under renewed scrutiny after former Japanese prime minister Shinzo Abe was fatally shot in July by a man who cited a grudge over the former leader's ties to the church.
The man blamed the group, whose members are known as "Moonies," for bankrupting his family by taking excessive donations from his mother.
Comments will be moderated. Keep comments relevant to the article. Remarks containing abusive and obscene language, personal attacks of any kind or promotion will be removed and the user banned. Final decision will be at the discretion of the Taipei Times.