Xi seeks diplomacy with Asian leaders
MAKING INROADS: Constructive relations with Japan and easing of maritime clashes with the Philippines were two prospects that emerged after Xi spoke with their leaders
Chinese President Xi Jinping (習近平) has used his first face-to-face meetings with the US' Asia-Pacific allies since 2020 to try to forge diplomatic inroads as Washington pushes back against Beijing's influence in the region.
Xi has not backed away from China's longstanding claims to Taiwan and most of the South China Sea, but his comments to various leaders at the APEC forum in Bangkok this week have focused more on Beijing's pivotal economic role for its neighbors.
As China's stature has risen, its diplomacy has grown more nuanced than the high-handed approach that has sometimes sparked resentment in the past.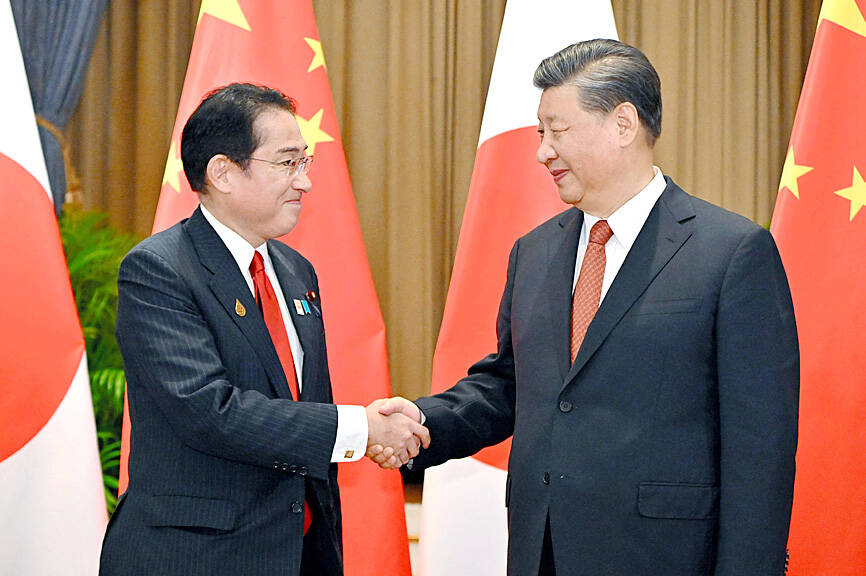 Japanese Prime Minister Fumio Kishida, left, shakes hands with Chinese President Xi Jinping at an APEC Summit in Bangkok on Thursday.
Photo: Kyodo via Reuters
"Xi Jinping's diplomatic engagements and the supporting chorus of propaganda messages have sought to put forward a softer, smiling facade in what appears to be an effort to reduce friction and tensions, particularly with the US and European countries that have become increasingly critical, frustrated and committed to competing with China," said Drew Thompson, a research fellow at the Lee Kuan Yew School of Public Policy at the National University of Singapore.
In his address to the annual APEC summit, Xi said that "China is ready to pursue peaceful coexistence and common development with all countries on the basis of mutual respect, equality and mutual benefit."
China would "continue to share our development opportunities with the world, particularly with the Asia-Pacific region," he added.
Thompson said Xi's reappearance on the world stage after staying in China for more than two years during the pandemic "was reassuring for many countries that have sought to establish contact with the top, perhaps the only decisionmaker in China."
Leaders in Tokyo and Beijing can go years without meeting, reflecting longstanding grievances from Japan's World War II occupation of China and other issues.
In a meeting on Thursday with Japanese Prime Minister Fumio Kishida in Bangkok, Xi stressed that the two countries should be "partners, not threats."
Kishida told reporters after the 45-minute meeting that he had a "candid and detailed discussion" with Xi, and expressed "serious concerns" over China's activity in the East China Sea.
However, he also told Xi there were various possibilities for cooperation and that it was important for Japan and China to achieve "constructive and stable" relations.
Meanwhile, Singapore must balance its economic ties with Washington and Beijing. The US Navy's 7th Fleet plays an active role in the strategically key South China Sea, which China claims virtually in its entirety, and Singapore supports the US military presence.
In his meeting with Singaporean Prime Minister Lee Hsien Loong (李顯龍) Xi pledged to work with the city-state whose population is largely ethnically Chinese to put it in "the right direction of economic and regional integration."
In another bilateral meeting, Xi told Philippine President Ferdinand Marcos Jr, whose country is a treaty ally and important security partner of the US, that China is willing to boost its imports of food and other products, and work together on agriculture, infrastructure, energy and people-to-people exchanges.
The Philippines, Vietnam and other countries in Southeast Asia have long had territorial disputes with China over its claims in the South China Sea.
Xi appeared to give no ground in his meeting with Marcos, saying that "on the South China Sea, the two sides must stick to friendly consultations and handle differences and disputes properly."
Afterward, Marcos' office said the two had agreed that their maritime disputes "do not define the totality of Philippines-China relations," and Marcos would make a state visit to China in January.
Comments will be moderated. Keep comments relevant to the article. Remarks containing abusive and obscene language, personal attacks of any kind or promotion will be removed and the user banned. Final decision will be at the discretion of the Taipei Times.