Kim 'deeply moved' by pop concert
PYONGYANG SHOW: Kim Jong-un said he changed his schedule to be able to attend a performance by several South Korean singers, including the group Red Velvet
North Korean leader Kim Jong-un clapped his hands and said he was "deeply moved" as he, along with his wife and hundreds of other citizens, watched a rare performance by South Korean pop stars visiting Pyongyang.
The concert highlights the thawing ties between the rivals after years of friction over the North's nuclear program.
During Sunday's performance at the packed 1,500-seat East Pyongyang Grand Theater, North Korean concertgoers — most of the men in dark suits but some women in colorful traditional hanbok dresses — waved their hands from their seats when the South Korean stars joined together to sing a popular Korean song, Our Wish Is Unification.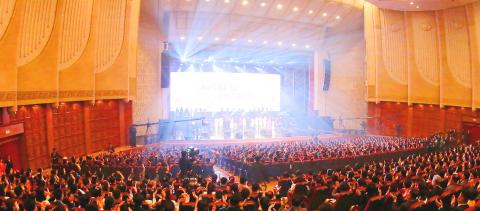 North Koreans are seen at a rare concert by South Korean musicians at the 1,500-seat East Pyongyang Grand Theater in Pyongyang on Sunday in a photograph released yesterday by the official Korean Central News Agency (KCNA).
Photo: AFP / KCNA via Korea News Service
After the two-hour performance ended, the North Koreans gave a thundering standing ovation.
A South Korean artistic group, including some pop legends and the popular girl band Red Velvet, flew to Pyongyang over the weekend for two performances in the North Korean capital, one on Sunday and the other today.
How North Koreans would react to Red Velvet was a focus of keen media attention in South Korea.
Kim, wearing a dark Mao-style suit, made a surprise visit to the performance with his wife, Ri Sol-ju, his sister, Kim Yo-jong, and other senior North Korean officials, including nominal head of state Kim Yong-nam.
Kim Jong-un applauded during the event and shook hands with the South Korean performers. He also took a group photograph with them after their performance, according to North Korea's state news agency and South Korean media pool reports from Pyongyang.
Kim "said that he was deeply moved to see our people sincerely acclaiming the performance, deepening the understanding of the popular art of the South side," the North's Korean Central News Agency said.
Short South Korean media pool footage showed Kim clapping from the second-floor VIP stand as South Korean Culture Minister Do Jong-hwan bowed and greeted North Korean spectators looking on from the first floor.
"We should hold culture and art performances frequently," Kim Jong-un told the performers.
Mentioning the performance's title, "Spring Comes," Kim also asked the performers to tell South Korean President Moon Jae-in that the two Koreas should hold a similar event in Seoul in the autumn, according to South Korean media pool reports.
Kim Jong-un also talked about Red Velvet.
"There had been interest in whether I would come and see Red Velvet. I had initially planned to attend a performance the day after tomorrow but I came here today after adjusting my schedule," he was quoted as saying. "I thank you for this kind of gift to Pyongyang's citizens."
It was the first time a North Korean leader has attended such performance in the North.
A 26-second South Korean video clip showed a quiet audience when members of Red Velvet, wearing clothes less revealing than their normal costumes, danced and sang their popular hit song Red Flavor.
Band member Seulgi said she cried when the audience sang Our Wish Is Unification.
Another member, Yeri, said she was "very" nervous when she exchanged handshakes with Kim Jong-un, but she said it was still "really, really an honor" to do so.
Comments will be moderated. Keep comments relevant to the article. Remarks containing abusive and obscene language, personal attacks of any kind or promotion will be removed and the user banned. Final decision will be at the discretion of the Taipei Times.