Remnants of Ophelia batter Ireland, Britain
The remnants of Hurricane Ophelia on Monday slammed into Ireland with wind gusts of up to 130kph, killing at least three people, grounding planes, shutting schools and causing widespread power outages.
Irish Prime Minister Leo Varadkar urged people to stay indoors until the storm passed.
Tens of thousands of homes were without power and the military was placed on standby.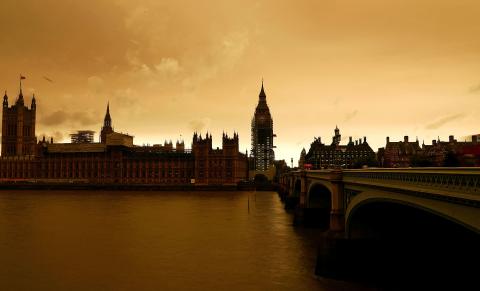 Clouds gather over Westminster, London, on Monday. The remnants of Hurrican Ophelia brought dust and debris from southern Europe and Africa, changing the color of the sky over the British capital.
Photo: EPA-EFE
Some hurricane-force gusts were reported 30 years to the day after a weather event dubbed the "Great Storm of 1987" battered southern England.
"It is a very dangerous storm," Varadkar said.
"The last time there was a storm this severe, 11 lives were lost," he added, referring to Hurricane Debbie, which hit Ireland in 1961.
Although Ophelia has been downgraded to a post-tropical cyclone, the Irish National Emergency Coordination Group on Severe Weather warned that the storm is still "unprecedented, with serious life-threatening conditions."
Ireland's weather service, Met Eireann, described the storm as the most powerful on record to have ever been this far east in the Atlantic Ocean.
Forecasters warned of flying debris, such as tiles blown from roofs.
Large waves around coastal districts tossed sand and rocks onto coastal roads, seafronts and properties.
Wind warnings were in place for Northern Ireland, parts of Wales and western parts of England. Planes were grounded at several locations.
About 130 flights were canceled at Dublin airport, while flights were also grounded at Manchester airport.
Both Ryanair and Easy Jet canceled flights at Belfast airport, with more cancelations expected.
In parts of Britain and in France's Brittany region, the sky turned an eerie color as Ophelia's winds carried a mix of sand from the Sahara, and particles from forest fires in Spain and Portugal.
On social media, people posted pictures of London landmarks against yellow-orange skies.
A non-profit group that provides coastal lifesaving services in Britain warned people to stay away from the sea.
Matt Crofts of the Royal National Lifeboat Institution said coastal waters are "particularly dangerous and unpredictable, with large waves and swells being a major risk."
"The sea is far more powerful than you think and your chances of survival are slim if you are dragged into the swell," he said.
Comments will be moderated. Keep comments relevant to the article. Remarks containing abusive and obscene language, personal attacks of any kind or promotion will be removed and the user banned. Final decision will be at the discretion of the Taipei Times.