Workers describe 'human shield' in Tunisia attack
Tunisian hotel workers who acted as human shields to protect tourists from an armed assailant have described how they tried to stop his deadly rampage in Sousse.
Ibrahim al-Ghoul, an 18-year-old paragliding instructor, was one of many Tunisians whose bravery on Friday has won tributes from survivors and other tourists.
Al-Ghoul ran toward the shooting while it was still under way, helping to form a human shield.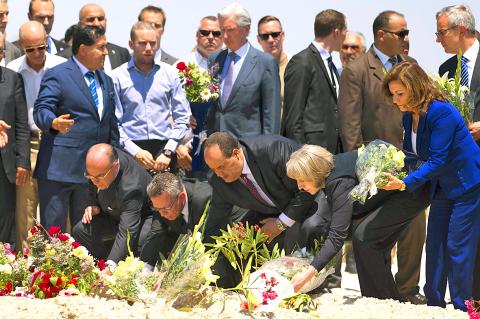 From left to right, French Minister of the Interior Bernard Cazeneuve, German Minister of the Interior Thomas de Maiziere, Tunisian Minister of the Interior Mohamed Najem Gharsalli and British Home Secretary Theresa May lay flowers at the site of a mass shooting on a beach on the outskirts of Sousse, Tunis, on Monday.
Photo: AFP
"At that point we opened our breasts against the bullets," al-Ghoul said. "I felt he would not shoot at so many Arabic people in front of him."
He and the others were unarmed when they blocked suspect Seifeddine Rezgui as they waited for armed police to arrive.
Earlier, after more than 15 minutes of gunfire inside the Imperial Marhaba hotel, there was a period of silence before Rezgui emerged and headed toward the Palm Marina hotel.
Staff there had already decided to confront him, and about a dozen formed a line, including entertainment organizer Yassine Sadkaoui.
"Someone from the Marhaba had shouted over to me: 'Some people are still alive. Come on,'" the 25-year-old said. "At that moment, it was destiny. It did not matter if you got killed or not."
In a photograph of their human shield, al-Ghoul stands with his arms outstretched, as if shooing away the killer. Their gamble paid off and Rezgui, 23, turned and walked along the beach, before jogging down a side street, shouting at Tunisians: "I haven't come for you. Go away," al-Ghoul said.
Another member of the group, Anis Gamaoun, a waiting supervisor at the Palm Marina, said the gunman moved back down toward the beach.
"My understanding is that he was someone who has a mission; his mission was finished and he was waiting for someone to kill him. He could have killed us all if he had wanted to," said Gamaoun, a 39-year-old father of four. "It would have been better than killing guests."
Minutes later Rezgui was killed by police, but not before a resident had dropped some tiles on him from a rooftop.
Tunis on Monday announced its first arrests over the attack.
Tunisian Minister of the Interior Mohamed Najem Gharsalli said authorities had arrested "a significant number of people from the network that was behind this terrorist" attack on a popular tourist resort in Port El Kantaoui.
"I promise the victims ... that these criminal killers will be brought before Tunisian justice so they are justly punished," he said, adding that "anyone who provided any logistical or financial assistance" to the attacker would be arrested.
Additional reporting by AFP
Comments will be moderated. Keep comments relevant to the article. Remarks containing abusive and obscene language, personal attacks of any kind or promotion will be removed and the user banned. Final decision will be at the discretion of the Taipei Times.