Xi Jinping inks deal with Australia on the Antarctic
POLAR EXPRESS: The agreement commits China to non-exploitative scientific research collaboration with Australia, while giving Tasmania exposure and opportunities for trade
Chinese President Xi Jinping (習近平) yesterday committed to an Antarctic cooperation deal with Australia, while fulfilling a long-held dream to visit the nation's smallest state in a trip which included a close encounter with a Tasmanian devil.
Xi backed using Australia, particularly Tasmania, as a gateway to the frozen continent in an agreement with Australian Prime Minister Tony Abbott in the state's capital, Hobart, where China's Antarctic program's flagship Xue Long is docked.
The memorandum of understanding also reaffirmed China's vow to respect the icy region as a natural reserve that will not be exploited, while committing the two countries to collaborate on scientific projects.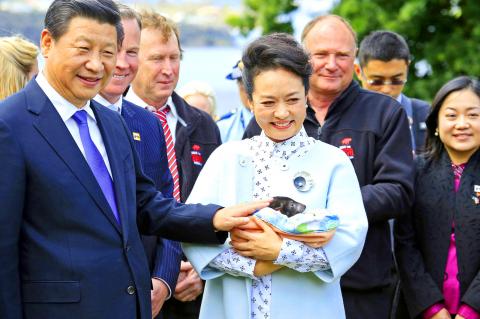 Chinese President Xi Jinping, left, and Chinese first lady Peng Liyuan, center, pet a Tasmanian devil during a visit to Government House in Hobart, Australia, yesterday. The couple were pictured holding a wombat on Monday.
Photo: EPA
The deal came three decades after China's first expedition to Antarctica, and follows reports last month of plans to build an airfield there to support its four research stations.
About 30 nations operate permanent research stations in Antarctica including the US, Russia, Australia, Britain, France and Argentina, with Hobart, which is home to the Australian Antarctic Division, a key shipping gateway to the area.
The inking capped a whirlwind trip to the so-called Apple Isle by the Chinese leader, who has visited every other Australian state and territory and joked on Monday that he should receive a certificate for his travels across the country.
Tasmanians have been enthusiastic about Xi's visit, with the Chinese leader's picture splashed across the front-page of the Mercury newspaper, which welcomed him in Mandarin and English.
"Your visit to Hobart is a significant step in the relationship between us; one which has been built on a spirit of friendship and mutual respect," it said.
Xi said he chose to visit the southern state following the G20 summit in Brisbane on the weekend after receiving a letter from primary-school students in Launceston in the state's north.
"In their letter, they describe Tasmania's unique products and beautiful scenery; they hand-wrote the letter in Chinese," Xi said in his address to the Australian parliament in Canberra on Monday. "And their words have filled me with curiosity."
Scotch Oakburn College principal Andy Muller said his students were thrilled about their meeting with the president and that it was "one of the most exciting days of their lives."
"The president invited them to come to China to visit, sightsee and study, and the students are all very motivated to continue with their Chinese and go over there," he said.
Xi and his wife, Peng Liyuan (彭麗媛), were warmly welcomed when they touched down in Hobart and were introduced to three orphaned baby Tasmanian devils, the black, furry native animal named for the state.
Dozens of Xi supporters waving flags and banners also gathered outside the state's government house and at Hobart wharf where the agreement was penned.
Tasmania became the sister state of China's Fujian Province in 1980 where Xi previously served as governor.
Comments will be moderated. Keep comments relevant to the article. Remarks containing abusive and obscene language, personal attacks of any kind or promotion will be removed and the user banned. Final decision will be at the discretion of the Taipei Times.