FEATURE: Malaysian charity giving haircuts to the homeless
Homeless Kuala Lumpur resident Indera Abha struggles to eke out a meager existence by selling salvaged recyclables, so personal appearance concerns understandably take a back seat.
However, a Malaysian charity that offers free haircuts along with meals helps him salvage his dignity.
"I like to get my hair cut. I feel good, and it is free," Indera, 49, said with a smile missing several teeth, as strands of his thin black hair floated to the ground around him.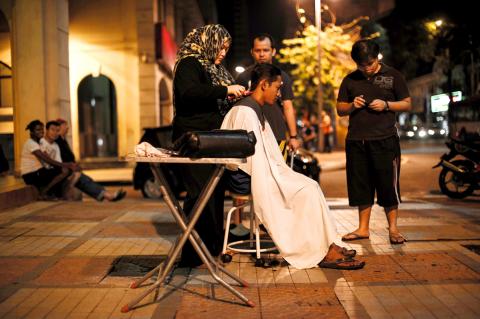 Stylist Azmina Burhan, left, cuts the hair of a homeless person in downtown Kuala Lumpur on Nov. 13.
Photo: AFP
Wielding the scissors is stylist Azmina Burhan, who runs her own salon, but volunteers with the Pertiwi Soup Kitchen to provide for an often overlooked need of homeless people.
"To me, how people look is very important. You want to look good every day when you wake up, no matter how rich you are, how poor you are," the 26-year-old said.
Azmina joined the charity shortly after its establishment in 2010, helping to give out food and water several times each week.
However, after encountering hundreds of homeless people who could not afford proper haircuts, she started bringing along her scissors to the soup kitchen, apron and a small stool about once every other month. Each time she goes now, she gives up to 30 haircuts, and counting.
"After you finish getting a haircut you look good, you feel good, and you have that self-confidence in you," she said, adding that a cleaned-up appearance could help people secure jobs.
For Azmina, the task can mean handling dirty, matted hair. The worst, she said, was a man who slept on the streets and had not washed his hair for months, leaving her hands blackened with dust.
However, she has never turned anyone away and said the image of the smelly, lice-infested homeless person is false and is the sort of stereotype that she aims to eliminate by giving her haircuts.
Her homeless customers can be quite trendy, especially younger ones, and common requests include British soccer star David Beckham's hairstyles and the longer fringes favored by South Korean and Japanese pop icons.
Malaysian living standards have vaulted steadily upward thanks to decades of strong economic growth, but Southeast Asia's third-largest economy is not immune to privation, and income disparity has widened.
Pertiwi said Kuala Lumpur and its outskirts have an estimated 1,800 homeless people. Government officials did not respond to an Agence France-Presse request for figures.
Pertiwi feeds up to 700 people four times a week, pulling up with a food-loaded van in three of Kuala Lumpur's poorer areas.
Volunteer medics also provide check-ups and medicine.
"I didn't realize it was going to be this big," Pertiwi head Munirah Hamid said, and added that the crowds of needy are growing.
Azmina is now looking for another volunteer hairdresser to meet the demands of homeless people like Paul Chin, who lives on the street after he lost his job at a car-wash several months ago.
"It's very annoying," Chin said shyly of the overgrown shock of graying hair crowning his head as he settled onto Azmina's stool.
By the time Azmina's scissors stopped snipping, someone waiting in line shouted: "He's a new man!"
"Now I feel good," Chin said, running his hands over his newly trimmed top before disappearing among the crowd of homeless people.
Comments will be moderated. Keep comments relevant to the article. Remarks containing abusive and obscene language, personal attacks of any kind or promotion will be removed and the user banned. Final decision will be at the discretion of the Taipei Times.