Nurdles cause headaches for Hong Kong clean-up
The cleanup after Hong Kong's worst typhoon in 13 years is taking longer than usual as volunteers struggle to collect hundreds of millions of plastic pellets that washed onto beaches after the containers they were in fell off a ship.
Environmental groups are concerned the pellets will absorb toxins and pollutants and then be eaten by fish that may in turn be eaten by humans. They're also worried rare marine species could be threatened by the pollutants as they make their way up the food chain.
Several hundred volunteers at one beach on Sunday used trowels, paintbrushes, dustpans and sieves to painstakingly pick up the translucent pellets, which coated the shore.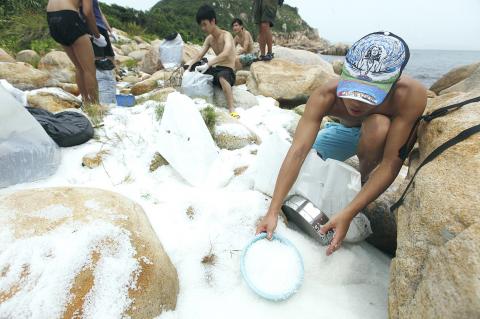 Volunteers clean up plastic pellets on Hong Kong's Lamma Island on Sunday.
Photo: Reuters
"It's a bit overwhelming. It seems like we can't get rid of them even though there are hundreds of people here," said Mathis Antony, one of the volunteers helping to clean up a beach on Lamma Island, off the western coast of Hong Kong Island. "It looks like it's going to take a lot more to clean it up."
The volunteers took on the daunting task of sweeping up the tiny pellets scattered across the grassy, boulder-strewn shoreline. They filled dozens of garbage bags, but there was still a lot left by the end of the day, piled up like snow between rocks.
Also known as nurdles, the pellets are the raw materials used by factories to make plastic products. Authorities say six containers filled with the pellets were lost from a ship in waters south of Hong Kong when it was caught in Typhoon Vicente last month.
The storm prompted authorities to raise the typhoon warning system to its highest level, indicating hurricane-force winds of 118km an hour or more, for the first time since 1999. The government said large amounts of pellets have been found at 10 beaches. At some beaches, numerous sacks filled with pellets and bearing the markings of the manufacturer, China Petroleum and Chemical Corp, have also washed ashore.
About half of the 150 tonnes of pellets that the containers were carrying have been collected so far, the government said, including 50 tonnes from sacks carrying the pellets found at sea and another 21 tonnes washed ashore.
Comments will be moderated. Keep comments relevant to the article. Remarks containing abusive and obscene language, personal attacks of any kind or promotion will be removed and the user banned. Final decision will be at the discretion of the Taipei Times.