Furniture of rare wood sparks buying frenzy in China
In a packed Beijing auction room, an anonymous buyer shelled out a staggering 32.3 million yuan (US$5 million) for a simple wooden bed made of huanghuali, the rarest of exotic woods.
A pair of yoke-back armchairs, also part of an 80-piece collection that was once displayed at the Forbidden City, raked in 23 million yuan.
The sale, organized by auctioneers China Guardian last month, set a world record, highlighting how the material akin to rosewood has become one of the most desirable on the Chinese art market.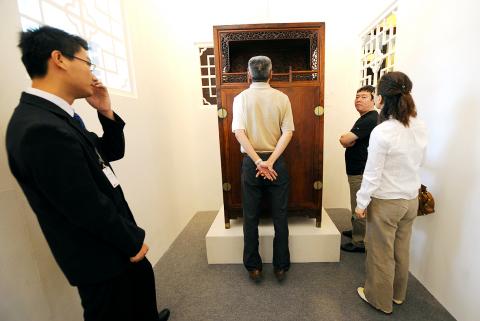 Visitors admire huanghuali wood furniture ahead of the China Guardian Spring Auction in Beijing on May 19.
Photo: AFP
"The price of huanghuali furniture has increased 25 times in the past 20 years," said Qiao Hao (喬皓), who appraised the collection.
There are fewer than 10,000 pieces of huanghuali furniture worldwide, according to Qiao, and the supply of the rare material is dwindling fast.
Huanghuali — which literally means "yellow pear tree flower" — is mainly produced on China's southern Hainan Island, where most of the tropical huanghuali trees have been chopped down.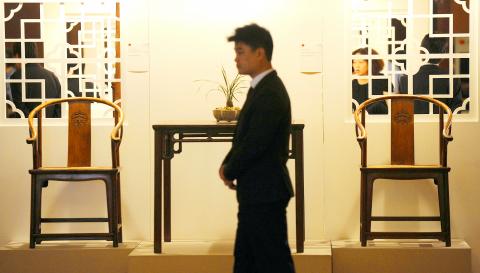 Huanghuali wood furniture is displayed ahead of the China Guardian Spring Auction in Beijing on May 19. Huanghuali, a rare species of rosewood produced mainly in China's Hainan Province, is all the rage among collectors, especially those with an eye on current events — prices of detained artist Ai Weiwei's huanghuali sculptures are skyrocketing.
Photo: AFP
"It's a high-density wood, with an elevated oil content that protects it from humidity. The grain of the wood is very beautiful. It's soft to the touch, like a baby's skin," said Zhong Pingyuan, a specialist on the furniture.
"The price of huanghuali started to skyrocket about 10 years ago. In 2006 alone, it tripled from the previous year. Since spring festival [in early February], prices have gone up 30 percent," Zhong said.
For Jean-Paul Desroches, chief curator at the Guimet museum of Asian art in Paris, the buying frenzy shows an "improvement in the taste" of Chinese collectors who in the past snapped up more showy imperial pieces, but now favor a more "cultured universe" of scholars and civilized living.
The most beautiful huanghuali works, done by cabinet-makers in China's lower Yangtze River basin during the golden age of Ming Dynasty furniture in the late 16th and early 17th centuries, symbolize an ultra-refined lifestyle.
"Historically, huanghuali has been considered a high-value and prized wood reserved for furniture constructed for the court and for the wealthy and elite scholarly class," said Christopher Engle, specialist co-head of Chinese works of art at Christie's New York. "This adds cachet to this already highly desirable material."
Wei Xiwang (魏希望), vice-secretary of the Huanghuali Collectors' Association, confirms that supply is fading fast, describing most of the remaining trees on Hainan Island as having "the diameter of a bottle of beer."
The explosion of huanghuali prices — fueled by the ever-increasing number of millionaires in China eager to put their newfound wealth on display and acquire anything that is deemed rare —does not stop at imperial antiques.
A plank of huanghuali measuring more than 3m in length and 30cm in width, with a thickness of 5cm, is sold today for more than 40,000 yuan a kilogram, according to Wei.
Even tree roots are used to make cups, beads and other small objects.
Outside the hallowed halls of museums and auction houses, huanghuali is also in demand —- Chinese media reported that thieves were operating on Hainan to steal the wooden altars built in honor of dead ancestors.
Several traditional houses on the island have been demolished for their huanghuali beams. Other family homes have been stripped of wooden structural elements by thieves eager to get their hands on the prized material.
Huanghuali is also getting more attention due to the judicial travails of one of its more famous users — artist-activist Ai Weiwei (艾未未), who has been in police custody since early April, awaiting formal charges on alleged economic crimes.
His huanghuali sculptures are soaring on global art markets. The Los Angeles County Museum of Art bought a 2006 spherical work from a New York gallery for US$400,000 in April, two weeks after he was detained.
Comments will be moderated. Keep comments relevant to the article. Remarks containing abusive and obscene language, personal attacks of any kind or promotion will be removed and the user banned. Final decision will be at the discretion of the Taipei Times.