FEATURE : Vodka tasters keep Polish tipple pure
For Poland's army of vodka tasters, the rules are strict: no smoking, no coffee and no perfume, not to mention the 6am starts.
While in France cellar masters ensure the quality of fine wines, in Poland professional vodka tasters keep the potent tipple, first distilled in the region in mediaeval times, smooth and pure.
Krystyna Gbiorczyk, in charge of quality and taste control at a distillery in Poznan, western Poland, has for many years used her keen sense of taste and smell to safeguard the reputation of a top-selling brand name.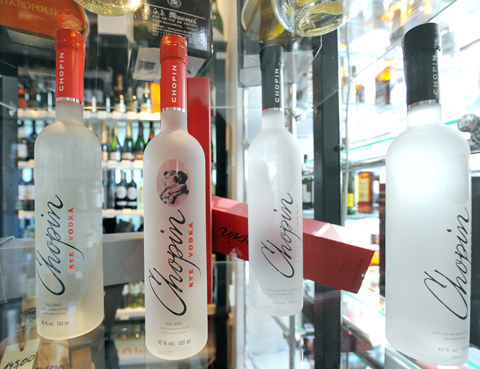 Bottles of vodka are pictured inside an alcohol shop in Warsaw, Poland, on July 1.
PHOTO: AFP EXCESSIVE CONSUMPTION OF ALCOHOL CAN DAMAGE YOUR HEAL
Samples of crystal clear vodka made using rye are heated and poured into covered glasses to capture all their aroma, she said.
The vodka is then closely observed, shaken, tasted and then evaluated on the basis of its strength, taste and smell.
"The regular tastings allow us to detect any significant differences between different batches of vodka and correct them to the standard we seek," said Danuta Maranda, a quality control expert.
Last year the distillery launched an internal recruitment drive to find new tasters. Candidates had to discern between sweet, salty, acid or metallic-tasting vodkas and classify them according to the degree of alcohol content.
Among the new recruits was Malgorzata Novak, who landed a spot on the quality control team. Now she samples more than 20 bottles over an eight-hour shift with her first sip of vodka at 6am.
"I check for clarity, consistency and taste, of course. I do similar checks about every hour," she said.
If her taste buds give the all clear, bottling goes ahead.
When they're not tasting, the distillery's experts concoct the vodkas of tomorrow. Recently, Maranda received an order to create a vodka using red fruit.
Just as if she were creating a new perfume, she lines up a dozen vials of various natural fruity syrups and aromas ranging from the sweet flavor of cherry pits to the acidic smell of plums.
Pondering caramel-based coloring, like a modern-day alchemist, she seeks perfection over a period of three months.
"Its a difficult task to find harmony between the different elements, to get the right amounts and marry them well in the vodka we produce, like making a fine wine," she said.
The unique sensibilities of the distillery's tasters are sometimes also solicited by the police to distinguish between authentic brands and black market counterfeit vodka.
"Counterfeit alcohol is often composed of products which give a similar taste to the original vodka, but large doses can be very dangerous," Gbiorczyk said. "The problem is that people who want to save money are risking their health."
Last year, about 250 million liters of vodka were sold in Poland, making the spirit second only in popularity to beer.
Comments will be moderated. Keep comments relevant to the article. Remarks containing abusive and obscene language, personal attacks of any kind or promotion will be removed and the user banned. Final decision will be at the discretion of the Taipei Times.